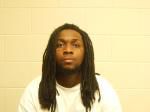 The Nebraska Court of Appeals on Tuesday reversed a Lincoln man's conviction for a drive-by shooting, setting him up for a possible third trial.
Shantrell Hickey's first trial ended in a mistrial when the jury deadlocked.
At his second trial, four months later, a new jury found him guilty of discharging a firearm near a vehicle or building and using a firearm to commit a felony for firing at least seven shots at a Jeep pulling away from the Super C at 21st and G streets just before 8 p.m. on Feb. 21, 2017.
Hickey, now 24, appealed after Lancaster County District Judge Robert Otte sentenced him to 20 to 50 years.
"We find that the district court erred in admitting into evidence at trial testimonial statements from a police investigation," Judge Francie Riedmann wrote in an opinion Tuesday, reversing Hickey's conviction and sending his case back for a new trial.
Surveillance video at the gas station had shown a gun hanging out the Jeep window as it started to pull away, two men ducking behind a Mercury Grand Marquis, then one coming up firing.
Prosecutors alleged it was Hickey. Hickey denied it, testifying that he was at home with his kids at the time.
You have free articles remaining.
His younger brother, Daqwan Hickey, who already had gotten five to 14 years for his role in the crime, implicated himself as the shooter. 
On the other side, two police officers testified that in their opinion the video showed Shantrell Hickey, who they recognized from prior contacts.
Deputy Lancaster County Public Defender Nathan Sohriakoff argued that the judge had erred by allowing the officers to ID Shantrell Hickey from the video when that ultimately was a question for the jury.
The three-judge appeals panel rejected the contention but took issue with the trial judge allowing statements that the driver of the Mercury had made during a recorded police interrogation after he refused to testify at trial.
Sohriakoff argued it violated Hickey's right to confront his accusers through cross examination.
Riedmann said the judges agreed. The court found it was prejudicial enough to justify reversal but that Hickey could be retried. It is too early to know when or if that would happen.
Hickey is at the Nebraska State Penitentiary.
Today's jail mugshots