A judge this week sentenced a Des Moines, Iowa, man to 36 to 50 years in prison on gun and drug charges in connection to a stop on Interstate 80 near Lincoln last year. 
A Lancaster County jury found Temarco Pope Jr., 28, guilty in September of second-offense possession of a firearm by a prohibited person (a charge that carries a sentence of 20 years to life) and possession of more than a pound of marijuana.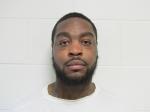 The case involved what started out as a traffic stop for speeding June 5, 2020, near the U.S. 77 exit on the edge of Lincoln. A Lancaster County sheriff's deputy stopped a Nissan Rogue going 10 mph over the speed limit. Pope was the front-seat passenger.
According to the affidavit for Pope's arrest, the driver, Jarell Samuels, consented to a search, which turned up a loaded Kahr CM9 handgun under the floor mat where Pope had been sitting and just less than 2 pounds of raw marijuana in dispensary-style containers in a garbage bag in the cargo area. Pope's DNA was found on the gun, according to the prosecution.
Both men were convicted felons and couldn't legally possess a firearm and were arrested.
On Tuesday, Lancaster County District Judge Ryan Post sentenced Pope to 35 to 48 years on the gun charge and one to two years more on the marijuana charge.
He had been on post-release supervision on a federal gun charge. He pleaded guilty in that case to possessing a .40 caliber Springfield handgun outside a Des Monies hotel Jan. 22, 2017. He had a previous felony burglary conviction, making it a crime.
Last week, a separate jury found Samuels guilty of possession of a firearm by a prohibited person and more than a pound of marijuana.
Asked about Pope's lengthy prison term, Lancaster County Attorney Pat Condon said his office followed a long-standing policy not to make a specific recommendation and it was well within the parameters of the range allowed on the charges.
He said Lancaster County has been experiencing a higher incidence of gun-related crime, such as robbery, felony assault and homicide, oftentimes because individuals are engaged in the use and distribution of marijuana.
"And the nexus between marijuana, guns and violence is increasingly apparent," Condon said.
His office currently is prosecuting six firearm-related homicide cases and 13 firearm possession and discharge cases. And a recent shooting death remains under investigation.
"Our attorneys are well-prepared to prosecute these crimes and protect the children and families of Lancaster County," he said.