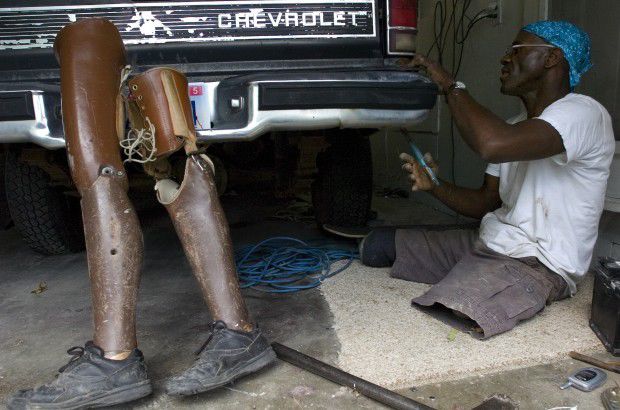 An amputee injured during a 2011 traffic stop where police unlawfully forced him from his car will receive $160,000 in a lawsuit settlement with the city of Lincoln.
Leroy Duffie and the city reached the settlement terms March 30.
"Pastor Duffie is pleased to have the matter behind him," his attorney Jeffry Patterson said last week.
Duffie, who lost his legs in 1976 after being hit by a drunken driver, began his fight with the city and the officers who stopped him in 2012.
Around 10:30 p.m. on Sept. 3, 2011, Lincoln police ordered Duffie out of his 1998 Chevrolet Astro van at gunpoint on 27th Street.
The officers were looking for a man who had brandished a handgun in a "'90s style Astro van" parked outside a convenience store earlier that night.
Duffie fell to the ground as one of his prosthetic legs detached as he got out of the van, he said. He knocked his teeth out and tore one of his rotator cuffs.
Officers handcuffed Duffie as he lay on the ground and searched his car, finding only a paintball gun Duffie said he planned to donate to a local charity.
After several minutes, the officers seized the paintball gun and released Duffie.
Duffie filed the federal lawsuit in 2013 after the city didn't respond to his claim seeking $200,000 for injuries arising from the stop.
You have free articles remaining.
A federal judge first dismissed the case on the grounds the officers were shielded from liability because their mistakes were made in good faith.
The 8th U.S. Circuit Court of Appeals in August reversed that decision and ruled Officers Nathan Kaiser, Tobias Hite and Shane Jensen violated his Fourth Amendment protection from unreasonable search and seizure.
The judges took issue with the reason for the stop, saying a report of a person with a handgun isn't enough to create a reasonable suspicion of a crime, and in Nebraska and Lincoln people can openly carry handguns.
The officers made a high-risk traffic stop with a mismatched suspect description, the judges said.
And qualified immunity doesn't protect police when their actions violate someone's established constitutional rights, they said.
After that ruling, city attorneys argued against a request by Duffie to accept the appellate ruling his rights had been violated.
The attorneys argued they still had evidence to dispute that, including the observations of the officers prior to the stop and the potential criminal violations they were investigating, according to court documents.
But Senior U.S. District Judge Richard Kopf ruled in early March that new evidence wouldn't be substantially different than what the court has already considered.
A jury, he said, would then decide how much to award Duffie for having his rights violated.
The parties reached the settlement after mediating the case with U.S. Magistrate Judge Cheryl Zwart.
Hite and Jensen remain with the department, while Kaiser works as an investigator with the Lancaster County Public Defender's Office.
"We're relieved, pleased to have this matter settled," City Attorney Jeff Kirkpatrick said.
Sign up for our Crime & Courts newsletter
Get the latest in local public safety news with this weekly email.