A prison inmate got two to four more years for his part in an assault that sent an inmate to the hospital with a brain injury in 2019.
Deputy Lancaster County Attorney Charlie Byrd said Dustin Burghardt and three others — Anthony Howell and allegedly Jonathon Johnson and Michael J. Johnson — attacked a 63-year-old inmate on Nov. 1, 2019, because he was in prison for a sex assault on a child.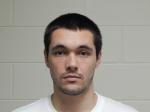 Byrd said the victim had just transferred to the Nebraska State Penitentiary that day. The four inmates told him he needed to pay rent; when he refused, they beat and kicked him on his bunk.
"The victim, a 60-plus-year-old inmate was attacked by four inmates and beaten severely about his body, resulting in a brain bleed, with a fracture of his jaw and a fracture of his nose," the prosecutor said Wednesday. "This was a horrific beating and the punishment should show, reflect and fit this crime." 
Burghardt, 26, said nothing before District Judge Teresa Luther sentenced him to two to four years. But his public defender, Bob Hays, said he already had lost two years of good-time in prison as a result of the assault and had a minimal record, before the robbery case that sent him to prison.
In January, Burghardt pleaded no contest to second-degree assault. Howell entered the same plea last week. The two others charged are awaiting trial.
LATEST MISSING PERSONS CASES: