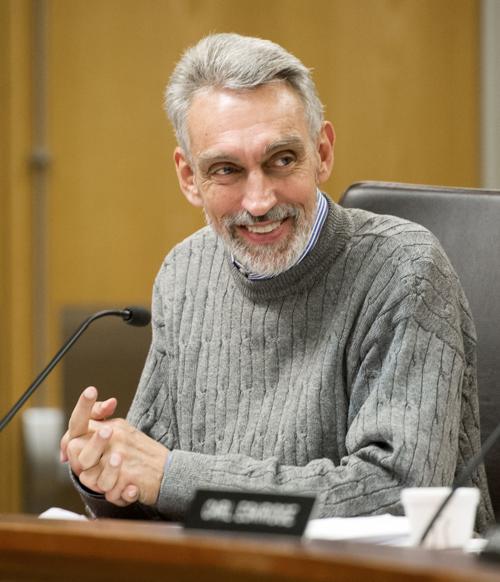 After 20 years on the Lincoln City Council, Jon Camp has decided he will not run for re-election next spring.
"It was a real privilege to serve ... to represent a good chunk of Lincoln for the past 20 years," Camp said.
And it was a really hard decision to leave, he said in a telephone interview.
Camp, who is finishing his fifth council term, is the longest-serving city council member in Lincoln's history. He has served on the council as the city changed the road system around the University of Nebraska-Lincoln, reduced the danger of flooding with the Antelope Valley project, built Pinnacle Bank Arena and oversaw the private development of the West Haymarket.
Camp, a businessman and one of the first to develop in the Haymarket area, represents District 2, generally southeast Lincoln.
When Camp ran for his first term in 1999, his slogan was Lincoln Vision 20/20, which meant looking ahead 20 years with 20-20 vision, he said. Camp said the city needed to be looking ahead 20 years, then backed that up by building the foundation to get there, he said.
"I think that has been accomplished," he said. "It is with great emotion that I decline to run for re-election."
Camp, a Republican who is known as a fiscal conservative, often says he wants to focus on needs rather than wants in spending taxpayer money.
Camp's decision not to run creates an open seat where interested candidates are not hampered by running against a well-known incumbent.
Richard Meginnis, a Lincoln real estate broker and former school board member, has already announced he'll run for the District 2 seat.
Camp said Meginnis, a Republican, would be a "good council member."
"I feel good that someone with Richard's business background, his experience on the school board and his long family contributions in Lincoln, is running," Camp said.
Meginnis also thanked Camp for "the good job he has done for the citizens of Lincoln."
"He wasn't always on the winning side, but he made sure we heard all sides. And he always had the best interest of the citizens on his mind," said Meginnis.
Two other Republicans, Matt Schulte and Mike James, have also indicated they are thinking about running for the District 2 seat.
Schulte, a current member of the Lincoln Board of Education, has said he will not seek re-election to the school board. James is a newcomer to politics.
Megan Stock, a Democrat and an elementary school teacher, is also seeking the District 2 council seat.
The City Council is a nonpartisan office, which means no party labels appear on the ballot and voters select two candidates in the primary who continue to the general election regardless of party affiliation. However, the two parties do recruit and support candidates for the council.
Four of the seven council members are elected by specific geographic districts and the other three represent the entire city. The four district seats are part of the 2019 spring election.
The incumbents in three of the four seats will not be seeking re-election. They are Camp, Cyndi Lamm in District 1 (northeast Lincoln) who is running for Lincoln mayor; and Carl Eskridge in District 4 (northwest Lincoln.)
Announced candidates for those seats include James Michael Bowers for District 1 and Cassey Lottman, Tammy Ward and James Herrold for District 4.
In District 3 (southwest Lincoln), Jane Raybould is running for re-election. Colten Zamrzla, an insurance agent, is also a candidate for that seat.
Get local news delivered to your inbox!
Subscribe to our Daily Headlines newsletter.