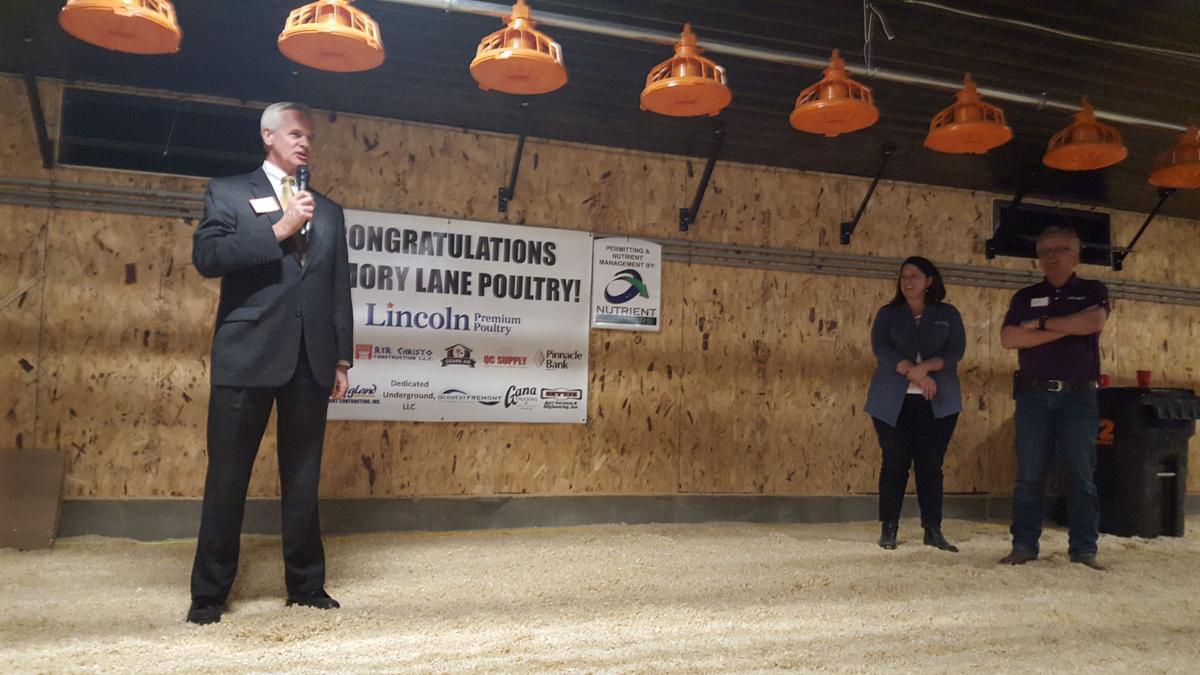 Colten Schafersman's family has been farming in Nebraska since 1880. But on Thursday, the sixth-generation farmer looked to the future.
His three chicken barns, built as part of Costco and Lincoln Premium Poultry's incoming chicken operation with its processing plant centered in Fremont, were recently completed, and commemorated with an open house Thursday night.
According to Schafersman, this new investment represents an opportunity to help keep his family — his wife, Luz, and his son, Braden — for generations to come.
"We've been here for 130 years," Schafersman said. "I have a little boy who's 4½ years old. Hopefully, this gives us an opportunity to be here for another 130 years."
While some critics have raised concerns about the environmental impact of the more than 500 barns in eastern Nebraska and western Iowa that will ultimately be constructed to supply Fremont's plant, Costco and Lincoln Premium Poultry have touted their operation as a carefully controlled and exciting opportunity for farmers to diversify their work and keep their families on the farm.
On Thursday, officials celebrated Schafersman's story as they commemorated the completion of his barns — the first three of the 500 that will ultimately be erected across northeast Nebraska and parts of western Iowa.
"Colten was one of our first growers to get approved, and he's an example of what we've been talking about," said Walt Shafer of Lincoln Premium Poultry. "He's the grandson … and he just introduced me to a little one that he said is going to be taking over this farm one day."
You have free articles remaining.
The open house event was invite-only, including county boards and planning commissions, other growers like Schafersman, agricultural partners from the university and supporters of Schafersman's project. Lieutenant Governor Mike Foley also made an appearance.
"A lot of good things are happening, but at the end of the day what Nebraska is all about is agriculture," Foley said. "That's our trump card. That's our premiere industry, and this magnificent facility adds to our portfolio of agricultural assets, and this is going to help our state in so many ways."
Schafersman's site has three pullet barns, estimated to hold about 40,000 birds each. The two larger barns will house hens while the third barn will house the roosters. Schafersman's three barns, along with 24 other pullet barns being built in the region, will house chicken for 21 weeks at a time before they move to breeder barns at other growers' sites.
Schafersman will start to house chicks in late December — right around his son's birthday.
"I told him there's going to be baby chicks here for your birthday," Schafersman said.
Dangling from the ceilings were long rows of feeders, that are on pulley systems, which are raised as the chicks grow to ensure that the chickens aren't straining to get to the food, says Lincoln Premium Poultry's Jessica Kolterman.
Rows of water lines only dispense water if the chickens tap a button to "minimize any wasted water," Kolterman said.
Schafersman's project was approved by the Dodge County Board in September of last year, and it featured a wide array of voices who were concerned about the project — particularly about its environmental impact. And while some didn't have specific concerns about Schafersman's site, the project's critics have raised questions about the operation as a whole — such as whether the increase in chicken litter used as fertilizer could add unhealthy nitrates to local water supplies, which they say already have concerning levels.
"I have had nothing but positive talks with neighbors," Schafersman said. "I think part of that helps is we've been here for so long, they see how we take care of our property, they see how we take care of our livestock, they know we're going to do things the right way, and I've had a few neighbors stop in to ask me questions. I have an open door policy."