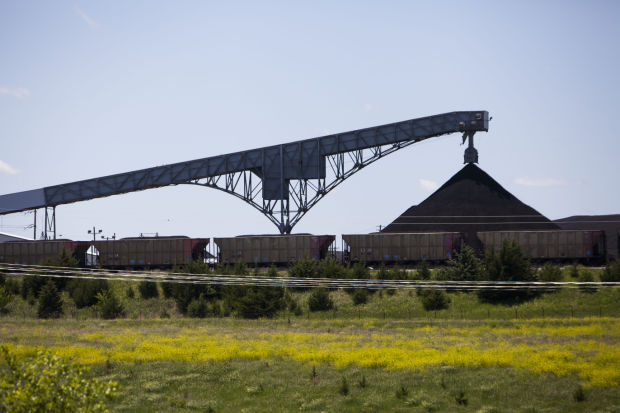 Natural gas may have taken over as the dominant source nationally for electrical power generation in 2016, but coal remains king in Nebraska.
This year promises to be the first in which natural gas surpasses coal, the nation's dominant energy source for decades, according to a U.S. Energy Information Administration forecast released earlier this month.
U.S. power generation is expected to be fueled 32 percent by coal and 33.4 percent by natural gas in 2016. While natural gas use topped coal several months last year, analysts consider its anticipated overtake of coal for an entire year to be a more notable upset.
But in Nebraska, where utility scale net generation amounted to 39,291,000 megawatt hours in 2015, coal fueled 61.5 percent of electricity produced last year while natural gas made up 1 percent, according to the U.S. Energy Information Administration data. Nuclear, the second most abundant source, made up 26 percent of the power pie for the year, wind accounted for 8 percent and hydroelectric 4 percent.
By comparison, Iowa net generation in 2015 was 57,172,000 megawatt hours, of which 53 percent came from coal, 31 percent from wind, 9 percent nuclear, 4 percent natural gas and about 1 percent hydroelectric.
The explanation both for the nation's growing appetite for natural gas and Nebraska's continuing reliance on coal is the same: price.
"It really does boil down to dollars and cents. It always does," Nebraska Public Power District President and CEO Pat Pope said during a recent interview.
Nationally, coal made up about 50 percent of electrical power generation from 2000 to 2008 because it was significantly cheaper than natural gas. In recent years, however, the price gap has narrowed as the shale gas boom unleashed by fracking drove down natural gas prices and made it a more attractive option for many areas.
But in Nebraska, coal remains cheaper. The average cost of coal delivered for power generation in Nebraska -- measured in dollars per million British thermal units -- was $1.34 in December, making it the cheapest in the nation and about 30 percent less than the national average, according to the U.S. Energy Information Administration's Electric Power Monthly report.
Natural gas delivered in Nebraska cost $3.44 per unit, nearly 2½ times more than coal.
"Will that last forever? What is the outlook?" Pope pondered. "We're all waiting to see ultimately what form the Clean Power Plan takes."
You have free articles remaining.
Released last year, the federal plan aims to reduce greenhouse gas emissions and is scheduled to go into effect in 2022. But it has been stayed by the U.S. Supreme Court pending the outcome of ongoing litigation.
As electric generators age and get replaced the trend will likely be away from coal simply because it will be "next to impossible to get a coal plant permitted for construction," Lincoln Electric System Vice President of Power Supply Jason Fortik said.
Natural gas releases fewer greenhouse gases than coal when burned. But it remains controversial because of the fracking methods used to mine it from the ground and because if it leaks into the air without being burned it can contribute more in the short term to global warming than carbon dioxide.
There have been some small shifts away from coal in Nebraska.
NPPD plans to switch one of two steam boilers at Sheldon Station near Hallam to burn hydrogen instead of coal as part of a new venture with Monolith Materials Inc.
The California-based company plans to build a new plant next to Sheldon Station to produce carbon black, a fine, flourlike powder used in tires, plastic, inks and cellphones. Monolith will use electricity to extract the carbon from natural gas, producing hydrogen and water, then sell the hydrogen to NPPD as fuel.
Omaha Public Power District plans to retire three of its oldest coal-fired units at the North Omaha Generating Station this year and convert two other units to gas by 2023.
More renewable energy sources also have begun to creep into Nebraska's energy portfolio.
Lincoln Electric System, for example, is building a 5 megawatt solar farm at Northwest 75th and Holdrege streets, has invested in wind farms including the 73-megawatt Prairie Breeze II in Antelope and Boone counties, and is buying 100 megawatts each from the Buckeye Wind Farm near Hays, Kansas, and the Arbuckle Mountain Wind Farm in Oklahoma.
In recent years, LES has shifted its capacity to produce electricity to be equally divided between renewable energy, coal and gas. But the decision about which of those electricity generating resources gets turned on is made by the Southwest Power Pool, which starts with the most efficient ones first.
The pool, based in Little Rock, Arkansas, oversees the vast majority of the electric grid and wholesale power market in 14 states on behalf of utilities and transmission companies. It determines how much electricity is needed in the grid, then tells utilities to turn on the power as needed, starting with the most efficient facilities first.
LES is forecasting coal will fuel 65 percent of the power it generates in 2016, renewable sources will make up 32 percent and oil and natural gas will be 3 percent.
That's a significant change from 2014, when coal was 85 percent, renewable was 5.1 percent, oil and natural gas were just under 3 percent and the remainder was power purchased wholesale from other providers.