She started making a list.
How many girls she hoped would come.
What she wanted everyone to wear.
Who she wanted to take the pictures.
What she planned to name the photo shoot: Black is Beautiful.
Protests had begun here — and all over the country — in the wake of George Floyd's murder.
Zainab Funnah and her parents had gone to two of them, both at the state Capitol. They marched with the crowd, in support of Black Lives Matter.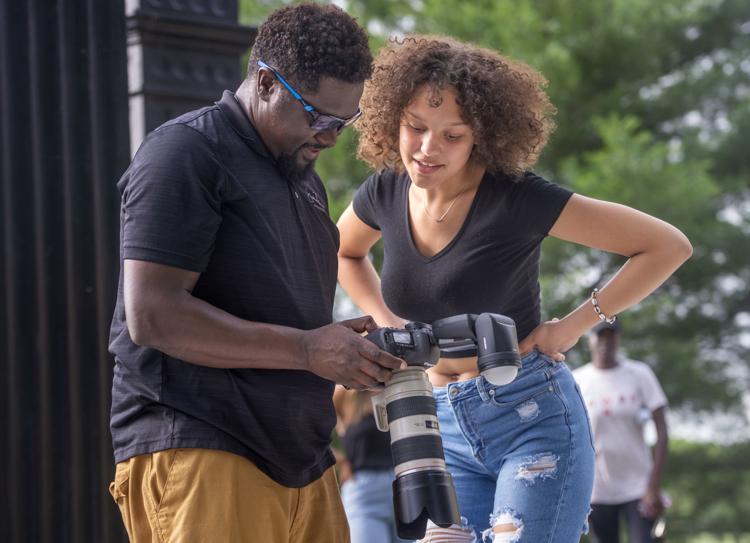 Growing up, the 16-year-old had lots of conversations with her mom Carney (who is white) and her dad Sam (who is Black) about being biracial and how to safely navigate the world around her.
She knew how it felt to be surrounded by white faces at elementary and middle school and the feeling of being both noticed and judged by the color of her skin. The comments about her hair. You look like a lion! Your hair is so nappy!
The boys that said she wasn't pretty because her skin was brown. That it looked like human waste.
"As a young girl, you want to be a kid," she said. "I shouldn't have to go to school and feel like I'm not accepted for how I look."
Zainab will be a junior at Lincoln High this year. She's on the dance and track teams. She loves to paint and draw. She's taking summer school classes in economics and art to stay ahead and fill the hours left empty by COVID-19.
"Going into high school, I found girls I could relate to and had gone through the same experiences I had," Zainab said. "I was introduced to a lot more diversity and I opened up to more people who accepted who I was."
Tuesday night, she and her mom drove to Pioneers Park and met up with a dozen young Black and biracial women. They were as young as 14 and as old as 20, in high school and college.
Some were already friends and, at the end of the photo shoot, they all felt like friends.
"It was really fun," Zainab said the next day. "Obviously, when you first gather people it's kind of awkward, but we clicked."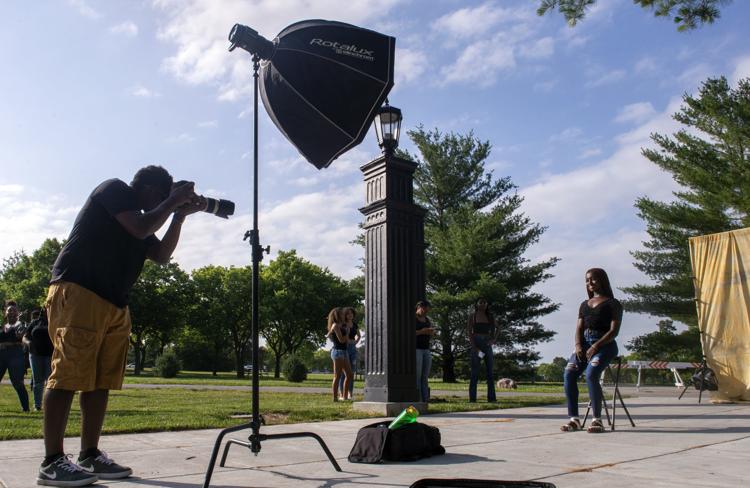 Zainab got the idea for the group photo from an Instagram account she follows — a photo of Black women posing together that she reposted on her own page.
"I just thought, 'Wow, these women are so beautiful.'"
It struck her that she could do the same thing here. She talked to her mom about it.
She started jotting down plans.
Focus on the beauty of our racial attributes.
EMPOWER one another and build COMMUNITY.
Have a BLACK-OWNED photography business.
She found Samuel Mfinanga, the father of a classmate and the owner of Mfinanga Photography + Motion. Mfinanga shoots high school athletes, weddings and portraits, films livestream and video.
He took photos for the Malone Center in June during a gathering of community leaders and police.
When his son told him about the Black is Beautiful idea, he was happy to help, Mfinanga said.
And the Black business owner offered to take the portraits for Zainab and her peers for free.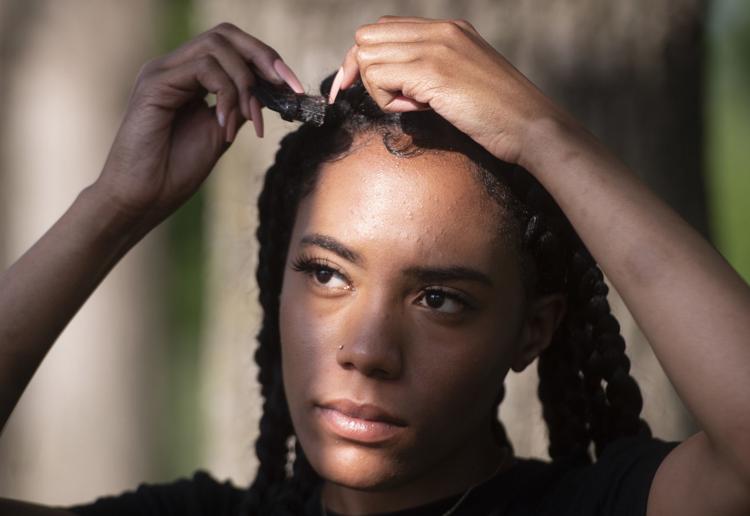 He worked with Zainab's mom to formalize the plans and get written permission from parents.
He let the young women decide all of the particulars.
"I wanted them to think and design and create what they needed."
Mfinanga has four sons and a daughter. He thought about the activist spirit he sees rising in them, how they are thinking and talking in serious tones. It inspires him to be more involved, to keep doing what he can for his community with his camera and his time.
"I know how a picture can be powerful in how people see themselves," he said. "I see the importance of them accepting who they are."
Last Tuesday evening, 13 young women showed up to have their photos taken.
The photographer took individual portraits.
Photos of small groups — the girls with braids, the girls with natural hair.
And finally all of them together near the tall, black columns along the entrance to the pine-lined amphitheater.
They were all beautiful. Tall and short. Dark-skinned and lighter. A girl wearing a hijab.
All of them connected by Zainab. She'd sent them all the same message as she worked to gather a community together.
Hi beautiful! So I am working on a project to get a group of young, beautiful, black women to do one big photo shoot ... I would love it if you would participate!
She'd asked everyone to wear black tops and denim bottoms to the photo shoot. Natural makeup. Any hair style they felt comfortable in.
Zainab wore hers in short box braids.
Cars passed on the winding park road. Drivers and their passengers turned their heads to look at the cameras and the women, barefoot and in blue jeans, posing in the sun.
At the end of the Black is Beautiful photo shoot, the young women paused for a group selfie. They made plans to hang out.
They looked forward to seeing Mfinanga's photos and sharing them.
A visual statement, Zainab said. A representation not adequately reflected in American culture.
"Growing up as a little Black girl, the first thing you notice it in is the dolls," she said. "Barbie is white. Most of the Bratz dolls are white. Actresses and influencers, the majority of them are white."
Addressing inequality is deep and wide, she said. Big tasks such as changing laws and educating people. Not just those who are openly racist, but systemic racism and smaller transgressions, too.
One of the girls turned to the organizer before she left Tuesday and thanked her, let her know how much the photo session boosted her confidence.
"It opened our eyes up to that community we do have of Black women," Zainab said. "This is something I want young Black girls to see. To feel like we are out there for them and that they are beautiful."