She'd moved to Lincoln 15 years ago to be closer to her sons and their families.
Nadene Stull settled into her own small apartment at Burke Plaza — a senior living center on 70th Street.
She ran the annual rummage sale there and worshiped at Trinity United Methodist Church. She crocheted and she read and she never missed a chance to be with people.
"She was such a social person," said daughter-in-law Mary Stull. "Even into her 90s, she was always on some kind of committee or in charge of one."
But she'd fallen, more than once, and, late last March, Nadene moved to Lancaster Rehabilitation Center on South Street.
Her family took her and they sat in a small office and signed the paperwork.
"They loaded up her things and we said goodbye from there," said Bill Stull, her oldest son. "And off she went."
A deadly virus had begun circulating in China four months earlier and made its way to the United States. It hit the elderly hard. Nursing homes closed their doors to visitors to protect patients.
Her family would not be allowed to walk her to her room and help her get settled.
Nadene was 93. She used a walker. Her mind was sharp.
She watched the television news those first few months, wore her mask, hoped it would all be over soon.
But the restrictions tightened. No more lunches in the dining room. No movies or concerts in the common area. No more sitting at the table with her fellow residents to play bingo.
"You could watch the spirit begin to drain," Mary said. "We would frequently say, 'What's worse, dying of COVID, or dying of loneliness?'"
Nadene and Walt raised their three sons in Grand Island.
Walt was a conductor for the railroad. Nadene worked as a bookkeeper at the bank.
She was a den mother for her Cub Scout sons, Bill, Bob and Jim. She served in the PTA.
Her boys loved her chicken fried steak and cowboy baked beans. They fought over her deviled eggs at family gatherings, much to her everlasting delight.
She was an involved mom. A strict one.
Once, Bill and his buddies rented a motel room after prom. They bought a bunch of beer, planned to crash there until morning.
In the middle of the night, they heard a car pull up outside their room.
Someone peeked out: Stull, that looks like your mom.
"I looked out," said Bill, now retired from the railroad. "Oh, my gosh, that is my mom."
After her sons grew up and she retired, Nadene volunteered for the Red Cross and at Stuhr Museum.
In August 1984, Walt was out on the golf course during a Stull family reunion when he had a heart attack and died.
In 2007, Jim, her youngest, fell from an extension ladder at work and died, too.
"It was really tough for her, at almost every family get-together, she'd get a little teary-eyed," Bill said. "But she was such a woman of great faith."
She carried on. She became a stephen minister, a layperson helping others through life's trials, grief, divorce, illness.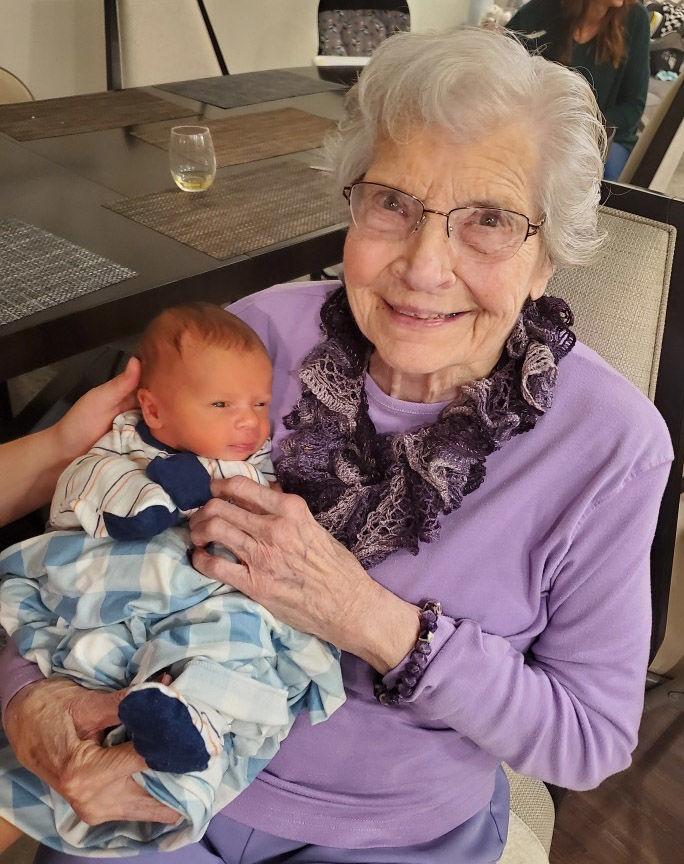 It helped to be in Lincoln, closer to Bill and Mary and Bob and Pam. And then there were those 10 grandchildren and eventually 13 greats.
"Her whole world revolved around her grandkids," Bill said. "She'd come over here and go straight for the grandkids."
Her family came to see her at Lancaster Rehabilitation Center. Special window visits for Easter and Mother's Day; a white-haired woman, stylishly dressed, holding her hand up to the glass, great-grandchildren on the other side, reaching for her.
When her 94th birthday approached in October, Nadene's family begged for a visit. They'd wear protective gear, they said. They'd isolate before they came.
But cases were rising in the fall and the care home was following the government's guidelines.
"It was hard on everyone," Mary said. "We'd question ourselves, did we do the right thing, taking her at that time?"
Should they bring her home?
They knew that wouldn't work. Nadene needed 24-hour supervision and a trained nursing staff.
The sons and their wives called nearly every day or she called them. Nurses would hold up their phones for FaceTime visits.
Sometimes, Nadene would cry.
This is too much, she would say.
"She'd say, 'I just want to touch my children. I just want to touch my grandchildren,'" Bill said. "It was just doggone difficult. I don't know how she was able to go through it as long as she did, because I don't think I could."
Nadene had an angel, her family said.
Her name was Donetta Lockett. She had cared for Mary's own mom when she lived at Lancaster Rehab Center in 2015 and 2016 until she passed.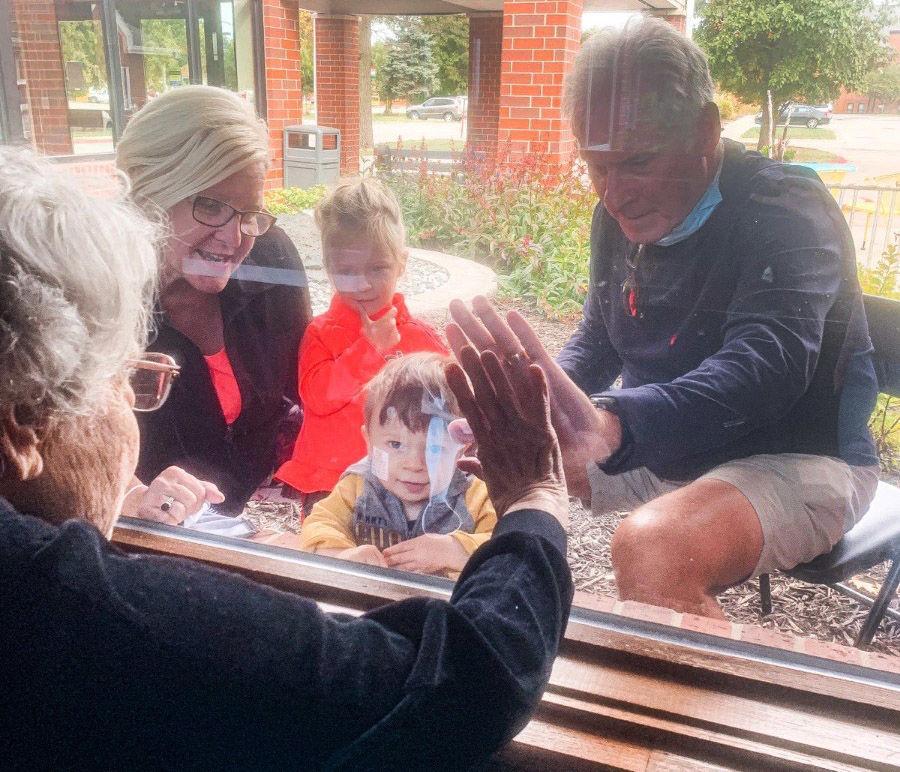 "She treated my mom like she was her mom," Mary said. "We asked for Nadene to be assigned to her."
The medication aide brought Nadene chocolate ice cream every day. She brought her books.
"When she ran out, I would bring her more books," Donetta said.
She watched Nadene look out for her roommates. A kind soul, she said.
She watched her crochet. Early on, when residents could still move about and socialize, she saw the joy.
For a while, reading pulled Nadene through, Donetta said.
"In the beginning, it was OK because she could walk around. When they were isolated to their rooms, that's when her health began to fail."
She started to seem confused on the phone. Lose track of the thread of conversation.
Nadene had told her boys she wanted a big funeral, a grand celebration of life. Even before the pandemic, she told Bill she was ready to go see Walt.
Mom, I don't blame you, Bill had told her.
And as those first pandemic weeks turned to months, they talked again. I think God's listening to you now, the son said.
Nadene turned 94 on Oct. 4.
She fell in late November. She was in the hospital and then back to her room on South Street.
She contracted COVID and then pneumonia.
Her family saw her once in the hospital and again the night before she died, back in her room.
She wasn't able to talk much then.
She died Dec. 12, two weeks before residents of long-term care facilities in Lincoln began receiving vaccinations.
They took solace in her long life, in her spirit moving beyond this place. Bill wrote a poem about her reunion with his dad in heaven.
They set up a table at home with flowers and cards and a photo in an oval frame — Nadene smiling, her old self.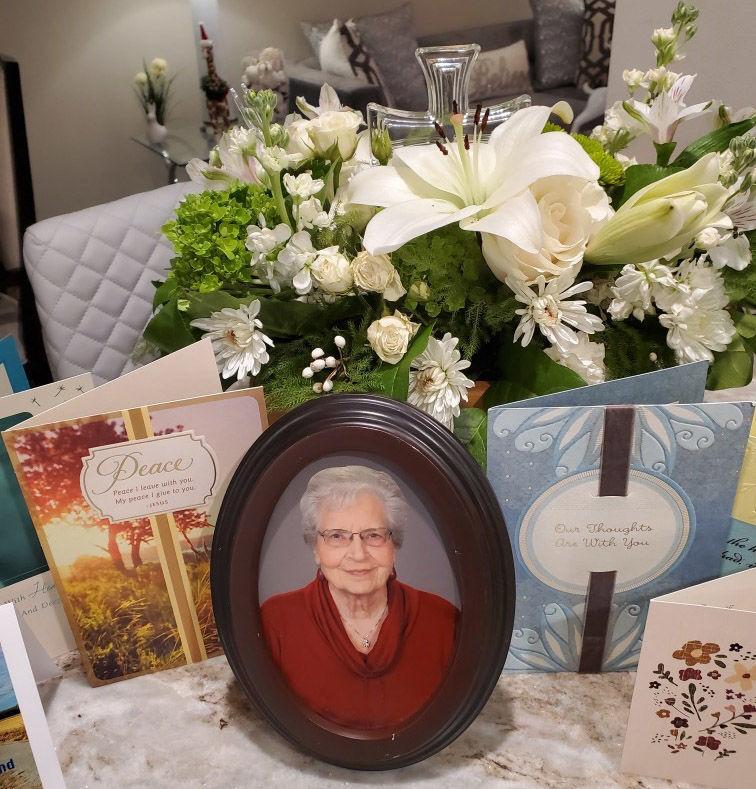 One day, they'll have the big celebration she wanted.
And they know their family's story is one that repeated itself thousands of times, in thousands of families, during the year of the terrible pandemic.
Each with its own version of the heartache that isolation carried with it.
His mom was a real trouper, Bill said.
"She just wanted to hold and touch her family."
COLUMNS FROM A CRAZY 2020: