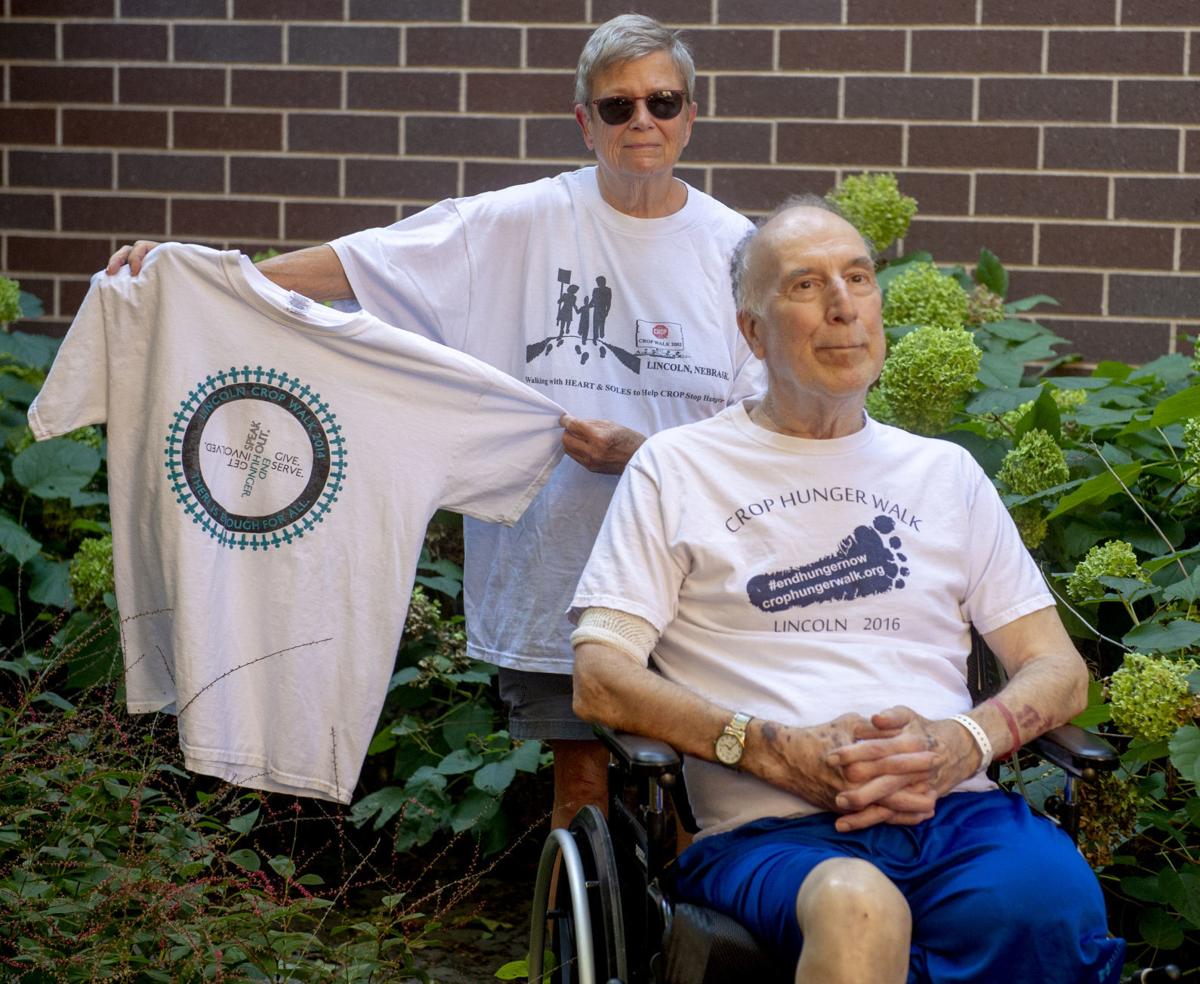 That first year, they took turns carrying the baby on their backs for 10 miles.
Barbara and Richard Voeltz were just starting out then, librarians who'd met in school down in Kansas, new parents to little Michele.
Tuesday, the grandparents are wearing old T-shirts from the fundraising walk they've made every year since 1974.
Barb's is oversized on her small frame: Walking with heart and soles to help CROP stop hunger ...
"The oldest one I could find."
Richard's is more recent (and more fitted) and carries the same message with a social media time stamp: #endhungernow.
CROP stands for Communities Responding to Overcome Poverty; it's an ecumenical endeavor, sponsored by Church World Service.
Back when Richard was young, the hunger-ending effort was new. It was called the Christian Rural Overseas Program then, the 78-year-old says.
"I was a little boy on the farm. I can remember neighbors coming around on wagons asking for donations."
They didn't ask for money. Instead, they loaded those wagons with corn or wheat or milo and sold it, sending the cash off to help the hungry in post-war Europe and Asia.
Part of the Voeltz farm near Ellsworth is still in the family, and it's still helping the hungry.
We are sitting in Room 201 at Madonna Rehabilitation Hospital — 31 steps up a flight of stairs, according to Barb, who climbs them every day.
This is Richard's temporary home. He lost his left leg two weeks ago, complications from knee surgery. (121 steps up to his room at Bryan Health, says his wife and walking companion of 51 years.)
Barb is 74; she grew up in Kansas, too. When she went off to Emporia State College Library School, she saw a young man reading in the school library.
"He was holding the book right up next to his face," she says. "My dad said you should never do that."
The young man was legally blind, an upperclassman who worked in that library, filing books and making terrible coffee. The pair started going to movies together, but Barb hated sitting in the front row.
And so the would-be-librarians began to walk.
Richard had spent his childhood walking the farm, checking on cattle, checking on crops, wandering the land. Barb enjoyed the outdoors, too, birds and butterflies and exercise.
"We'd find each other and started walking around," she says. "And that was the best thing."
That was 1967. The next year they married and a few years later they arrived in Lincoln with jobs at the university's library system. (Richard retired as a science librarian in 2011; Barb quit when Michele was born and returned to other work when their only child graduated high school.)
Richard walked to work from their Y Street home when he was assigned to the East Campus library.
Barb walked to walk — 4, 5, 6, 8 miles a day. They walked together in the afternoons, down the nearby MoPac Trail.
They walked from necessity; Richard's sight prevented him from driving. But they also walked for good health and for pleasure — through the Backyard Farmer garden near Holdrege Street, along Nine Mile Prairie northwest of town with Michele, anywhere their legs could take them to save gas (and the environment).
You have free articles remaining.
CROP is their only organized walk, one they've completed faithfully since it began in Lincoln 45 years ago.
Barb solicits donations — she isn't shy about asking — and they give money from Richard's family land down in Kansas, too.
A renter farms the home place, he says, and the couple long ago made a commitment to tithe their share of the profits.
Straight from the farm to the hungry.
One year, it rained and rained on CROP Walk Sunday and the sidewalks on 70th Street were a muddy mess.
One year, it snowed in October and the wind downed limbs across the route.
One year, the walk started at Warren Methodist Church — just down the street from home — and Barb took a detour to pull her clean laundry down from the line.
More than one year, the CROP-walking couple carried a transistor radio to listen to the World Series.
Barb carried snacks, mostly Halloween-sized Snicker bars for Richard and Michele.
"It kept us going," Richard says.
Michele graduated from a pack on her parents' backs to a stroller to walking alongside her parents. Now she's married, a mom of two living in Grand Rapids, Michigan.
"She has a lifelong love of walking," Barb says.
"I grew up taking walks with one or both of them," Michele Rau says. "I love walking."
Her parents' commitment to the cause of hunger doesn't surprise her. "Just the idea of walking to help other people is something they would do."
The CROP walking couple walk alongside strangers and church friends. Young people and old people, families with babies and a busload of walkers from St. Mark's Methodist Church.
"I think it's terrific that they do that," Barb says.
At the end of the route — shortened to 3 miles in recent years — there are cookies. (Also terrific.)
The money raised each year helps local agencies — food pantries and nonprofits — and it travels, too, headed to people in need internationally.
"It not only provides food, but tools and livestock and anything a small farmer needs," Richard says.
It's five days before CROP Walk 2019 and eight weeks since doctors amputated her husband's left leg just above the knee.
Barb is ready to walk come Sunday, the first time she'll make the trek alone. And her husband isn't far behind.
"I plan to rejoin next year using a wheelchair," Richard says. "She'll push and I'll pull and we'll make it work."