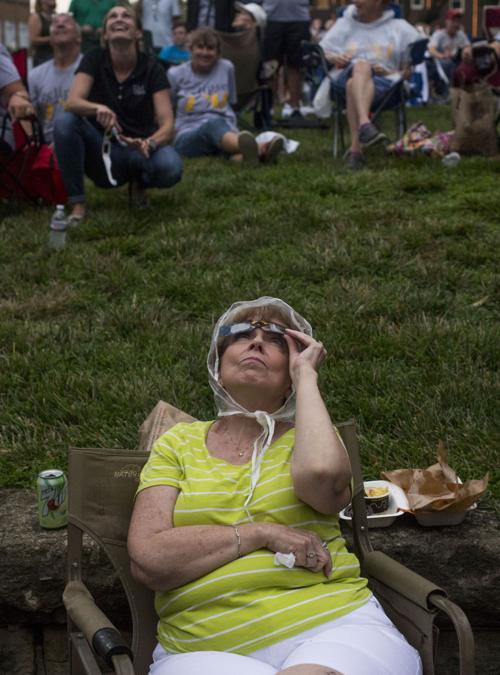 I'm wondering about the price of a plane ticket to Argentina.
My preoccupation with Buenos Aires — and its upcoming date with a total solar eclipse —began shortly after 1:02 p.m. last Monday, as I gazed upward in anticipation of totality, only to find God had called in the clowns.
Excuse me? America's Celestial Event of the Century and my viewing spot was jinxed by an upper-level disturbance at T-minus 2 minutes?
Right before the curtain went up on the otherworldly beads of Baily, the panoramic horizon, the flares of the sun, I got showered with cirrus instead?
It's still painful to contemplate, like watching President Trump stare naked-eyed at the heavens from a White House balcony that day.
Don't misunderstand, watching the shadow of the moon take slivers out of the sun was a wonder to behold. A hungry Pac-Man 227,000 miles away on a collision course no one but the universe could choreograph.
And sitting in a field at Roca Berry Farm with a few hundred strangers wearing strange glasses while folksy music played was not bad for a Monday.
Nor was the vibe on a strip of concrete 3 miles south (where we'd pedaled in hopes of clearing skies) as the sky darkened eerily and, on cue, dogs began to bark, owls commenced hooting and the call of cicadas was enchanting.
But it wasn't all that and a bag of Milky Ways, either.
It wasn't the mind-blowing nirvana I'd expected. And as the lights came back on, I sort of wanted my money back.
I'd been hawking this event since 2010 and frankly I felt like it owed me a little something.
Seven years ago, I'd reminded people to SAVE THE DATE. Make their hotel reservations early. Wear their damn glasses. (And take them off when the time was right.)
I'd interviewed eclipse-chasers and ordered 20 pair of ICE-approved shades months in advance, which I passed out like Tootsie Rolls at a parade when the procrastinators panicked. Here! Have Fun! Enjoy!
I'd re-read Annie Dillard's eclipse essay and prepared to have my life changed forever.
And there I was the day after, avoiding the inevitable "How was it for you?" questions from coworkers.
I wanted to be happy for the millions of Americans who witnessed the glory (and I am, I am, I am), but there is also solace in knowing I'm not alone.
"We saw nothing," said podmate Cory Matteson, who camped at Indian Cave State Park in Southeast Nebraska and stayed to gauge the reaction of fellow skygazers.
Which was? "Like interviewing a losers' locker room after the Super Bowl."
And poor John Schreier, our new editorial guy who zigzagged through Lancaster County and still got shut out.
You have free articles remaining.
"We were among the cars and trucks that broke all the traffic laws in parking on both sides of the road — all to stare at unnaturally dark skies without a glimpse of totality."
There was Kendra Waltke Plott at a cabin near Adams with her little boy, Elliott, and her husband, Dave, and her parents and grandma and an aunt and her brother, who flew in from Washington, D.C., just for the eclipse.
"We kept saying it's 12:50, it's 12:55, it's 1," she said. "Then it got windy and the sky darkened and it got bright again."
She put on a good front. And they did have fun: "I didn't let on how disappointed I was, but we'd been looking forward to it for so long."
So had Brent Curtis at the Nebraska Emergency Management Agency, where they spent all year planning to make sure our state and its visitors stayed safe on Aug. 21 — and about 2 minutes outside headquarters to witness it.
"We could see light and then we saw no light and then, after about a minute we saw light again," Curtis said.
His sister had a similar experience at Stagecoach Lake, which she described to him via text: "Can't see s---," wrote Jessica Curtis. "But we did hear a rooster crow so ..." (The message ended with a trio of thumb's-up emojis.)
Meanwhile, at a farmstead near Unadilla, Kathy Cates Moore and friends enjoyed a tailgate that included Sun Chips and Moon Pies.
They had perfect "Phase One" weather, she said, and then the clouds rolled in.
"The best part was when a friend dropped a fishing pole into the farm pond at the exact moment of what was supposed to be totality and caught a fish in an instant." (Legend has it that fish jump during a solar eclipse.)
And 38 miles away near Cortland, Anthony Slattery and his partner, Marie Kisling, gazed up at a "trough of thick mammatus clouds extending to the west," he wrote in an email.
"I was surprised and amazed at how the diminishing sunlight changed the color of the sky, clouds, fields and surroundings so quickly. I heard quail and other birds calling ... the two minutes seemed like a few short seconds."
Slattery did feel like he missed out a bit, but he didn't let it eclipse his enjoyment.
"The feeling was short-lived."
He's loved hearing all the eclipse stories, watching people's faces as they describe those moments.
And he has plans: Seven years from now, another total solar eclipse will chart a course from Texas to Maine.
Waltke has that eclipse in her second-chance sights, too. "Maybe someplace cool like Maine."
As does Schreier: "Now that my disappointment has subsided ... my wife and I began planning our attack for 2024."
I don't think I can wait that long.
And whiling away the first week of July 2019 in Argentina for another chance at totality —  or tooling over to Chile to watch Baily's beads over the Pacific Ocean — sounds pretty good.
If there are enough of us, maybe we can charter a jet.