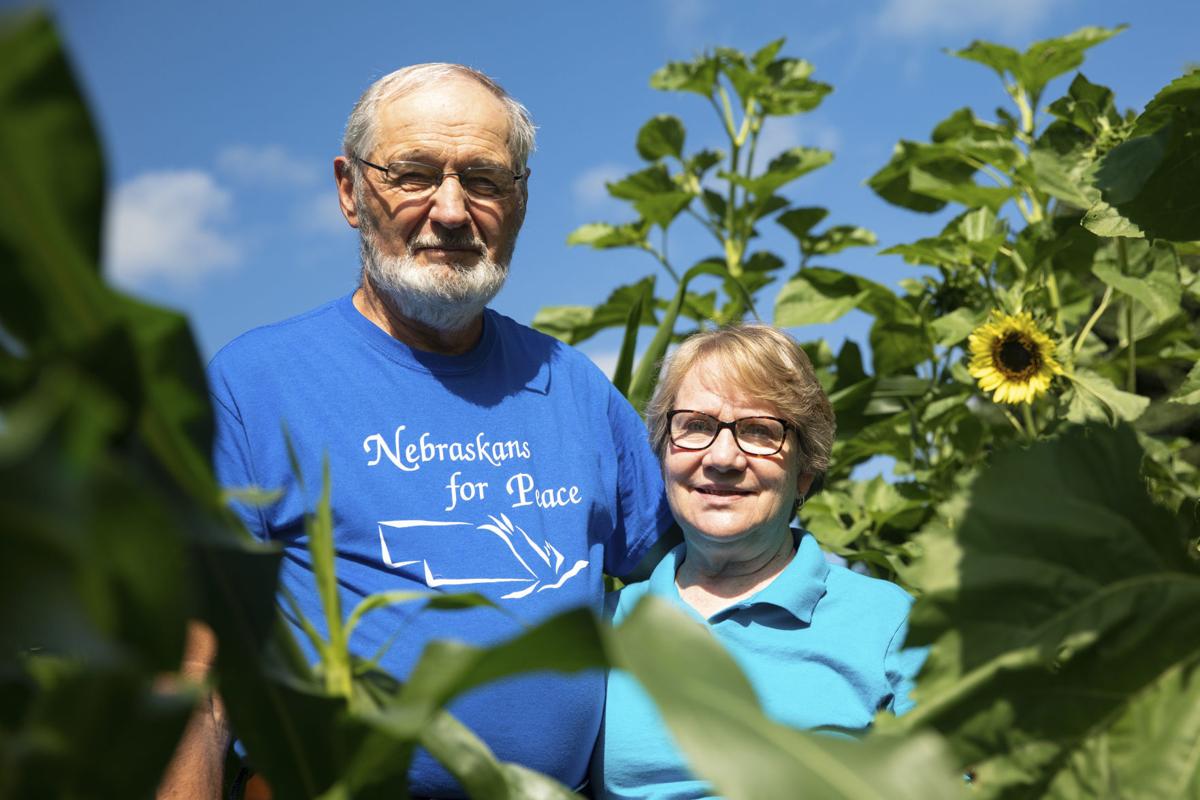 Nebraskans for Peace had been around for 16 years by the time Ron Todd-Meyer joined up.
He'd been busy. In 1966, the Nuckolls County farm boy had been drafted and went off to serve his country for two years — the second in the infantry in Vietnam.
He'd returned home, the fourth generation to farm that south-central Nebraska land.
And over time, he'd come to feel that war wasn't the answer to our country's problems, or to any problem anywhere.
"I grew up believing our country had noble purposes, I guess," said the Nebraskans for Peace board president. "Ten years later, I began to question the whole reason for being there."
The farm crisis had arrived by 1986 when he took a trip to Central America to study hunger issues, spending time with workers harvesting coffee for wealthy multinational corporations and living lives of poverty.
"We were waging a proxy war against Nicaragua, and I saw the victims of that war and my own complicity in that," he says.
He started to see what Martin Luther King Jr. meant when he talked about the three evils of society: Militarism. Materialism. Racism.
How they worked to keep people down and divided, while their leaders built empires.
"I think I've come to the conclusion that most of the wars are fought because most of the people lack the resources to feed their own families."
He met Lois Todd in 2004 at a Central Nebraska Peace Workers meeting in Grand Island. He'd known her parents, both members of Nebraskans for Peace, her dad a Presbyterian pastor.
They took each other's names when they married, and six years ago, they left the farm and retired to the countryside near Emerald.
Nebraskans for Peace turns 50 this year, and the events the group had planned have been waylaid by COVID-19. An April concert at the Indian Center was canceled; the fall annual meeting will be virtual.
They're holding board meetings via Zoom, Ron said. The upside? More attendees.
And it fell to Ron to reach out to the media and be the face of the group, a task he agreed to with a reluctant willingness.
He's stalwart in his beliefs, a letter to the editor writer, a panelist, a member of the Nebraska Food Council and the Lancaster County Food Council, promoting and advocating for more people to grow their own food.
The group he represents has a dues-paying membership of 1,200. A bimonthly newsletter called the Nebraska Report that found its way into hundreds of mailboxes, the outline of the state held aloft on the wings of a dove, before printing problems turned it into an online-only publication.
Nebraskans for Peace had its roots in a group of farmers and rural pastors who organized against the war in Vietnam in the late '60s, he says.
They stood with the poor and the rights of laborers and minorities that have evolved and broadened with the times. The push for a nuclear freeze in the '80s. Early protests of beer sales in Whiteclay in the '90s.
Standing for civil rights and economic justice.
"Dealing with racism and our whole economic structure and how it's contributed to this disparity."
They advocate for the environment and against the devastating effects of climate change. They promote peaceful conflict resolution and promote food security.
They grant scholarships, hold workshops, honor Peacemakers of the Year. Smart people write columns and book reviews for the newsletter. They support legislation and hold vigils.
"We are still anti-war," Ron says. "We want to reduce the military budget."
They swim against the prevailing tides.
Lois is a retired teacher and longtime member of Nebraskans for Peace, too.
She knows that not everyone agrees with the group's philosophy, but she also sees that reasonable people respect a perspective that's grounded in facts and reason.
"It's still important for the voice to be there," she says. "It's like a pebble in your shoe."
Her son and his wife both served in Iraq. They talk to Ron about the military, about being veterans.
"When you're in the military, there is this camaraderie with your fellow soldiers," Ron says. "We need to find that working toward peace."
Tim Rinne has been the group's state coordinator for 28 years. Paul and Betty Olson were early members; Paul Olson continues to organize an annual lantern float at Holmes Lake on the anniversary of the bombings of Hiroshima and Nagasaki.
He penned the group's history, grounded in the early work of Nebraska progressives and pacifists.
"Due to some degree of modesty, he does not give enough credit to himself and his late wife, Betty," Ron says.
But he credits the work of many to keep the group alive for half a century when many other peace and justice groups of its generation have disappeared.
"May it flourish for another fifty years and with good support," Olson wrote.
Lois and Ron Todd-Meyer hope so, too.
All those years ago, the Vietnam veteran began to see the relationships between government power and war and the needs of everyday people.
"I saw how everything is interrelated. What affects one of us, affects all of us."
He sees it today in climate change. In a pandemic.
"We cannot distance ourselves from other people or other nations."
The work of peace can be frustrating, he says.
"In some ways, you could say we failed because the world is a more dangerous place than ever," he says. "But I guess there's still a vision that the world can be different. That it can be a whole lot better."