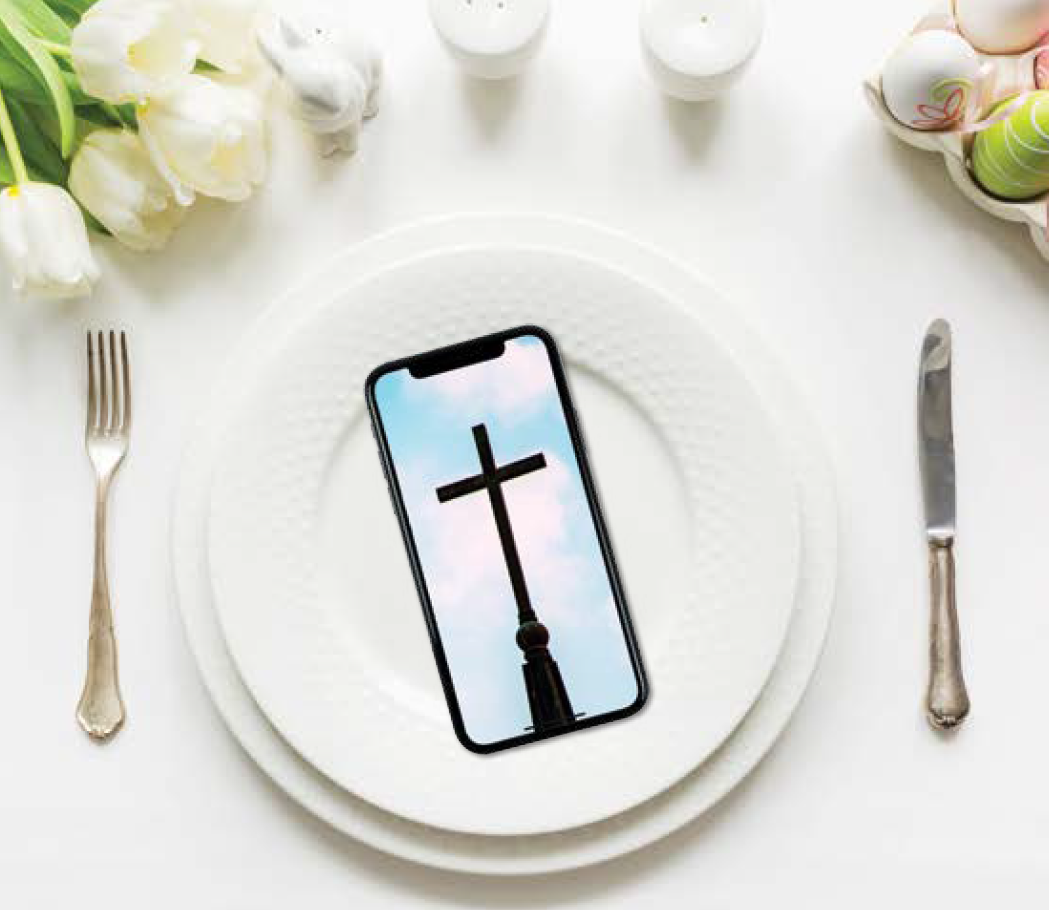 Nearly no one is going home for Easter.
No one is walking in your door for a hug and an egg hunt and a grateful prayer before a feast of ham and hot-cross buns.
No one is worried about the forecast — snow on Easter? — ruining a 5-year-old's plan to wear a flimsy floral dress and sandals to church.
It has been a Holy Week like no other. Millions of Christians will not be packing the pews, scooching together to fit in just one more, listening teary-eyed to trumpets and hearing the resurrection message spoken from an altar overflowing with Easter lilies.
There will be socially distanced parking lot church and safely spaced services in the ballpark in Pleasant Dale — and somewhere in this great country, somehow, there will be coronavirus doubters who will stand shoulder-to-shoulder in defiance of science.
But most people will practice their faith — along with the secular arrival of the Easter bunny and his baskets — quietly, responsibly, perhaps with a sadness underlying the joy of the empty tomb.
"Easter has always been a huge deal to me," says Paige Namuth, who once donned a gaudy green Easter bonnet and left hard-boiled eggs at a nearby home occupied by drug addicts.
She won't be doing that this year; instead, she'll spend the holiday with her husband, Ron, at their retirement home in Colorado.
"We will eat on our deck in Estes, where they mean business on quarantine, and wave at the Easter parade of people walking their dogs."
She will open her laptop, too.
"And comfort myself listening to Eric Clapton and Pavarotti sing 'Holy Mother Hear My Prayer,' on YouTube."
Mary Beth Rice has spent Holy Week 2020 more quietly than usual, more pondering than celebrating. Trying to catch sunrises and sunsets and the glory of the brightest moons of the year.
She's slipped into the Cathedral of the Risen Christ — open to no more than 10 people at a time — to light candles and pray.
Members of her family — including her mother and sister and one of her sons — are in quarantine.
"We will be separated for the first time ever ... so strange."
Despite the strangeness of the day, she and her husband, Rich, will "cook up a storm," she said. They will eat their Easter dinner early, "then drive and drop off late plates of goodness."
Amy Clare will serve her Easter Lambie cake — a sometimes-lopsided Easter tradition passed down from her mother, a pound cake dessert glued together with gobs of frosting — even though most of her clan won't be around to eat it.
Martha Gadberry will set the table with china and the good silver and a full Easter feast for two.
She and her husband, John, will watch church online. Maybe stand on the driveway at 10 a.m. and sing "Amazing Grace." (She posted the idea on her Nextdoor app and is waiting to see if there are any takers.)
Karis Anne Loos will pick up her Easter dinner off her daughter's front porch and take it home to eat.
Tammy Walter will do the opposite. Eat Easter dinner at home and pack up a care package to deliver to her son across town. "Full of mom's food and hugs."
The hugs will be virtual.
"He and my husband are both at high risk due to asthma, so we are just being safe for both of them."
All across the city, there will be Zoom Easter dinners.
City Councilwoman Tammy Ward will gather 14 family members — from Lincoln to Geneva and Fairbury, from the 3-year-old to the 65-year-old — to celebrate via Zoom.
She gave a nod to Twitter: "#AloneTogether."
The hashtag will define gatherings across the city.
Brian and Missy Noonan will FaceTime with family in Omaha, willingly doing their part to flatten the curve.
Barb Biffle Bennett will have a Zoom get-together with her grown kids in Illinois.
"No idea what to expect, but it will be fun, I'm sure."
Dick Clark will watch Southview Baptist's Easter service the same way he's been attending church since Gov. Pete Ricketts banned large gatherings — live-streamed.
He will take communion with substitutes from his pantry, awaiting his pastor's recommendations.
Most years, Alexandra Hayne cooks an Easter/Passover feast for her family. Sometimes ham, sometimes brisket and matzo ball soup.
"My daughter and I are cooking separately, and then we will package up individual takeout meals ... for the rest of our socially distant family to pick up."
Noah Weiss has already observed the first nights of Passover in the socially distant fashion.
He observed the first Passover Seder on Wednesday, at home with his parents, instead of the traditional gathering at the synagogue. The second Seder on Zoom with friends in Wisconsin, where he lives and works.
Alan and Donna Hersch gathered with their geographically scattered family virtually for the first-night Seder, too, setting the table with candles, wine and matzo and retelling the story of the Jews' exodus from bondage in Egypt. On the second night, the couple gathered remotely with 60 families to observe the Seder led by the rabbi and cantor from Beth El synagogue in Omaha.
An annual two-night tradition, celebrated with friends, Jew and Gentile alike.
"It was a joyful event in light of the circumstances this year," Hersch said.
Lincoln High School teacher Deb McGinn has joyful plans, too. She'll fill baskets with books and sweets and bunnies for the children across the street.
"I will text them and leave them on their porch."
Cris and Brian Petersen will watch church in their pajamas and take the kids out back for a scaled-down Easter egg hunt.
Jan Tooker will gather the extended family that usually fills her dining room on Zoom instead.
They won't be able to hold hands, but they will sing the doxology like always.
"Hopefully, it will work."
Yoga instructor Bonnie Jensen Meyer will lead a Zoom class at sunrise with participants meditating on a verse from the book of Matthew. He is not here for he has risen, as he said.
Yes, technology paired with tradition will help carry Easter 2020.
Rosina Paolini will do what she always does to feel connected — go outside. "Communing with nature is solace and sanity for me."
Animal rescuer Lynne Knutzen will tend to her baby chicks. Pam Ritchie Vermillion hopes to pray outside surrounded by her fruit trees and flowers.
Lincoln Police Officer Melissa Ripley will be on the streets and on the clock, keeping us safe.
Gina Simanek will play the Easter bunny, delivering (sanitized) baskets of goodies to her parents and friends and the elderly. Samuel Brown will be "counting my blessings, which are numerous."
Barb Pederson plans to deliver home-cooked meals to family and then she might just head down to First-Plymouth and listen to the bells at noon.
Jennifer Snyder will do the same. It will be the first time in forever she hasn't stood in a choir loft on Easter morning, she said.
"It will be bizarre to not sing the Hallelujah Chorus or hear the Widor Toccata on the organ."
Bizarre works. Heartbreaking, too. An Easter unlike any other.
Around the world, millions of people who gave up more than they imagined they ever would for Lent, counting themselves blessed.
And that includes Cindy Anderson Jones, who after months of home renovation, imagined an elaborate celebration, the dining room bursting with all of her family.
The vision is long gone, she said.
"It is what it is. I am proud of all the sacrifices that so many have made for the common good of us all."