He did a lot of things right, despite it all.
Started a business and loved his kids and helped his friends when they were in a pinch.
Jeremie Garrison will tell you that straight away.
The 39-year-old Lincoln man will talk about being a poor kid in an abusive home.
He'll talk about his own dark side — punching holes in walls and doors and grabbing his wife, pushing her, yelling.
He'll tell you something else. That he thought a little meth wouldn't be a problem. That he worked long hours at ALLways Towing, Inc., a company he started 15 years ago and grew from one truck to 10 with drivers out around the clock -- believing a little pick-me-up wouldn't be an issue.
Then he'll tell you that it was.
That it grabbed him hard and fast. A drug-fueled spiral that hurt his business and hurt his family. A problem so big for so long — eight years — that looking back, it just seems crazy.
He'll tell you this as he prepares to tie a pink bow around a white car and give it away to a teenager in need.
He'll tell you how long he's been sober: 264 days.
Garrison didn't come looking for a pat on the back for a good deed. Someone heard and someone told.
But he's happy to share, because being sober feels good. And giving back feels damn good. And maybe someone else can read his story and know that there is a way up and out.
"That guy is gone," he says. "I love this new me."
Growing up, his mom drank too much. She was in and out of the hospital suffering from depression and he and his little brother ended up passed from relative to relative.
His dad wasn't around, so he was the man of the house.
And he went to live with the father he never knew. He learned manners and to respect his elders, Garrison said. But the lessons sometimes came with a belt for good measure.
After three years, his dad sent him home and eventually his mom got sober — a wonderful grandmother now, he says, a good mother. Redemption for the past.
So he was rightfully proud when he started his own business at 24, already a father. He knocked on doors and forged relationships, worked non-stop.
He knew, even then, he was at risk for the drug and alcohol abuse that ran through his family.
He knew to stay away from booze, although he didn't always do what his brain told him.
"When I drank I'd either be naked or try to fight somebody."
He was that guy, he says.
"Running around the parking lot with my pants off, saying 'Look at me! I'm naked! I'm going to beat you up!'"
Jeremie talks fast. He was always a goofball, he says. The funny guy. The talker. The open book, always babbling an "I love you." Qualities that helped mask his addiction.
And getting meth was easy.
"I wanted to do more and more and more and the bad thing was I had money. I could buy it whenever I wanted."
He'd text his dealer, head to his tow lot office with his meth pipe.
At home, he'd hole up in a basement room for hours, telling his family he was in the middle of a woodworking project.
"For two years I told my wife I was building her a desk."
He'd stay up for five or six days running.
And when he ran out of his high, he had a built-in excuse to go out and get more: Someone called and wanted a tow.
"I was full-blown crazy Jeremie."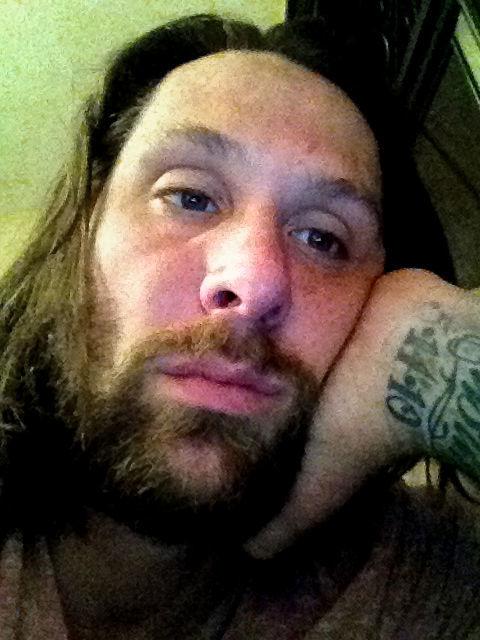 Three years into the addiction, he got sober. But it was temporary.
"I was doing it for the wrong reasons," he says. "I was doing it for her."
Her would be Krislin, his wife and the mother of two of Garrison's three children.
"I thought he was cheating on me," Krislin Garrison says. "He told me it was meth, and I have never dealt with drugs. I didn't know how to handle it."
The respite didn't last and when he returned to using, he denied it.
"Deny, deny, deny," she says.
Then that day came. The day he blew up and grabbed her by the hair and pushed her.
The day she ran out of the room and told the kids to pack their suitcases.
The day they went to live with her mom and didn't come back.
That was his rock bottom, his wife says.
"He was alone. He had this nice big house and no one to share it with."
He ended up at a rehab center in South Dakota. He came back and started counseling.
Time passed. His son came home and then his wife and oldest daughter.
Now he's working, he says, to repair the damaged relationship he has with his middle child who lives with her mother.
He worked to repair his professional reputation, too, visiting mechanics and body shops to apologize. I was a meth addict, he told them. I'm so sorry.
"I almost lost my business. I stopped answering the phone. I was acting irrationally."
On drugs, he had that angry edge, he blew up, punched all those holes in doors.
He's not perfect now. But he's not that guy.
"He's really tried to turn his life around," his wife says. "He's a better Jeremie than he was before."
On Monday, he will give a car away.
Sometimes a tow truck business ends up with cars. They get impounded. No one picks them up.
Garrison had a PT Cruiser that fit that category. He wanted to give it to a needy family, but he asked around at his kids' schools and couldn't find a match.
But one of the principals posed a question: What about a needy student?
He knew of a high school student in foster care. A hard worker who needed transportation to her job.
Even better, Garrison thought.
"What 16-year-old is going to want to drive a PT Cruiser?"
He had another car. A 2011 Chevy Aveo with 73,000 miles.
He called the girl's social worker and they set a date. He threw in $100 gift cards for the student's siblings.
He talked to his buddies in the car world. Together they installed a stereo in the Chevy. A navigation system, Bluetooth, new tires, a tune-up, oil change.
Garrison had not been a great dad during his meth years, he says. He wasn't there for his children. He missed football games and volleyball matches and cheerleading and everything in between.
"My wife calls this my recalibration. The drug tore apart my family, ruined my marriage and caused me to make some pretty poor choices that I'm not proud of. It turned me into a monster."
It's hard to say who might be more excited come Monday. The girl getting the car or the man giving it.
"Before, it felt like there was a fog in front of my eyes," Garrison says. "I'd wipe my eyes, but I couldn't see clearly."
He calls his old self an idiot.
He calls his new life a gift, and the gift of the car to a girl who came from a family like his own, full circle.
A way to make her life a little better.