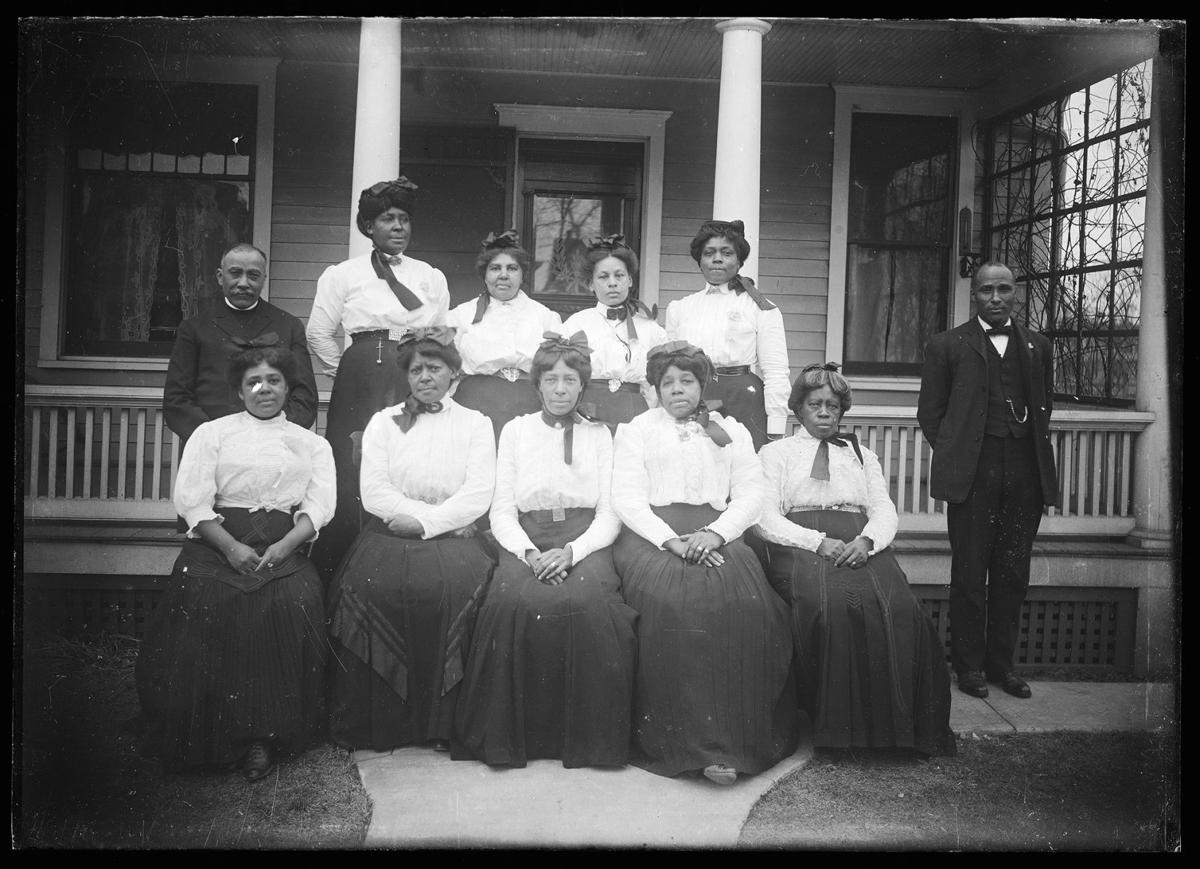 The old house on Washington Street is modest and neat.
A Prairie Box style built in 1903, painted yellow with teal trim on its wooden porch railing where, long ago, a photographer snapped a photo of the women of the Church of Christ Holiness and their spiritual leader.
There he is, off to the right. The Rev. Oliver J. Burckhardt, hands clasped behind his back, the chain of his pocket watch dangling from his suit vest pocket.
Burckhardt was a pastor and a porter and a waiter at the Lincoln Hotel.
He'd come to Lincoln in 1890, a graduate of a school started by black Civil War veterans in his home state of Missouri.
He traveled to Iowa evangelizing and, in 1898, met and married Anna Jone, an accomplished, self-taught artist.
He encouraged that talent, paying for university art lessons and, then, during his days as a porter for the Burlington Railroad, carried her hand-painted china and sold it along the route.
Anna called her husband Ollie. They took in foster children, and she taught art lessons to students both white and black.
They planted rose bushes and trees in their yard, filled their house with paintings and fine furniture.
In 1910, the minister set out for the Sandhills and ministered to a group of black homesteaders in Cherry County, helping attract "more than 150 souls into that immediate settlement."
Paul Adams' legacy lives on in the elementary school that bears his name in southwest Lincoln. It's worth remembering the man and the life he lived this Black History Month, Cindy Lange-Kubick writes.
Eight years later, he helped start the Lincoln Chapter of the NAACP and became its first president.
He was a young man — approaching 30 — when he'd first felt the call to ministry.
"About 46 years ago, Rev. Burckhardt became interested in religious matters," reads an unsigned letter in the archives of History Nebraska. "He is known not only in Lincoln and Omaha … but throughout the country for his religious activities."
He started a church in Omaha and became involved in the Urban League, later championing its cause in Lincoln, gaining the support of white citizens and the donation of a building by white businessmen.
He presided over the Christian Alliance, an interfaith and interracial group "accomplishing much good in stimulating spiritual interest in the city."
He served as a chaplain at the Nebraska State Penitentiary for 20 years.
The stranger in the dining room had come to ask about her family.
He counseled governors and mayors and judges and petitioned for the ban of "Birth of a Nation," the race-baiting movie, from Lincoln theaters.
Newspaper stories from the 1930s describe him both as a janitor and a "Custodian of the Cloakroom" at the State Legislature.
The lack of job opportunities represented a truth for African Americans, Kathryn Colwell, a city planning department intern told the Journal Star in 1999.
"And it is why people like the Burckhardts, who could have been governors or mayors or professionals, worked as porters and waiters and janitors."
Oliver Burckhardt died in 1949, a widower by then for four years. He'd left the house on Washington Street after he lost Anna and moved to Omaha to continue his ministry.
"An outstanding civic and religious counselor who knows no distinction in race or social status," read his obituary on that Dec. 23. "His great concern seems to be about the poor, destitute and friendless, more than about those having plenty and living in good homes."
Colwell filed the application to place the Burckhardt house on the National Register of Historic Places.
Not simply because of the uniqueness of its architecture, but because of the contribution of the people who once lived there.
The application read: "Oliver Burckhardt worked throughout his life to improve conditions for African Americans both in Lincoln and the state of Nebraska. He provided leadership, counsel and spiritual guidance throughout the African American community and to elected officials."
And: "Living in an era when most African American women were limited to work as maids or cooks, Anna Burckhardt's development of her creative talent as an artist and work as an art teacher was unusual. For over 40 years she taught art to students from her studio in the home at 1236 Washington."
The application was granted.
The pastor and the painter, who rose above the racism of the day, are buried side-by-side at Wyuka Cemetery.
Inscribed on the reverend's headstone: "Here Lies a Helper of Unfortunate Mankind."
And on the artist's: "Here Lies the Helper of the Helper of Men."