Cindy Lange-Kubick: The forever friendship of Jim and Bob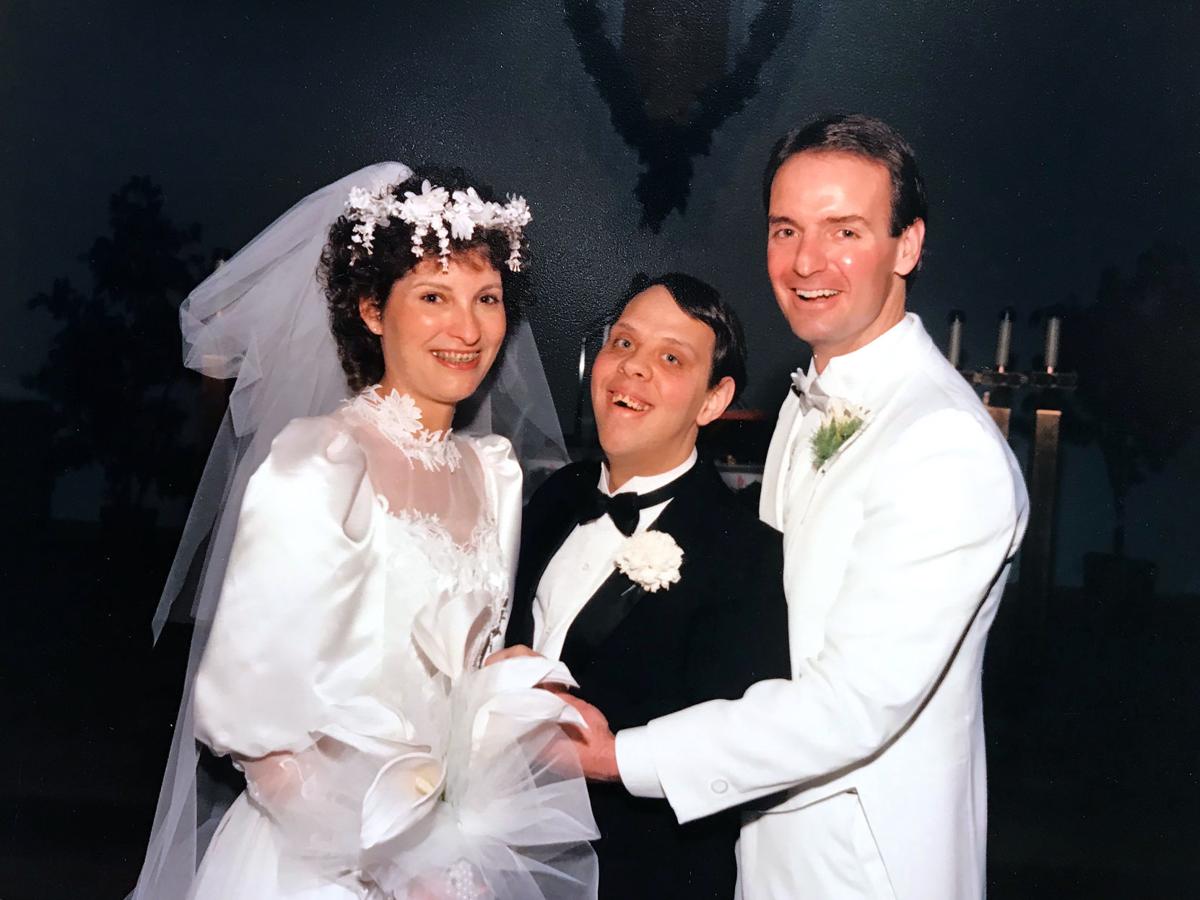 The best friends met at a chicken joint at 48th and R streets.
Bands played at the Drumstick in the '70s and, in the summer, acting troupes put on melodramas.
A guy named Bob Deschaine sometimes served as the emcee and one night, after the first act, he called out a heckler in the front row.
He invited the guy onstage, embarrassed him mercilessly, then rubbed his hands together — looking around with goodhearted glee for his next victim.
"Anybody else want to come up?" he asked.
And out of the middle of the crowd came Jim Logan.
"With his eyes sparkling and a grin on his face," Bob said Wednesday. "We stood there and sang 'Daisy' and we've been friends ever since."
Jim was 57 when he died last Thursday.
In his obituary, after an accounting of his accomplishments and attributes — his medals in Special Olympics bowling, his fondness for collecting keys and keychains, smiley faces and business cards, his love of singing and dancing, of his teammates and Garth Brooks and people in general — was another list.
Family members who had preceded him in death and family members who'd survived him.
And: "His best friend of over 38 years, Bob Deschaine, his wife Connie and their three children."
It touched him to be included on that list, said Bob, a retired Lincoln Public Schools health and PE teacher.
"Jim was the personification of friendship," he said. "Jim was the personification of joy. So many wonderful, wonderful, wonderful moments in my life were with Jim."
Jim and Bob celebrated their December birthdays together. They made up jokes — Where are the pickles at Pickles Record store?— and sang silly songs.
In 1986, Jim was an usher in Bob's wedding (he was too nervous to be a groomsman). Jim held each of Bob and Connie's three daughters on the day they were born.
"We were that kind of friends," Bob said. "My family loved him as much as I did."
After that night at the Drumstick, the two discovered they lived in the same Near South neighborhood. Jim was 18 and living at a group home at 19th and A; Bob was 27 and had recently moved to Lincoln from Michigan to teach at UNL.
They rode bikes, jogged, went to movies.
"We were young guys on the town."
Soon after they met, Bob went to the ARC — which stood for the Association for Retarded Citizens — and signed on to be Jim's citizen advocate.
And he briefly thought of himself that way, sort of like a big brother, a mentor with his protege.
"It was so much deeper, because we were both adults," he said. "Our friendship was just natural."
Life unspooled. Bob went to work at LPS and Jim began moving from group home to group home, working in sheltered workshops during the day.
When Bob met Connie, she had to pass "the Jim test," Bob says. "No woman in my life could ever be close to me without being close to Jim."
It wasn't a problem, Connie said. She loved Jim. Their three daughters loved Jim. He came to birthday parties and holidays, high school and college graduations.
"We just embraced him," Connie said. "He was just such a part of everything."
For the last 14 years, Jim lived with Susan and Janelle Priest in an extended family home. Susan was his medical guardian. She wrote his obituary.
"You don't find many people with friendships like Bob and Jim that aren't from a caretaker side," Susan said. "It's something I don't even know how to describe."
Earlier in his life, Jim had lived at the Beatrice State Developmental Center. He had Down syndrome and a physical ailment that caused him to fall, Susan said, leaving him unable to work in his last years.
When Jim began having trouble getting around, Bob and Connie would visit him at Susan and Janelle's. Bob would take his ukulele and they'd gather in his room to sing.
"Every time Bob would walk in the room, Jim would just light up," Connie said.
Bob struggled talking about his best friend Wednesday. Their birthday dinners and trips to the mall — "Jim knew everybody." Halloween parties at Auld Recreation Center dressed as soccer refs, blowing their whistles. The hard times they each had in their lives. "Jim always knew the right thing to say."
His kindred spirit, he says.
"Jim and I chose each other. Never once in my relationship with Jim was there a scintilla of pity. It was all pure friendship."
In his last weeks, Jim lived at the Waverly Care Center.
His memory was failing, along with his body.
When Bob came to visit, sometimes the staff would ask, "How long have you two known each other?"
How long have we known each other? Bob would say to Jim.
Two weeks, Jim would answer.
Bob didn't bother explaining the joke to the nurses. Two weeks had been Jim's standard answer for 38 years.
"It didn't matter," he said. "Finally, we just settled on forever."