They sit for a portrait, a pair of retired ministers on a paisley couch.
Jay Schmidt is 86, wiry and pale. He's wearing wind pants and a T-shirt featuring the images of six Native chiefs: Homeland Security, Fighting Terrorism since 1492.
He's fighting his own battle with Parkinson's.
Forrest Stith is 85, a big black man who struggles with his sight and balance. He's leaning back, suspenders holding up dark dress pants, a wooden cane at his side.
Last week, when Forrest traveled to Lincoln from Washington, D.C., they both knew it would be for the last time. And he knew Jay wouldn't be heading his way, either.
So it was tough, when the best friends said goodbye.
But then again, they are tough.
"We don't stop," Forrest says. "We're both cut out of the same cloth and we don't stop."
The pair met in the fall of 1951, freshmen at the University of Nebraska who ended up at a gathering of new students at the Methodist Student House on R Street.
Methodists square dancing. That's what Forrest remembers. Maybe they danced, he says, maybe they didn't.
But they connected over punch and cookies. A white kid from Waverly and a traveling preacher's son who now lived on Ninth Street.
Forrest was musical; Jay was artistic. Jay was an engineering major; Forrest knew he wanted to follow his father into the ministry.
"He was confident and self-assured," Jay says. "I had really good impressions of him from the beginning."
All through college the friendship grew. They played intramural sports together. Jay was an ace outfielder. Forrest could move on the basketball court.
"He was kind of heavy," Jay says. "But very quick."
They joined a service fraternity together. They attended Bible study together. The summer after graduation, they worked on a construction crew in Air Park together to save money for theology school.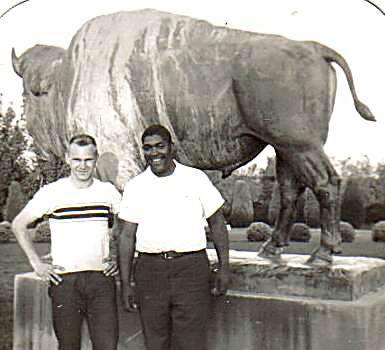 They picked the same school — Drew University of Theology in New Jersey.
The best friends shared many of the same classes, the same view of scripture and of the world.
"I saw him almost every day until he decided to marry Barbara," Forrest says.
He was best man at Jay and Barbara's wedding. Jay was Forrest's best man when he married Josephine five years later.
You have free articles remaining.
Keep reading for FREE!
Enjoy more articles by signing up or logging in. No credit card required.
The two didn't think about color when they were together, even if much of the rest of the world did, including racist relatives of Barbara's who threatened to boycott the wedding.
They were aware, Forrest says. Of course. There was segregation in the church in those days and in Lincoln, Forrest had little contact with white congregations.
There were looks, too. The black man saw them, even if his white friend did not.
"I was a little naive, perhaps," Jay says now. "He'd been places that were pretty discriminatory, so he wasn't surprised."
Jay credits Forrest with helping open his eyes to the scope of racism from beyond the individual to inside society's institutions.
"When you know someone of another race, it changes your perspective."
The two men walked the same theological and philosophical road. Their thinking on social justice issues — racial justice, equality, peace, the environment, economic justice.
"Everything that's compassionate and caring for people," Forrest says. "You don't have to ask us twice, we'll be consistent all day long."
Early on, Forrest served a church in Harlem, while Jay was appointed to a church in New Jersey before returning to Nebraska and churches closer to home.
Forrest broke ground when he was appointed minister of an all-white Methodist church in the Baltimore area and, when the segregation barriers broke down and a black and white district was merged, he oversaw the integration. He became the first African American bishop to serve upstate New York.
Jay found himself in Walthill, where he came to know the Indian people and their culture. He served in St. Paul and Omaha, in Lincoln, Syracuse, Valparaiso, Seward.
"I preached a lot of sermons on racism."
When Forrest came back to Lincoln, they'd take in a football game and talk about the state of the world and their shared vision of justice.
When Forrest's father fell ill with cancer, Jay ministered to the dying man who had become a second father to the boy from Waverly.
The best friends both spoke at the funeral of Forrest Stith Sr., the preacher who became the first black teacher at Lincoln Public Schools. They both contributed eulogies at the service of Lincoln Civil Rights leader Leola Bullock; Jay's in the form of a poem.
Years would sometimes pass before they saw each other in person, as they both raised children and took on added responsibilities in the Methodist hierarchy, but the phone calls and letters and, eventually, email never stopped.
From their computer screens, they still exchange newspaper stories and book reviews and editorials.
Forrest continues to preach on occasion or offer communion. Jay continues to write — he's both a poet and an essayist.
The tremors from Parkinson's make it hard. "I've gotten some other people to do my typing for me."
The six days in late September with Forrest and Josephine flew by. A lot of reminiscing, says Barbara Schmidt. Talking politics, talking about their lives now.
And talking about a connection that began in 1951 with a pair of college freshmen at the beginning of a journey.
"It was a personal relationship which was very, very profound," Forrest says. "Mentally, emotionally, psychologically, spiritually, and we never let it slip away."