Charles Wegner is pointing to a big wooden fish.
He carved it. It's hanging from a tree he planted, adorned with lights he strung. Other fish surround it, small and colorful.
At night, in the glow of the lights, it looks like water falling, he says. And magical fish hanging in the air, swimming.
It's a sunny Tuesday morning. Charles is pointing out attractions -- banana leaf benches and small stuffed llamas and topiaries strung with lights -- as we walk through the oasis this tall man from Wisconsin and a wise artist from Nebraska made together.
It's a place called Garland Gardens, a dream on a double corner lot in University Place with a spacious two-story house that Charles and Barb Mattley helped come to life -- rearranging floor plans and plotting window placements and carving out special spaces.
It's where they got married. Where they planted hundreds of trees and shrubs and plants and flowers and where, every winter, thousands of lights sparkle.
Charles lost Barb on Aug. 10, 2017. She was in the hospital for five days and in hospice for five more.
The brain tumor was as big as his fist, the widower says. Its fingers reached deep. It came on fast with no chance for doctors to make a difference.
She painted that big wooden fish he carved. His partner in the world they created.
This is the second year he's put up the lights without his best friend. The woman who loved art and who loved him. The woman who looked out at this land from their bedroom window, from her second-floor studio, from the sunny room where they sat drinking coffee and reading the paper, and saw the paradise they made.
"We called it our canvas," Charles says.
He takes me through the house, past Barb's clothes hanging in rows, her boxes of shoes, the glittering ruby slippers he gave her, just like Dorothy's. Past walls hung with her paintings, the tiny landscapes she made with smeared clay, orange sunsets and turquoise seas. Past Edgar the old cat, asleep in a basket. Past cabinets filled with the Nippon china they collected and the whimsical cows Barb loved, Charles adding to her collection to show his love.
The house is quiet and tidy and full of Barb.
"I kind of keep her here with us," he says. "We were a team."
Charles and Barb were together 15 years. Barb was a longtime art teacher at Lincoln Public Schools, but she wanted to open her own studio and went to see a man who helped people with small business loans. His name was Rick Wallace and he and Charles had worked for years building roads together.
The loan man asked Barb a question: Do you date?
She wasn't sure how to answer. Well …
I can, she said, puzzled.
"She was a little reluctant because she wasn't sure what he had in mind," Charles says.
His old business partner had Charles in mind.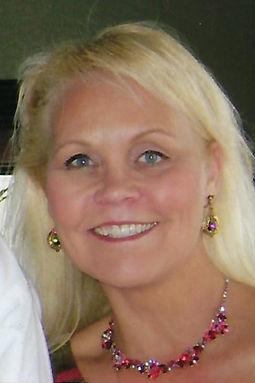 A 6-foot-6 guy who cooked and gardened and knew the value of hard work from growing up on a Wisconsin farm. A bachelor who had long lived in a small bungalow on a double corner lot, a place that had served as a studio for an artist named Gladys Lux.
Barb was seven years older than Charles and divorced. She'd been abused as a child and lost an eye and lived more than 50 years with nerve pain that flared and sometimes left her bedridden. She didn't complain. She was intense and vibrant. She loved the young students who called her Miss Mattley back when she kept house on L Street with a pair of long-haired cats.
She loved to garden, too, the way a landscape could be transformed with color.
The pair talked on the phone every night for three weeks. The friendship came first, Charles said. It created the bond.
"We did everything together," he says. "Every Saturday, we'd go get trees. Barb loved scoring a greenhouse bargain."
Barb taught him to take care of things.
They appreciated each other.
"It's always nice to know you have somebody in your corner," he says. "She was a great partner."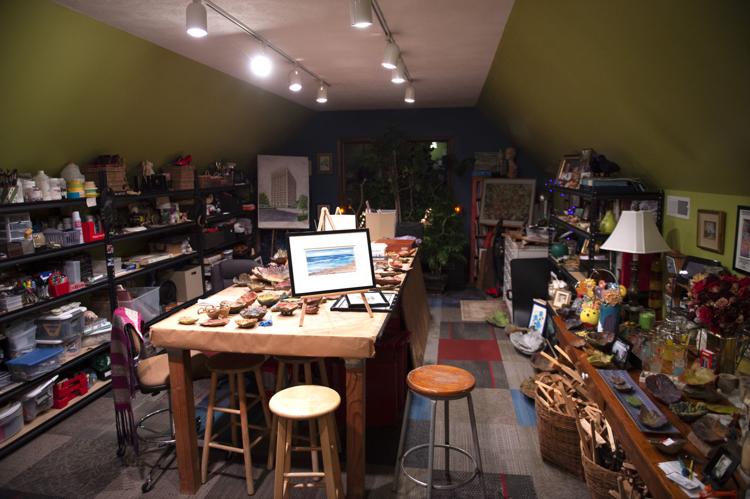 You have free articles remaining.
Charles is sitting on a stool now at a long table covered with brown butcher block paper. Barb's artist studio is over the garage, still filled with her work. Among the paintbrushes and the paintings are small vessels formed from leaves and concrete, a joint effort from the man who built roads and the woman who made art.
She sold the unique leaves and kept some, too. She plucked huge banana tree leaves, too, and she and Charles made study benches, each a work of art.
And twice a year she hosted a two-day sale. Art lovers came from all around to shop at "Two $10s and a $5." Her students contributed drawings and paintings and every piece of art, big or small, sold for the same price: $25. The proceeds went to charity.
Most years, Barb donated the money to the Child Advocacy Center down the street, where she had shared her story of abuse to encourage others.
Barb was resilient, Charles said.
She taught through her pain and encouraged others to do the same. She helped young girls use art to cope with family loss and suicide; she helped adults cope with changing health. When one student bemoaned the loss of feeling in one hand, Barb had an answer: You have another one, don't you?
Putting up those lights took time. And the project grew with the garden.
Barb worked at home, taking care of the landscape and teaching private and group lessons in her studio.
She'd find herself in the yard nearly every day. And when it came time to light the sky, she'd scheme plans and sketch them out on paper.
"And then I'd come home and electrify it," Charles says.
The cold was hard on Barb, but he'd warm her hands in his big paws.
Cars lined up to see what they had made, creating their own string of lights in the old neighborhood. Eight limos filed down the alley a week before Christmas this year.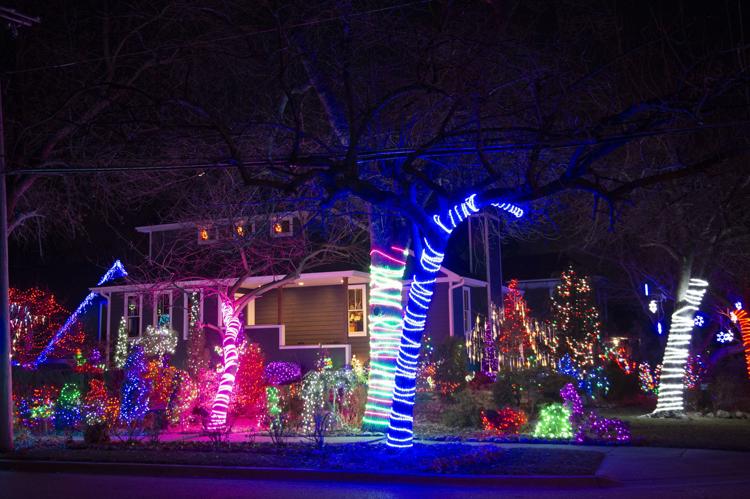 Party buses made the rounds. Hundreds of cars passed by on Dec. 24.
"Like the Oregon Trail," Charles says.
The couple received thank-you notes from far-away states. For years, a group of Russians came up from Texas on New Year's Eve and got a private tour just before midnight.
When Charles and Barb heard people in the yard, they'd step outside to answer questions, wish them a happy holiday.
Charles continues the tradition.
He remembers the old couple who visited almost nightly; the women in their 80s who all arrived in tennis shoes to traipse around the paths Charles and Barb had made and lined with colored bulbs and white icicle lights and snowflakes, red and green globes strung from the trees. Seeing Barb's whimsy on display -- a fake cactus wearing a scarf, a spotted cow and penguins and two llamas guarding her studio door -- and asking about the electric bill.
Cars are still coming by.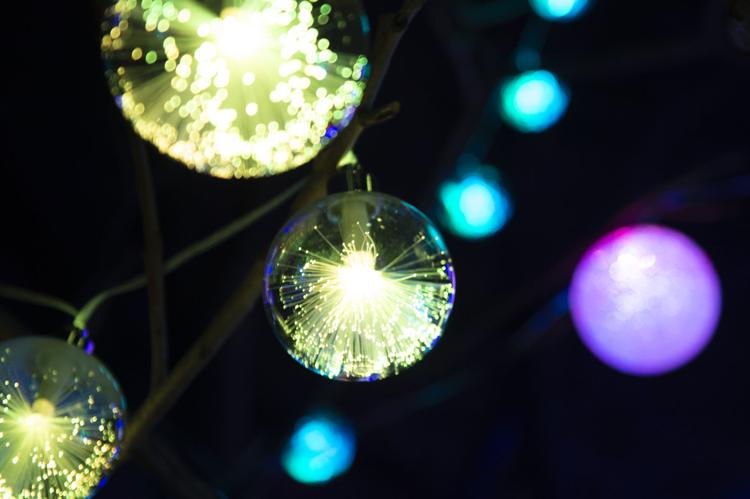 The red and green globes are in storage until next year, and soon Charles will spool up most of the remaining lights, leaving behind the reds and pinks and purples until Valentine's Day.
This year, it took about 140 hours to get the yard ready; an hour of help from an employee.
Charles still makes a living building roads, stringing them through new housing developments.
On my way out on Tuesday, he takes me through the garden, pointing out the willows and the tree peonies, the maples and the big old ash trees with lights twined up their trunks. He shows me the Buffalo Brick path, the boulders that tumbled from the earth in his interstate building days, the old sidewalk that led up to Gladys' cottage, meeting up with the new.
He shows me the spot he created for Barb. A banana leaf bench. A blue hydrangea, one of her favorite flowers, a weeping beech tree.
The first December after Barb died, people wondered if the widower would keep it up. That maybe he shouldn't.
There's still a lot of happiness here in Garland Gardens. Good karma, Charles says.
And a whole lot of beauty.
"We created it together," he says. "I'm the curator of it now."
Photos from the enchanted garden