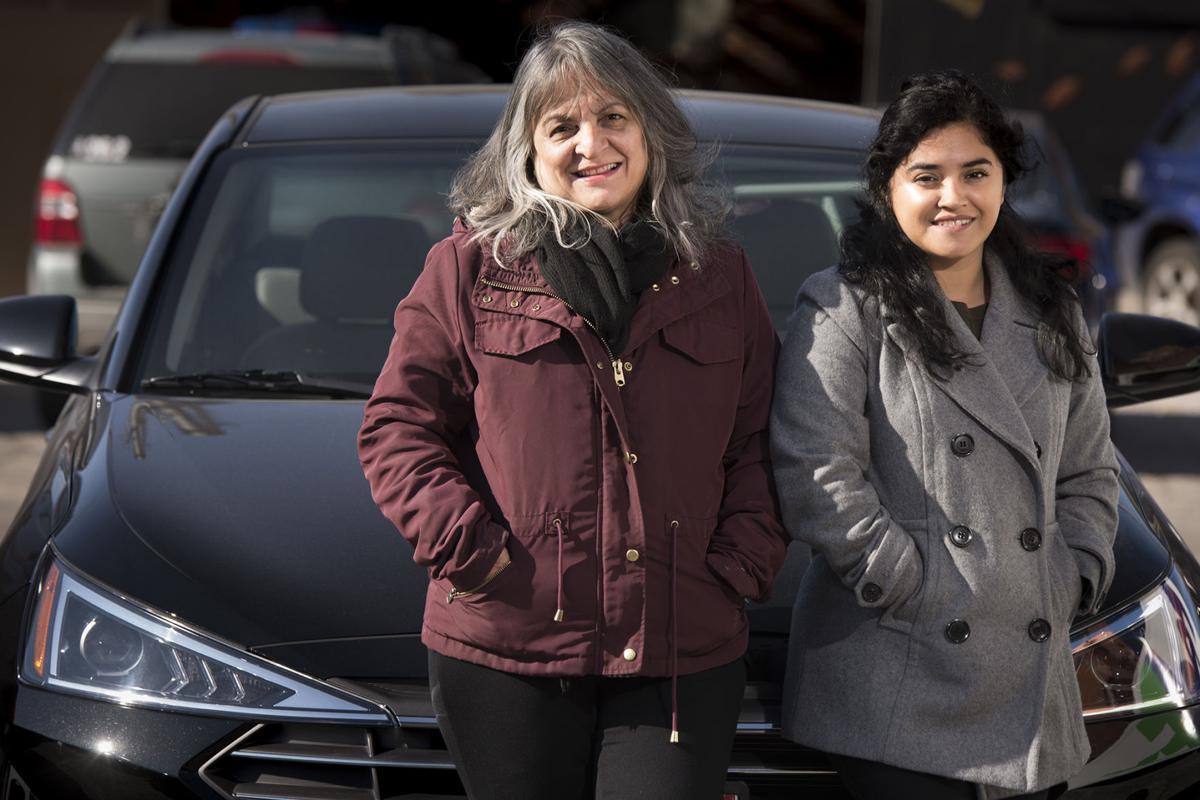 This column originally ran Nov. 17, 2019. Look for an update at the end.
Gloria Sarmiento scrolls through her phone, pulling up photos of injured meatpacking workers as we head out of Lincoln — her Nebraska Appleseed colleague Magdalena "Maggie" Cazarez driving us north.
A long, jagged scar snaking up a forearm.
A swollen hand with disfigured fingers.
A video of a woman pulling thin blue gloves from a box, attempting to fold them into pairs with one hand.
"She can only use one hand," Gloria says from the backseat. "She can't make a fist, and then when it's cold it hurts her."
She says the woman's employer doesn't want to pay worker compensation, even though she was injured on the job.
"And if you are at home, no pay."
Folding gloves is the job they gave her, Gloria says. Light duty, they call it.
Gloria has been at Appleseed for 17 years. She travels for her job as a community organizer and educator, talking to immigrant workers about their rights under the law.
They meet in churches and homes. Crete, Fremont, South Sioux City, Lexington, Grand Island, Madison, Schuyler.
When she gets back to Lincoln, her phone rings.
"I get a lot of calls, because they know me, they trust me. If they have any issues they are going to call me."
They talk about their jobs in meatpacking plants.
"I've been working for three weeks and they didn't pay me. Or we had violence at work, what do I need to do? People are complaining a lot about the speed of the line and that they are getting injured."
It's still not easy, she says, even after so many years.
"Even for me, it is really hard when I listen to some of these stories, because they are crying."
And sometimes she cries, too.
She talks as we fly past the stubble of cornfields, cross over the Platte River and past farms and the blur of small towns, on our way to see two longtime workers at one of Nebraska's many meat-processing plants.
Eduardo and Maria aren't their real names. We're not sharing the name of their town.
It's hard to get people to talk on the record about their work, Sarmiento and Cazarez say. Some are afraid because of their immigration status or because they fear retaliation on the job.
Gloria and Maggie — Appleseed's communications director — helped arrange today's visit.
"The workers feel a lot of pressure," Maggie says. "Now they are taking off limitations for speed, fewer inspections."
Maggie graduated from UNL in 2017. An internship at Appleseed convinced her that this was the work she wanted to pursue.
Writing news releases is part of her job.
She helped craft one this fall, after the Trump administration removed limits on line speed at pork-processing plants and reduced the number of federal food safety inspectors by 40%.
"Every Nebraska worker deserves human dignity and safety on the job," she wrote. "Nebraskans contributing their skills and talents to our communities deserve to come home safe at the end of the day."
The changes are part of the reason we are making this drive.
The publicity surrounding the 100-page report on meatpacking plant conditions released by Human Rights Watch is another.
Appleseed was among the groups that helped find workers to talk about those conditions — nearly 50 employees across six states.
"The report was especially important for us," Maggie says. "It has a nationwide impact."
And it hit close to home, too.
"For the Nebraska workers, we wanted to help raise their voices and lift up what they go through on a daily basis."
The report's title comes from the haunting words of a worker in a small Nebraska town: "When we're dead and buried, our bones will keep hurting."
We pull up to a tidy split-level house on a quiet side street, mums blooming outside the front door.
Eduardo and his 3-year-old daughter greet us at the door and we walk into a light-filled living room — a play kitchen in one corner, plants lining the windowsill.
We talk about the little girl's Disney watch — Elsa and Anna — and her recent birthday, the same day as mine.
Soon, her two sisters will arrive from school, shedding coats and backpacks before disappearing into their rooms.
Eduardo and his wife have rules for the girls: An hour of video games or TV after school and then an hour outside in the fresh air before homework and dinner and bed.
"I pray for my kids to do good in school," he says.
Eduardo is 38. He came to the U.S. from Guatemala as a teenager. His father was killed when he was a toddler and his mother wanted better for her children, he says.
His older brothers were here when he crossed the border alone and they helped him find work. First in South Carolina and then in plants across Southeast Nebraska, starting on the kill floor.
That was his job when he moved here, too.
He didn't want to spend his life holding a knife, he says. Over the years, he's worked in quality control, driven a forklift, mixed the ingredients for processed meats.
"I try to do it right," he says. "All the time I'm thinking, 'I have a family.'"
And he thinks about the people who buy those sausages and hot dogs and cook them for their families.
"These people, they buy the products and they take it to the table and they have a kid like mine."
Eduardo sits on a wooden stool. He's wearing blue jeans and black slippers with red Ns on the top.
He's a Husker fan and a homeowner. Every Fourth of July they close down the street and have a block party.
Most days, he starts work at 4:30 a.m., sometimes as early as 3. He makes $19 an hour.
He's watched line speeds increase — more people crammed into spaces to increase production. He watched a knife slice all the way through a woman's arm.
And the day-to-day anxiety all around him.
"They feel the pressure because they have to produce so much."
Maria sits on the couch, her hands folded. She's quiet, middle-aged, her hair pulled back. She apologizes for being late — lo siento — she had to work.
Maggie and Gloria translate her answers to my questions.
"She came to the United States from El Salvador when her daughter was small. Her daughter is married now and she has a teenage son.
"She says the job isn't so hard, but there was a cut in people and that means there is more pressure.
"She says it's been that way for six years."
Maria's job is to trim fat from slabs of meat. Each slab weighs more than 20 pounds and she has to trim 13 slabs a minute, one every 4.6 seconds.
The meat is frozen and the room is cold, so she wears heavy socks and shoes. Her shift starts at 6 a.m. and she makes $17 an hour.
She's been at the plant for 10 years.
"For nearly a year, she has worked with an injured hand and shoulder," Maggie says. "Her surgery was scheduled but she had to cancel when the company told her to use her own insurance."
Maria pulls a folded piece of paper from her purse, a slip from her doctor's office for the surgery she never had. She couldn't afford to pay the deductible.
"She can't open door knobs," Gloria says. "She can't lift her arm over her shoulder."
Maria holds out her right hand. The fingers are stiff and she can't bring them together.
The Human Rights Report echoed stories like those Eduardo and Maria share.
Employees working with injuries or not being given enough time to use the bathroom, sometimes wearing diapers so they don't wet themselves.
"One of the things they don't allow is them to go to the bathroom," Maggie says, translating for Eduardo, who has begun speaking Spanish. "He sees a lot of women crying and the main supervisors are yelling at them."
Eduardo says it's hard to get time off for doctor appointments. "If their child is sick … it's either go to the doctor or lose your job."
They have a union in the plant, but it isn't strong, he says. Eduardo tries to advocate for workers, translating for those who don't speak English.
I ask about taking a photo of him, of his house. He says if his bosses knew he was talking to the newspaper, he would lose his job.
"They try to find some excuse to fire you. That's how they do everything."
The day has turned to dusk and Eduardo's wife is home from her cleaning job, in the kitchen preparing to start supper.
The little girl with the Disney watch is resting her head on Gloria's lap. Gloria strokes her hair, listening as Maria finishes her story.
"She says the line moves so fast," Gloria says. "If it were slower it would be OK. Her shoulder starts to hurt and her whole body starts to ache."
"She would like a job where something like this wouldn't happen to her."
After the interview, we stop for dinner before we leave town.
We end up in a booth at a small tortilleria, eating pupusas and plantains, enchiladas and rice and beans.
I find out Gloria is going to be a grandmother — an abuela — for the first time in December. I find out Maggie's boyfriend works with my son.
Gloria became a citizen five years ago, 12 years after she moved to the U.S. from Honduras.
Maggie grew up in Omaha with her parents and younger brothers.
We talk about meatpacking plants and Appleseed and the Human Rights Watch report that led me to call them for help finding voices of workers.
We talk about grocery stores, everything clean and wrapped in the meat case, disguising the cost to the workers whose demanding and sometimes dangerous labor landed it there.
"We need to find some sort of way to connect us," Maggie says. "Our families, our values are the same."
They feel good about the work they do — shining a light on the stories of hardworking people — but they worry, too.
"Unfortunately," Gloria says, "I think it's just going to get worse."
Then we drive home in the dark.
Postscript: Life has gotten worse for Nebraska meatpacking workers since this column ran. The pandemic has put 256 workers in the hospital and taken the lives of at least 28, according to data gathered by state Sen. Tony Vargas.
Speaking for Nebraska Appleseed, Maggie says this: "The line speeds never slowed down. Long hours only became longer. The fight is not over for workers and allies because we believe every person deserves to come home from work safe and healthy."
Gloria and Maggie are still fighting for those workers. Gloria's grandbaby, Ximena, will be 2 this winter and Maggie is a mom to Camila, a beautiful baby girl born in March.
Cindy Lange-Kubick counts down her final summer at the Journal Star with one column from each of her 25 years on the Lincoln Life beat with a …