Samantha Parker pulled into a stall close to the door that led to Bryan Medical Plaza last October, so sick she didn't notice the words on the parking garage wall outside her windshield.
Parker was pregnant with her third baby, due on Mother's Day, May 12.
She and Cody had two little boys at home — Campbell, 6, and Arlo, 3 — and those pregnancies were nothing like this.
She couldn't keep anything in her stomach. She was nearing the end of her first trimester and was just out of the hospital, diagnosed with a potentially life-threatening, pregnancy-induced condition.
She shut the door of her SUV and walked through the door — Level 1, Pink — and down the hallway that connected the garage to the plaza and her appointment at the Center for Maternal and Fetal Care on the seventh floor.
The 31-year-old received an infusion of IV fluids to keep her body functioning and steroids to curb her constant nausea.
But by the time she got back to the car, her stomach was roiling and she bent over to vomit.
Then she noticed three words scrawled in black on the wall above her Chevy: IT'LL BE OKAY.
"The first time I saw the words I was really annoyed," Parker said Monday. "It'll be OK? How do you know?"
The graffiti looked so nonchalant, she said. As if it were a simple statement of fact.
She thought: The hell it will.
Baby Sylvie is almost 7 months old.
She is the happiest baby ever.
"She is just the biggest ray of sunshine I have ever met," Parker says. "I even asked her pediatrician if something was wrong with her she is so happy."
Parker weighed 91 pounds April 16, the day 5-pound, 11-ounce Sylvie arrived and was whisked away to the Bryan NICU. Four weeks early and with a large mass on her left lung.
The story is a long one, the Lincoln mom says. It's hard to know where to start.
Early in her pregnancy, Parker was diagnosed with hyperemesis gravidarum. It left her with a permanent IV for nutrition and weekly ultrasounds to make sure her baby was growing as her own body was shrinking.
Some weeks, she'd park in that spot by the door two or three times, as she made her way into the office of her high-risk pregnancy doctor for tests.
Those words out the windshield had started to give her comfort, she says, a small sign of assurance.
By now, she was taking dozens of medications to stave off the nausea while attempting to do her human resources work for NMPP Energy from her couch at home.
Instead of adding 25 to 30 pounds to her 110-pound frame during the pregnancy, she was withering away.
A doctor told her the disease was trying to get rid of the pregnancy, save the mom before she died.
But Parker clung to hope. She knew her misery would end when the baby was born. That it would be OK.
"The words reminded me that unlike so many other people, my indescribable hell had a due date."
Then, 26 weeks into the pregnancy, an ultrasound showed a large mass on the baby's lung, and doctors gave Sylvie's parents two different diagnoses, neither of them good.
"We lived in the excruciating state of uncertainty for a long time."
And as she kept returning to Bryan Plaza for yet another appointment — another ultrasound to measure the mass and to make sure the baby was growing, checkups to make sure Parker's health was stable — she found herself on Level 1, Pink, the spot around the corner from the door.
She'd park under her sign. It would be OK, but not quite yet.
"I would go to Target and buy pink baby clothes, and then I would panic and return them," Parker says. "I never let myself think she would be OK for too long."
Parker had developed another complication. Severe itching caused by a maternal liver condition called cholestasis of pregnancy, something that could result in stillbirth.
At 36 weeks, doctors induced labor.
You have free articles remaining.
When that baby took her first breath — surrounded by a team from the NICU — mom breathed, too.
And when Sylvie was settled into her intensive care room, Parker and her husband took turns staying with the baby, who fought her way through heart rate and oxygen issues and a blood infection, so one could always be home with the boys.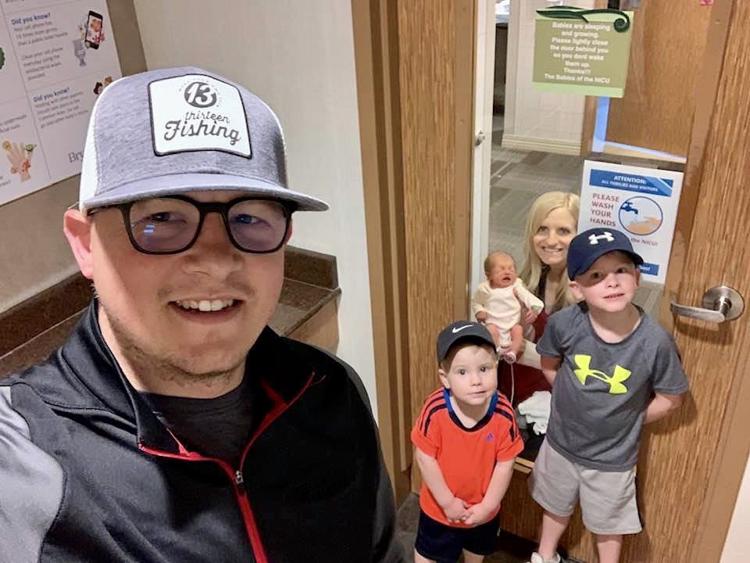 When Cody arrived, Parker would find her way back to her car.
"I would sit there and cry. Your heart is split in two."
She'd back out for home in the middle of the night, leaving her baby girl behind.
Three words in her headlights: IT'LL BE OKAY …
After three weeks in the NICU, Sylvie went home. She had surgery in Denver this summer, doctors removed the mass and part of her left lung. She's good, they told her parents. They'd need to watch her respiratory system this first year. She'd never be an Olympic sprinter.
Mom and baby returned to Bryan East Campus last Thursday.
Sylvie had a checkup at the Bryan NICU Development Clinic, where they test babies who spent time in the unit to see if they are hitting age-targeted milestones.
She rolled over — for the first time — front and back. She interacted with the toys they offered her.
Did everything on target, Parker says, except pick up a Cheerio.
Parker walked back to the car, her strong, brave baby girl in her arms. As soon as the pregnancy ended, Parker had started eating. And eating. The nausea gone. The insane itching gone.
A healthy mom. A healthy baby.
Parker stopped and took a selfie with Sylvie, in her big gold bow, with those three words over their heads.
Then she took a Sharpie out of her purse and walked around the corner. She hurriedly penned another message: You are stronger than you know.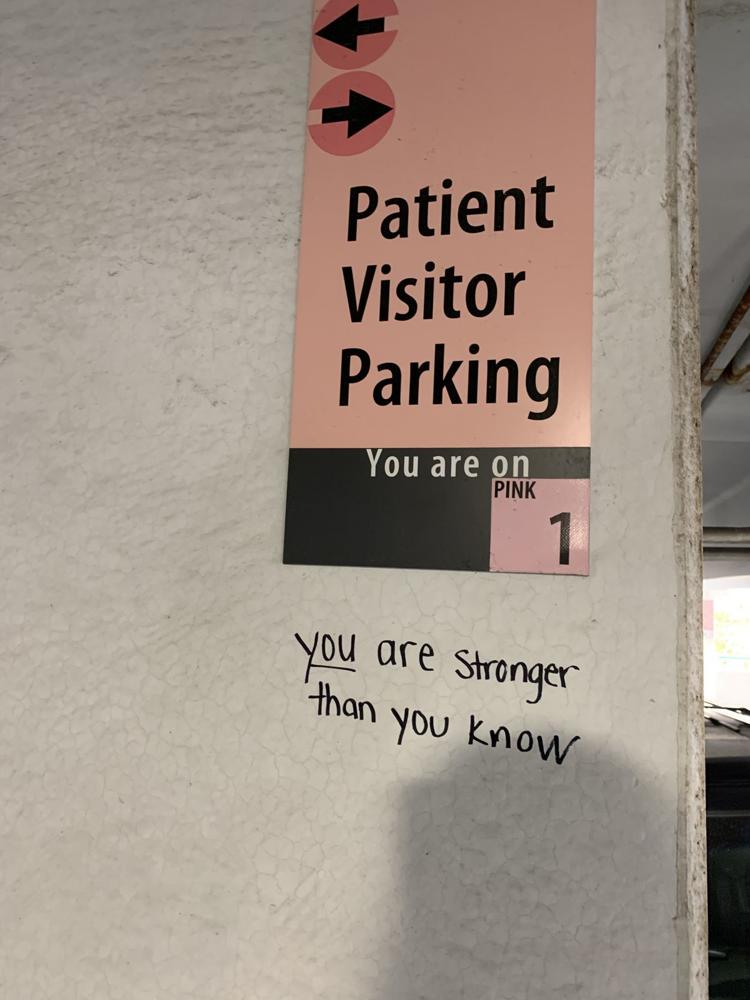 She'd been afraid she'd get busted for vandalism.
But she wanted to offer some other mom — some other patient, some other family member — something to hold on to.
"It dawned on me how meaningful that 'IT'LL BE OKAY' sign was," she says. "I just thought, what can I say to help people who are in this spot of heartache, or uncertainty?"
And she thought about the person who scrawled those words on a parking garage wall, there when she needed them.
Parker posted two photos on Facebook after last week's appointment.
She heard from people who'd parked under the sign that gave her solace those long months.
On their way to doctor appointments. "I can't tell you how many times I've parked under that sign."
On the day their babies were born, nervous about the birth.
"It made things a little less scary," one of them wrote.
It surprised her a little bit, she said Monday. Such a small story. Three little words.
"It seemed to strike a chord. It's written so simply, but it seems to bring momentary comfort to people."