Poppy Doele is putting on her left arm.
It's made of hard, white plastic and decorated with black musical notes and staffs.
She rarely wears the prosthetic, but the 10-year-old digs it out of a drawer to demonstrate how it works.
She clicks and twists and pushes buttons.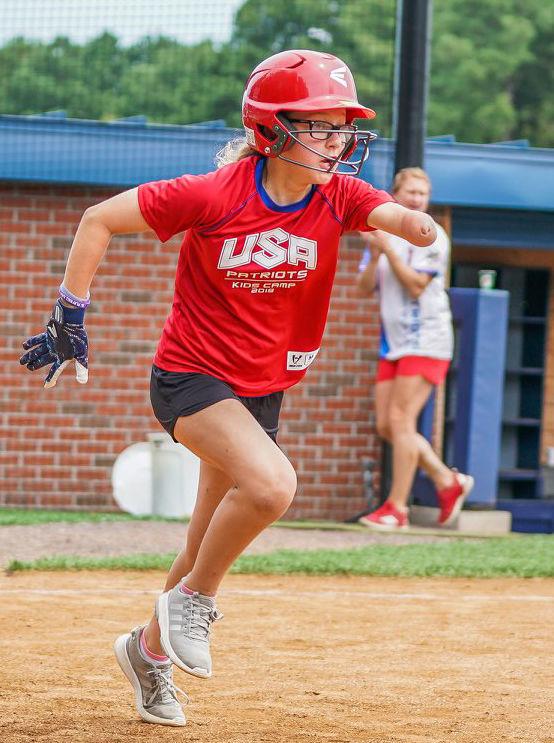 She shows me the attachments. A flat disk: "For pushups or cartwheels." A small pointer: "For playing the guitar."
Poppy is in the living room of her north Lincoln house with her mom, Amy, and her dog Lady (who acts like a cat) and her cat, Scottie, who, she says, is more like a dog.
She's a fifth grader at Waverly Intermediate School. She goes there because her dad, Jeromy, teaches seventh grade. She has an older brother named Jackson.
If you look out the window into the family's backyard, you can see poppies painted on the window of the lawn shed.
Poppy has a poppy blanket and poppy cards and her parents plant poppies in the yard, those bright-orange flowers that match their daughter's "sunny and positive" personality, her mom says.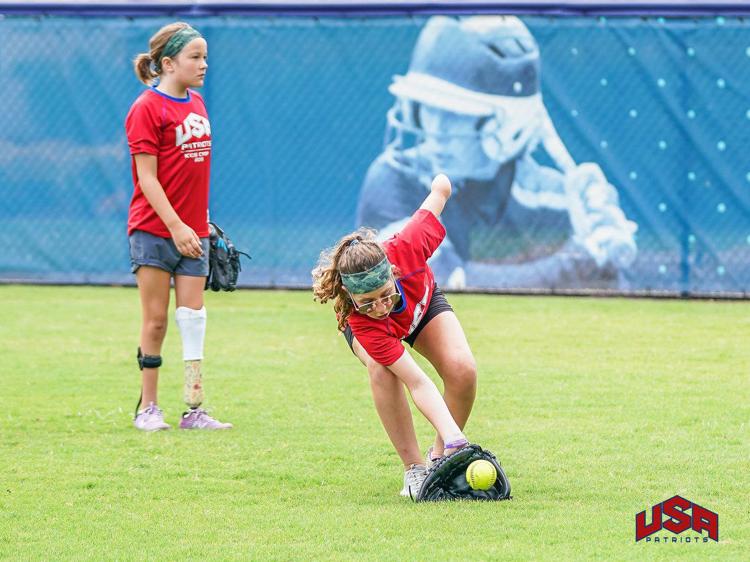 Poppy was born without half of her left arm. And that was a shock to everyone, she says.
"The doctor was so surprised, they took me right out of my mom's arms."
They were worried about problems with her heart or other organs that sometimes accompany missing limbs, her mom says.
Amy thought the worst, until Poppy's dad came back. He told her about the left arm.
Then he said: She is perfect and beautiful. It's no big deal.
They still don't know why — but it doesn't really matter.
"We knew it would be OK," Amy says. "From the very beginning we didn't want her to be a victim of her circumstances."
Poppy is Poppy. She has glasses and long, curly hair. She loves math. "Which some people think is weird."
She wants to be a psychologist when she grows up.
This is her fifth season playing flag football. She's a sweeper for her soccer team. She dances and acts at the Haymarket Theatre. (A pirate and a Lost Boy in "Peter Pan;" Jemima in "Chitty Chitty Bang Bang:" LeFou — "the dim-witted one" — in "Beauty and the Beast.")
And she recently returned from a week in Virginia Beach, Virginia, at the Wounded Warrior Amputee Kids Camp learning to play softball.
Her mom heard about the camp from the child life coordinator at Shriners Hospital in Minneapolis, where Poppy goes for checkups.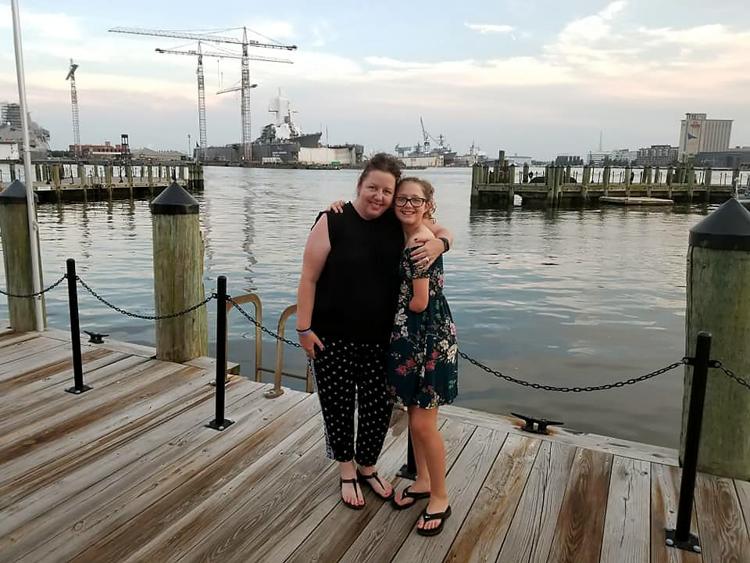 By the time she turned in the application in 2018, the camp had reached its player limit. This year, Amy got on it early and in May found out Poppy had been accepted.
"It was great," Poppy says.
She starts at the airport.
"It took us a little while to find our suitcases …"
You have free articles remaining.
"We rode in a van to get there …"
And when they arrived at the dorms on the Virginia Wesleyan University campus, Poppy and her mom met their suitemates.
"When we found out a boy was staying there, we were pretty disappointed," Poppy says.
"He ended up being a friend."
She met the rest of her teammates later. They all ended up being friends. Kids missing both legs. Kids missing one leg. Kids missing arms.
"Kids who looked exactly like her," Amy says.
And that was a good thing.
"At school, there's no one," Poppy says. "Unless they broke their arm, which isn't really the same."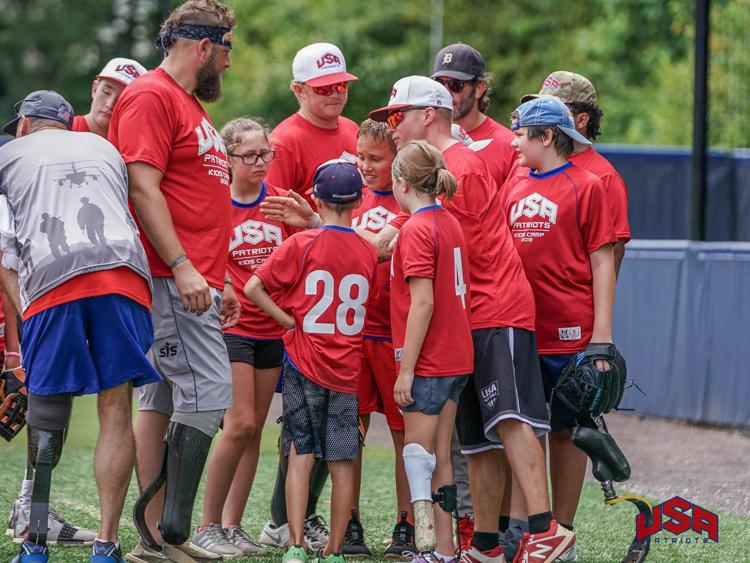 The players learned to bat and throw and run the bases, coached and encouraged by the USA Patriots, a team of veterans who have also lost a limb.
Her favorite coach was missing his left arm, too. Greg would catch the ball, Poppy says, then throw it up in the air, ditch his glove, catch the ball on the way down and throw it.
"I don't know how he did it."
A former Major League Baseball player named Jim Abbott didn't have a right hand, Amy says. "That's what he did."
Professional soccer player Carson Pickett is missing her left hand, Poppy's mom says. So is Seattle Seahawks linebacker Shaquem Griffin, who played for Scott Frost at the University of Central Florida.
"It's sort of like when you get a black car and you see all the black cars," Amy says. "When you have a kid without a left hand, you notice these things."
The week at camp showed the young players what they can aspire to, Amy said.
They bonded at the beach and at the water park, while rope climbing and on obstacle courses and at night sitting in a circle and talking.
The parents bonded — most of them moms — sitting together during daily practices.
"We called them the Mom Squad," Poppy says. "Or the Mom Mob."
The Mom Squad is still in touch, a private group they created on Facebook.
"When you spend a week with people who understand what it's like to have a child who looks different, you get close fast," Amy says. "We're planning to try and meet somewhere next year with our whole families."
The campers are back home, staying in touch by text. At camp they started a "Tea Circle," Poppy says. They shared stories about life without a limb. "Funny things that happened to us," Poppy says.
She gives an example, sitting cross-legged on her couch.
It was last year at school. Her teacher called her to the front of the class to use the microphone and a pointer to explain something.
Poppy picked up the microphone with her right hand. She lifted her left arm toward the board.
Then her teacher admonished her: Poppy! Pick up the pointer!
Her classmates called out the mistake — Poppy can't do that! — and her teacher gave her a hug.
Poppy loved that teacher.
And it's a good story, not a sad one, says the athletic, theatrical, musical, math whiz.
"It's about when someone knows you so well they don't even pay attention to you not having a hand."