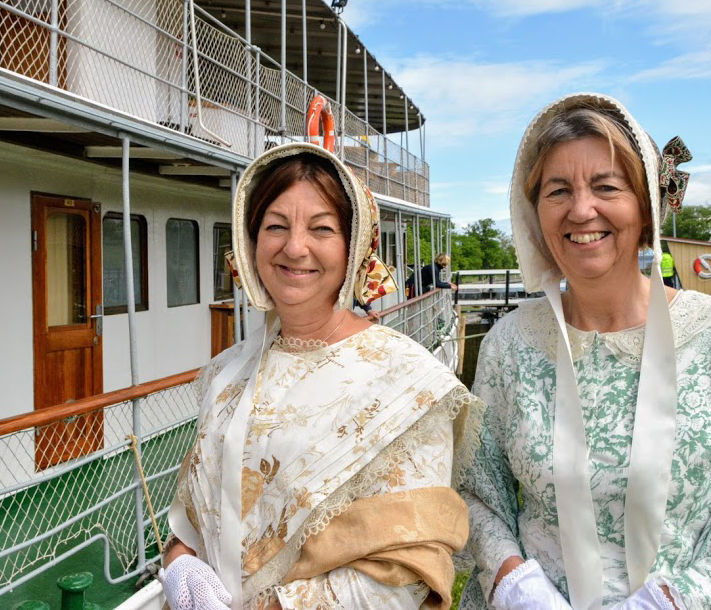 They read the diary when they were girls growing up in Stockholm.
The words of their great-great-grandmother, Augusta Soderholm, who died when she was 28 but had lived like royalty, traveling and chasing off suitors.
"All these guys who proposed to her and she thought they were stupid," says Sara Azzam, the older of the two Swedish sisters. "She wrote about boyfriends and going to balls and what to wear."
Back in the '70s, the sisters turned the copied pages, as exciting and tragic as a Jane Austen novel.
Then Sara moved to Nebraska to go to college. She stayed and married and raised four kids and had a career as a scientist at Celerion. Her sister, Kerstin Melin, still lives in Stockholm.
Next week, they will meet there and set off on Part 2 of "Augusta's Journey," dressed in 1847-era chic.
"This has kind of taken over my life," Sara says from her East Campus living room, surrounded by petticoats and shawls, ball gowns and bonnets.
Sara is 63 and semi-retired. Her childhood interest in the diaries was renewed a decade ago, when she began to research her ancestor's suitors and travels with the help of a 21st century invention called the internet.
"It was so interesting and I thought, you know, we should just redo that trip (Augusta took) to Germany."
And: "She thought it would be interesting to do it as an historical re-enactment."
Think Chautauqua without a bandstand.
Think Civil War battle portrayals with civility.
Think old cotton nightgowns and lace-trimmed night caps, hat boxes and parasols in the overhead bin on airplanes.
"We decided to make the clothing and one thing led to another, it became almost addictive," Sara says, explaining the historical research, the many trips to thrift stores, the hours ripping apart and stitching together, the proper way to starch a petticoat. (Dip it in a bath of cornstarch and water and hang to dry.)
On Tuesday, she was still deciding which dress to wear to retrace the back-to-nature segment of Augusta's long-ago trip. A topic she'd also pondered previously in her blog: "How wonderful it will be to hike in Saxon Switzerland National Park, in a dress with several layers of petticoats."
Indeed, she had a rough idea. The sisters had embarked on a test run in May, Part 1 of Augusta's Journey, tracing a route their ancestor had taken through the canals of Sweden as a 23-year-old. "We wanted to see, does it work to travel this way?"
"You experience things really differently when you're walking with these wide dresses," Sara says. "You start watching your language, you talk more softly. It's almost like you're in a movie, but it's your movie."
Speaking of movies, Kerstin's son shot a video as they left port aboard the M/S Juno — the world's oldest registered cruise ship — and sailed away with their lace kerchiefs waving, catching the eyes of perplexed fellow travelers.
That was one of three standard reactions to their getups, Sara said.
Some people were curious and asked what was going on, she said. (Were they filming a scene for a movie?) Some avoided eye contact. (If I don't look, maybe they will go away.)
"And there are lots of tourists to Sweden," Sara said, "who think this is just how we dress in Sweden."
A newspaper caught up with them during their voyage and published a feature story.
And the sisters are keeping their own not-so-private diaries — blogs and Instagram and a Facebook page written in English and Swedish, filled with 19th century art and literary links and photos of finished ball gowns.
For their upcoming tour of Germany, they'll travel by steam engine passenger trains and steamer — although they'll start out from Stockholm Central Station with the morning commuters, looking like the Bronte sisters in Skechers.
Their two-week route is set. A boutique hotel in Lubeck with a family tie. A few days in Berlin and a visit to the opera (thus the ball gowns), followed by Dresden and a national park in the south. They'll head to Prague before boarding the train back to Hamburg and home.
Augusta died of tuberculosis in 1855, six years after she first wrote about coughing up blood in her diary.
By then, she'd said "I do" to one of her many suitors and left behind a grieving husband and a 1-year-old daughter named Gerda.
Gerda married an Army officer and had six children. One of her daughters — Eva — gave birth to a boy named Pontus who became the father of two smart and curious girls named Sara and Kerstin, who set out to "understand the life of a young, wealthy, Swedish girl in the mid-1800s."
From her living room in Lincoln, Sara the scientist holds up a pair of lacy white gloves a friend crocheted for her.
She waves her hand in the air — fingerless.
"So I can use my iPhone."