Cindy Lange-Kubick: Nothing funny in tweet about sexual assault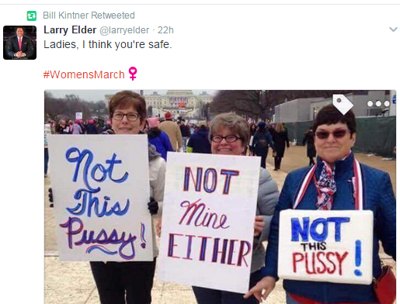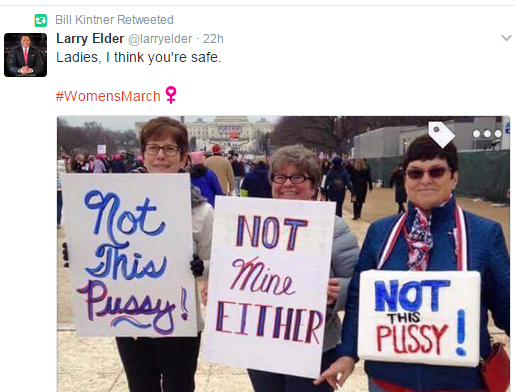 On Twitter this weekend, a Nebraska state senator found humor in a tweet making light of sexual assault.
University of Nebraska-Lincoln fraternity members allegedly chanted "No means yes" during the Lincoln Women's March.
And the son of our new president's national security adviser wondered why all those marching women in Washington were taking to the streets since they already had equal rights and equal pay -- "free manis/pedis?"
Free speech for all, including Sen. Bill Kintner, the men of Phi Gamma Delta and Michael Flynn Jr.
But just a reminder: Kintner is the guy who engaged in cybersex on a state-owned laptop, Flynn promoted the fake Pizzagate child-sex-ring story, and campus rape is a national disgrace.
But hey, let's have a sense of humor about it, Ladies.
Kintner's ill-advised retweet featured three female protesters holding signs that said "Not My P---y" and "Not Mine Either," a reference to a decade-old audio clip of President Trump saying he grabbed women by their vaginas.
The original tweet came from a radio host from California who posted the women's photo with the words: "Ladies, I think you're safe."
Translation: No one would want to rape you.
Tell a 77-year-old rape victim or a 90-year-old rape victim that she's "safe" because she doesn't meet some arbitrary standard of beauty. Tell me and my fellow grandmothers we don't have to worry about being sexually violated anymore because we no longer rate high enough on the desirability scale. And please don't get me started on the sexual assault of children.
The tweet Kintner shared with his followers (he has since deleted his Twitter account) perpetuates a myth, said Lynne Lange, executive director of the Nebraska Coalition to End Sexual and Domestic Violence.
"People who understand sexual assault understand that the perpetrator is using sex as a weapon to exert power and control," Lange said. "It does not have anything to do with the victim's appearance."
The executive director (no relation to me) continued: "It's so sad to have this perpetuated by someone in a leadership position … This is the world we're living in today."
Take our new commander in chief. When a dozen women came forward to accuse candidate Trump of unwanted sexual advances during his campaign, our soon-to-be-president responded to the allegations of one of them -- a People magazine reporter -- by saying: "Believe me, she would not be my first choice." (Echoes of Bill Clinton's "I did not have sex with that woman.")
Might this be one of the reasons, besides your free manicure delusion, that women marched, Mr. Flynn?
Closer to home, an investigation into reports that students harassed Lincoln marchers with chants of "No means yes" and "Grab them by the p---y" has been launched by UNL.
And Sunday on Twitter, Kintner responded to one woman's criticism of the tweet by saying he thought it was funny, but understood that others might not.
He told another woman that she "wasn't the only sad liberal being sad."
And he called the tweet controversy "Right out of the liberal playbook, take a joke and claim victim-hood."
Here's another funny joke, Sen. Kintner: 653 forcible sexual assaults were reported to law enforcement in Nebraska in 2015, an 8 percent increase from the year before.
And the numbers are likely higher. "Sexual assault is among the most underreported crimes. Everything you see is just a piece of the pie," Lange said.
The most reliable national estimate, Lange said, is that one in six women and one in 33 men will be sexually assaulted in their lifetime.
In addition, research reveals 7.7 percent of women in the United States report being raped by an intimate partner; 45 percent of battered women report being forced into sex by their partners.
According to the National Sexual Violence Resource Center, one in five women and one in 16 men are sexually assaulted while in college, with 90 percent of assaults going unreported to authorities.
Lange views the tweet Kintner shared this weekend in a bigger context. As a reflection of a culture that normalizes sexual assault, incorporates sexual exploitation of women into advertising campaigns and music videos, encourages victim blaming (what she wore, instead of what he did) and treats jokes about sexual assault as acceptable.
Let us accept Sen. Kintner at his word. He had no ill intent. It was a joke.
Some of us will lighten up when sexual assault becomes a thing of the past -- when our mothers and our children and our peers no longer have to fear sexual violence.
In the meantime, the sad liberals do not appear to be sitting home and crying sad liberal tears.
An End Rape Culture rally has been scheduled for Feb. 2 on the steps on the state Capitol.
In an open invitation to the event, one state senator's photo is prominently displayed at the top of its Facebook page.
Along with another of three strong women holding signs.