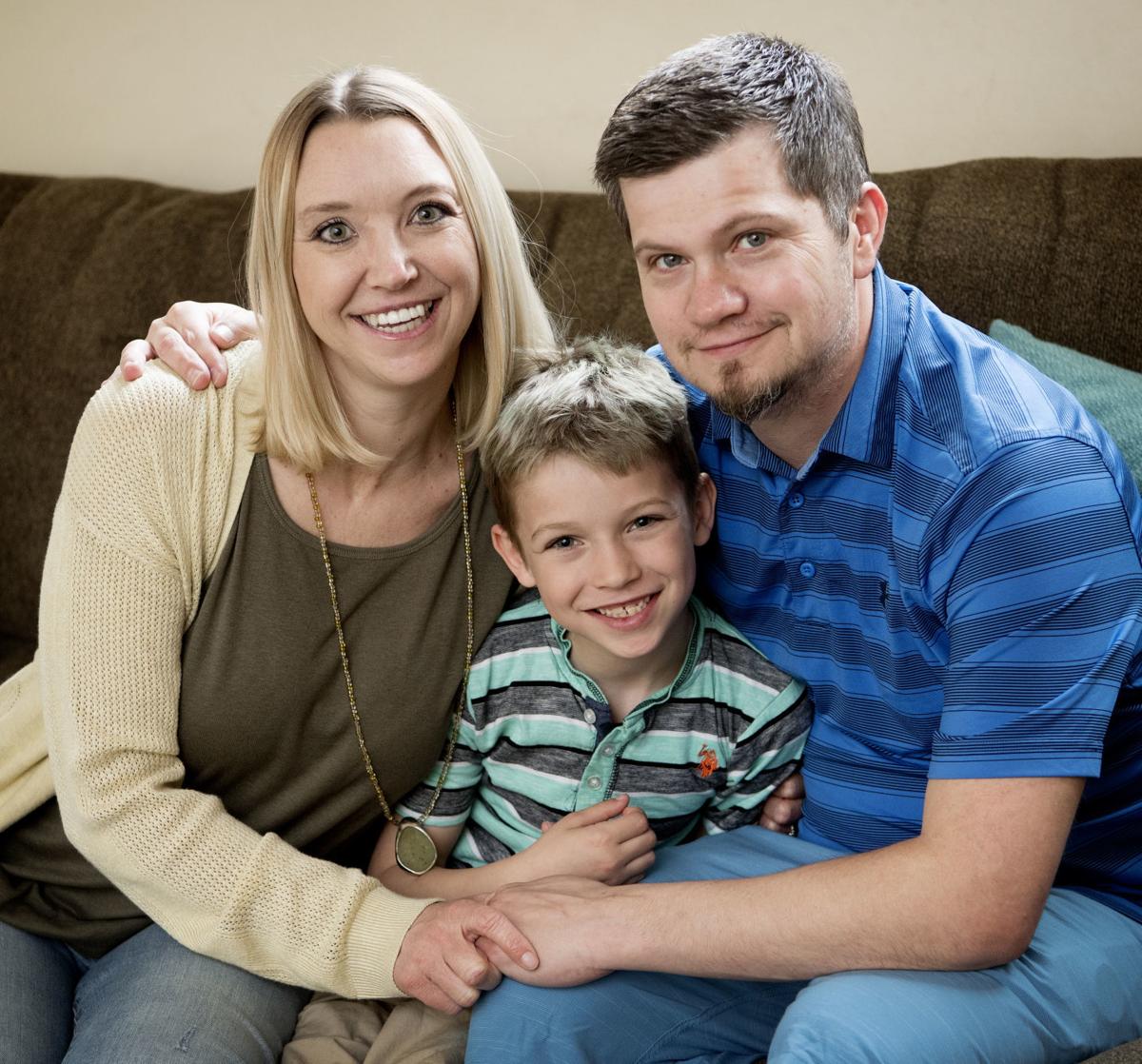 When the mail arrived and she saw the envelope — To the Parents of Spencer Konecky — the mother paused.
Erin Konecky didn't want to look inside without Tim at her side.
Erin and Tim had lost Spencer on Oct. 12, 2017. Their second son had been diagnosed with a condition called Trisomy 18 three months before his birth. Not compatible with life, the doctors said.
The news was heartbreaking.
But in that time of waiting, they named him and celebrated him and scheduled a C-section on a warm autumn Thursday to welcome him to the world.
Their nearly 4-pound baby boy lived 96 minutes. He was held and loved by his mom and dad and big brother, Gram. He was cuddled and treasured by his grandparents and aunts and cousins and friends and nurses.
Erin's minister father baptized his grandson. A friend and photographer captured emotion-filled moments that would turn into tender memories.
This must be a condolence card, Erin thought when she saw the official-looking envelope.
But instead, the card signed by Gov. Pete Ricketts congratulated them on their new arrival and reminded them to make sure and have him immunized.
It had been four months since Spencer died and just a month since Tim's dad passed away. Everyone was grieving.
Gram was struggling, too, in his little boy way, with the death of his brother.
"It was one of the worst months we'd had," Erin said last week. "It was a reminder of 'Hey, I should have this baby. I should be thinking of immunizations, but I'm not.'"
So Erin sat down and wrote a letter to the man who had signed the card from Nebraska Health and Human Services. She sent photos of sweet Spencer. One with Tim's dad. One of Gram tenderly cradling his baby brother. She shared Spencer's story and her dismay when that envelope arrived in the mail.
She appreciated the sentiment, she wrote, but she told the governor she hoped there was a way to avoid something like this happening again.
A few weeks later, her phone rang.
She grew up on the doorstep of eastern Colorado, in little Brule, Nebraska.
She graduated from Doane College in Crete and, for 12 years now, she's taught English and psychology and journalism at Waverly High School.
She's Gram and Spencer's mom. She and Tim are foster parents to a pair of toddlers, 2 and 3.
She's also Nebraska Mother of the Year 2019.
She was nominated by Gov. Ricketts.
He'd called Erin after he received her letter to tell her how sorry he was for the mistake, she says. They talked about the card and Erin suggested the need for another kind of card for parents whose babies would never be immunized.
A week later, Ricketts' office phoned and they got to work. They set up a meeting; the founder of No Footprint Too Small, a local nonprofit that supports parents through miscarriage and infant loss, came, too.
They talked about mistakes, how death certificates don't always arrive before the congratulations cards are mailed.
Erin went home and worked on a message and the governor and his staff tweaked it until everyone was satisfied.
Erin found a printing company to help design her vision for the cards.
On the cover, a tiny foot cradled in a big hand: "Each new life, no matter how brief, forever changes the world."
Inside, words of condolence, signed with sympathy from Pete Ricketts. Please accept my deepest condolences to you and your family. The loss of a loved little one leaves a void that cannot be filled ...
Last fall, Erin ordered — and paid for — 100 cards, seeking out grieving parents through local support groups and social media.
The cards then made their way to the governor's office to be mailed.
She knows she's not finding every parent, but she's trying.
"My only goal is to remind grieving parents that they are not isolated and that their baby mattered," Erin says.
On March 28, Erin put on a fancy dress and headed for the Capitol.
She was honored in the Warner Chamber and later at a Governor's Mansion luncheon.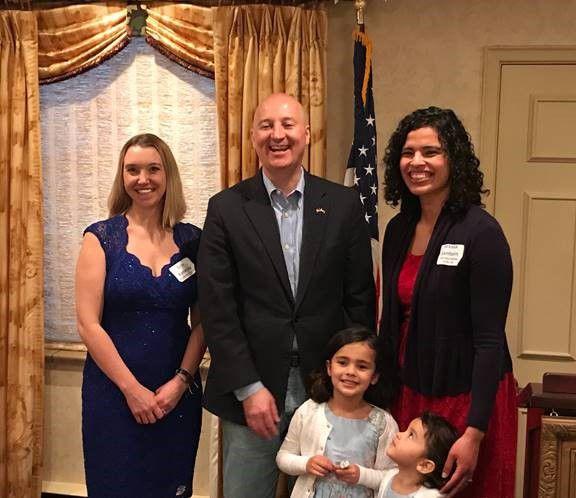 "Erin's determination to make something good out of her own experience of loss is truly remarkable," Ricketts said that day.
He noted her courage, empathy and community spirit.
Last year, after the governor asked permission to nominate the Lincoln mother for the award, Erin needed to finish the process.
She answered a questionnaire from American Mothers Inc., the sponsoring organization.
She shared her memories of Oct. 12, 2017, none of them sweeter than her oldest son, Gram, greeting his baby brother and holding him during those precious minutes.
"Gram picked out a tiny lion hat for Spencer to wear (his Halloween costume) and placed it on his head. Then Gram ran and got the rest of the family from the waiting room and introduced them to his brother."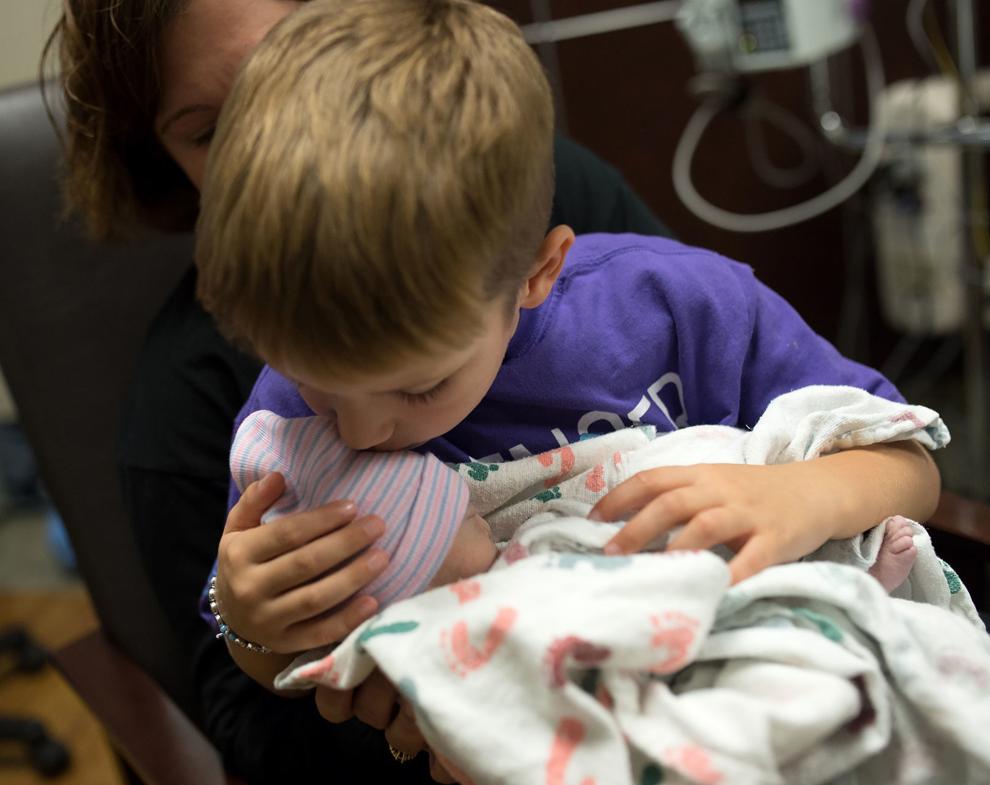 She gathered letters of recommendation.
Her longtime friend, Kylie Lureen, wrote one of them.
Kylie had lost her niece to SIDS and her brother and sister-in-law had also received a card of congratulations from the state.
"Because of Erin's tireless efforts, Nebraska parents experiencing the same unimaginable grief will now receive a compassionate note of sympathy from our governor," she wrote in her letter.
She wrote about Erin's role as a volunteer coordinator with No Footprint Too Small and how it had inspired her to become a volunteer, too.
She wrote of Erin's generosity, donating Spencer's baby shower gifts to NICU families and to Cedars.
She called her a passionate, caring, outgoing and reliable friend.
And a shining example of a mother who deserved the honor.
"Through her ability to overcome life's challenges and selflessly serve others, Erin has inspired many other mothers in our community," she wrote. "I strongly recommend Erin Konecky for the National Mother of the Year honor."
At the end of April, Erin will head to Washington, D.C., and meet all those other honored women.
She doesn't expect to be chosen to be the mother of all mothers, she said.
"Just to go and have all of those connections is important. And I would love to just expand on my idea."
Before Spencer was conceived, Erin had two miscarriages. She felt isolated and didn't know where to turn.
This honor has given her an opportunity to shine a light on No Footprint Too Small and the help it offers.
The story of Spencer. The story of the first card and the cards that followed and the bigger message.
"We want people to know that our babies were here and that they existed and are loved."