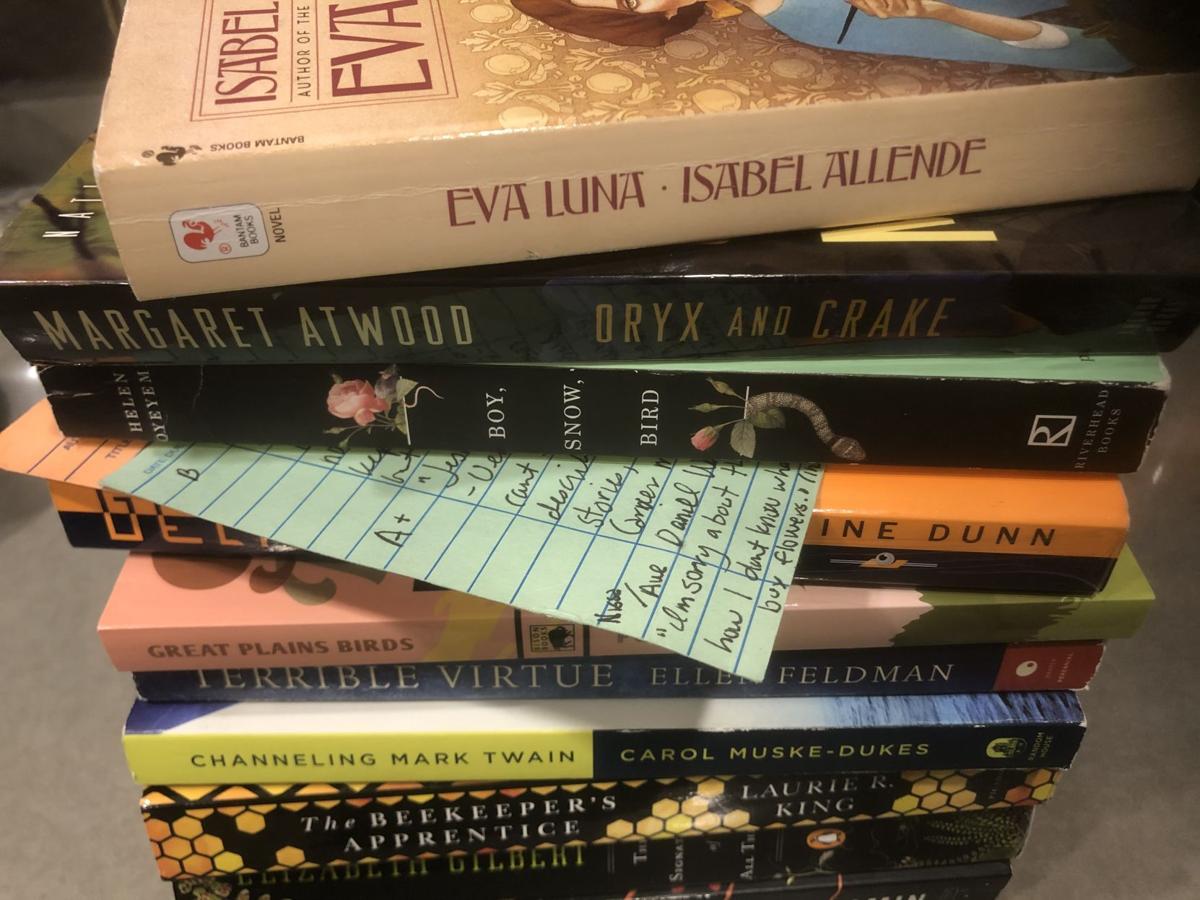 My year in books — 2020 edition — began blissfully enough with trips to the library hauling home hardbacks such as "Big Sky," by Kate Atkinson and "The Institute," by Stephen King.
There were novels snatched from the Journal Star book closet ("The Good Killer," by Harry Donlan). Books left on my newsroom desk ("In Our Other Lives," by Theodore Wheeler) and hand-me-down paperbacks from my sister (Agatha Christie by the bagful).
I was 400 pages into "After the Flood," by Kassandra Montag, when the city library shuttered with a stern warning: DO NOT RETURN YOUR BOOKS!
In the year of the pivot, I did just that.
Library books bounced around my backseat, face masks hung from my gear shift, hand sanitizer filled my cup holder, and I began scouring the marketplace for books.
A decade ago, I ran out of bookshelf space and, in an effort to streamline my life and boost my retirement account, I'd quit buying books. I was content with my library routine. Books in, books out, an even sum clutter-free game.
But this year, I needed the comfort of books more than ever — and local booksellers needed customers more than ever — so I began to buy.
I discovered that Leslie Huerta from Francie & Finch Bookshop delivered. And I found a friend in Cinnamon Dokken, owner of A Novel Idea, who not only delivered, but would handpick books for me — subject to my approval — and arrive at my doorstep dressed as the Book Fairy. (Plug: Buy books from these women.)
Dokken picked titles from her vast selection of used books and in this serendipitous fashion I ended up reading books I might never have considered. (To wit: "Geek Love," by Katherine Dunn, featuring a family of mutant circus children that was daring, disturbing and impossible to put down.)
A number of my old-fashioned library due date cards — my combination bookmark, report cards used to report my annual list — have gone missing during the pandemic, but I can verify the reading of 27 books and safely say I read at least a dozen more.
* "Channeling Mark Twain," by Carol Muske-Dukes, a book about poetry and women in prison in the 1970s was about as lovely and heart-wrenching as a book could be.
* "The Immortalists," by Chloe Benjamin, the power of prophecy in a fictional family and the paths the Gold children take in response.
* I dropped only two books in the bathtub this year. "Terrible Virtue," by Ellen Feldman, a fictionalized account of the life of Margaret Sanger (B+). And "The Beekeeper's Apprentice," by Laurie R. King, a reimagined Sherlock Holmes and his able new partner in sleuth, Mary Russell (A).
* If, like me, you were holding a grudge against Elizabeth Gilbert for so publicly disparaging her ex-husband in "Eat, Pray, Love," — you may never have picked up "The Signature of All Things" unless a book fairy did it for you. Which means you would have missed one of the very best books about botany, love, adventure and the life of a fully realized and brilliant 19th century woman ever written (A+).
*I read "Boy, Snow, Bird," by Helen Oyeyemi from start to finish, before discovering it was a reimagining of the Snow White story. This literary tidbit would have helped. Lesson learned: Sometimes it helps to read the blurbs on the book jacket. Or be a more astute and intuitive reader (B).
* Last year's edition of My Year in Books included mini-reviews of four Lisa Jewell novels and, after the column ran, an email arrived from her publicist, who thanked me and sent along a freshly minted copy of Jewell's latest, "The Family Upstairs." (A solid, page-turning B+.)
* Several titles sit atop my list this year, including King's "The Institute," Gilbert's "Signature," the novels of Nebraska authors Montag and Wheeler.
* "The Nickel Boys," by Colson Whitehead, stunned me.
* I adored "Nobody Will Tell You This But Me," a tiny gem by Bess Kalb, written in the voice of her (dead) grandmother. (The title is a nod to Grandma Bobby's for-your-own-good advice giving, a la "Nobody will tell you that dress makes you look fat but me ...")
* "Calypso," by David Sedaris, pulled me through dark pandemic days with essays that were equal parts poignant and hilarious (A+).
* I adored "Witness Tree," by Lynda V. Mapes, a gift from an Arbor Day Foundation friend and a fascinating account of a single tree in the Harvard Forest, which tells a larger tale of climate change. (Plus you learn so much about trees — and squirrels —  and trees.)
* "I can't say enough about a slim collection of odd short stories by Denis Johnson, "Jesus' Son," part Raymond Carver, part Daniel Woodrell. (The used book arrived with a scrawled inscription: "I'm sorry about the ants and how I don't know how to buy flowers." Someone should write a short story about that.)
* The University of Nebraska Press published a series of books on the Great Plains — all with lovely cover illustrations by former LJS talent Katie Nieland — and I am just getting to Larkin Powell's charmingly educational illustrated volume on birds.
Here's to 2021, My Reading Friends.
I have a teetering stack of books ready to see me through winter and I plan to read them all, waiting for a shot in the arm and a return to browsing close-quartered library shelves and cozy bookstores.
FIVE CINDY LANGE-KUBICK COLUMNS FROM AN UPSIDE-DOWN YEAR: