The Paper Stadiums Guy unveiled his paper stadium on Twitter on Monday.
A camera hovered over the tiny Memorial Stadium as it made its 55-second, 360-degree debut.
The theme song from "2001: A Space Odyssey" played all the while, as if Ric Flair might appear at any moment and sprint down the FieldTurf.
When it was over, hundreds of viewers — and eventually thousands — applauded by pushing the tiny heart icon on their screens.
And Paper Stadiums Guy took a bow.
"When I posted the final product, it really blew up," Trey Ashby said Wednesday morning. "I just thought it was just this kind of nerdy thing I did."
Fellow Husker fans thought otherwise. (Impressive! Amazing! Terrific!)
As did fans of the building material. ("As a paper salesman, I absolutely love this and want one!")
And Larry the Cable Guy. (Wow! That's really good!)
And the fingers behind Runza's Twitter account, although the Nebraska fast-food staple suggested an addition to the scale model: tiny Runzas. (Perhaps a tiny Ben Sasse slinging them?)
Ashby began his stadium-building project in August. The 30-year-old PE teacher in Papillion with a lifelong love of sports comes from a family of Husker fans and spent his childhood sketching football and baseball players and the places they honed their skills.
"I sketched literally hundreds of stadiums."
It was after he married Samantha that he started honing his stadium-building skills.
"She goes to bed early and I'm late to bed and I got tired of always watching TV."
He'd made a model of Rosenblatt Stadium this spring and when football season approached, grabbed a piece of cardboard and set to work on Nebraska's big house.
His supplies: manila folders for the base, construction paper walls, printer paper seats, Elmer's glue, a set of Sharpies and a blue highlighter.
Oh, and one used paper plate for the uprights.
"I was having trouble with the goal posts and I was eating a cookie off of a paper plate at work."
He took the plate home and got busy.
Total cost for the project: $5.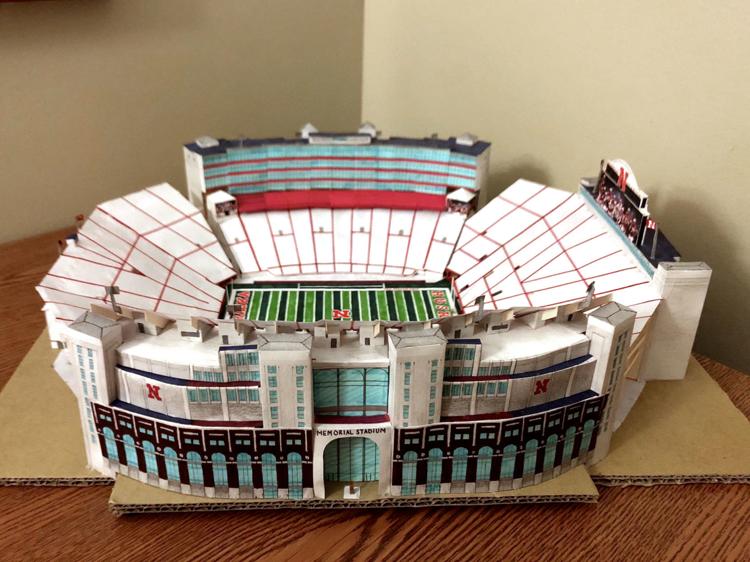 Ashby worked an hour or so each evening after he and Samantha put their boys to bed.
He cut out tiny silhouettes of statues and colored them copper — Tom Osborne and Brook Berringer and Bob Devaney. He matched all the skybox windows, drew the boards that displayed the sellout streak and all those All-Americans.
When he finished each night, he stowed the stadium in a filing cabinet so Warren, 4, and Walter, 18 months, couldn't get their hands on it.
He used geometry, construction know-how, trial and error, Ashby said.
"South Stadium, you can see little waves because I used too much glue."
The Paper Stadiums account came to be after he showed his model of Rosenblatt to his best friend.
"He said, 'Dude, you ought to start a Twitter account.'"
So when Ashby started in on the state's third-largest city in mid-August, he did.
Best friend Nate Kennedy was impressed.
"You see a lot of novelty accounts on Twitter that are kind of pointless. This is something that is legitimately interesting."
Ashby didn't tell anyone about the account — except his wife and Kennedy — or about the 20-inch-by-15-inch stadium in his basement.
But he posted a photo — or a bit of stadium history nearly every day.
He started with a handful of followers and, by the time he unveiled the project Monday, it had grown to 350.
A co-worker asked: Did you see that paper stadium on Twitter? (The stadium-building gym teacher didn't let on.)
His sister got suspicious, too. She'd been following the Paper Stadiums account and when a tweet showed up featuring a handwritten list of the Big Red's win-loss record since 1993 — yes, he has it in his head — and the handwriting looked familiar, she texted him.
It's been fun, Ashby said 48 hours after he posted his finished stadium.
His followers had doubled in two days. Nearly 69,000 people had viewed the unveiling video.
There were inquiries about purchasing the model.
And reporters asking about the story behind it.
"To me, it's not just a building," Ashby said. "It ties you into family and memories and community."
It's a paper picture in time, he said. How Memorial Stadium looked in 2019. How the stadium looked in a very disappointing year. "It's a little bit of a bummer."
Although the Paper Stadiums Guy has made the best of it, filling post-Saturday losses and his TV-free nights with his paper stadium project.
Wednesday, he was still thinking about post-production tweaks.
"I might go home tonight and make some tiny Runzas just for fun."
Get local news delivered to your inbox!
Subscribe to our Daily Headlines newsletter.