Sunya Carter sits outside the sanctuary, waiting for Sunday service to start.
She's been a member of Mount Zion Baptist Church all of her life.
Her grandmother joined the church first, she says. And her father was baptized at Mount Zion; 75 years of Sunday worship until his death in 2012.
"It's a friendly church."
A church that cares about young people.
It's an old church, too, she says.
"The oldest black Baptist church in the state."
Good morning, Mount Zion!
This is the day that the Lord hath made!
Marla Styles has a microphone, and she's in the aisle in her maroon choir robe, preparing to lead the congregation in song.
Jesus is on the mainline, tell Him what you want ... Jesus is on the mainline, tell Him what you want ...
Choir members clap and the congregation rises to join them.
Jesus is on the mainline, tell Him what you want ... Call Him up, call Him up, tell Him what you want ...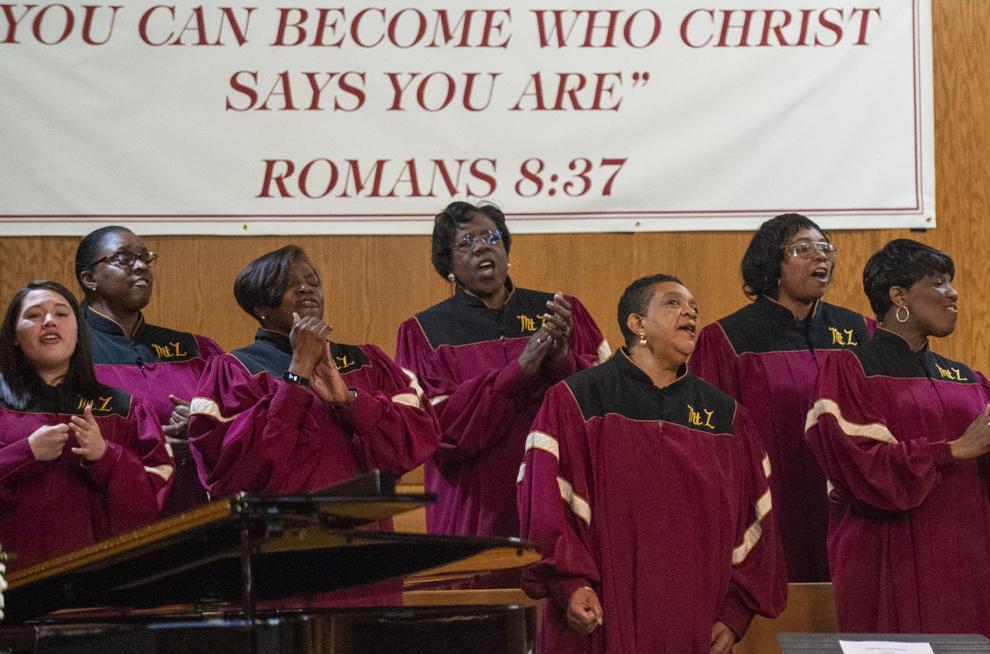 This is the newest Mount Zion church — a stone building on North 56th Street with a high-peaked sanctuary and a row of stained glass that stretches down one side, sunlight filtering through on the third Sunday of February.
The old church is still standing on the corner of 12th and F streets, built in 1922, at a cost of $1,500, according to newspaper accounts of the time.
The state of Nebraska had given that land to the black Baptist congregation in 1882, three years after its founding by the Rev. Marcus Mack of Louisiana, says Ed Zimmer, Lincoln's historic preservation planner.
They built a wood-frame church, then moved it to make way for a stone foundation that rose just 5 feet above the ground.
It remained a basement church for more than 30 years, until a brick Mission Revival church took its place, covered in stucco.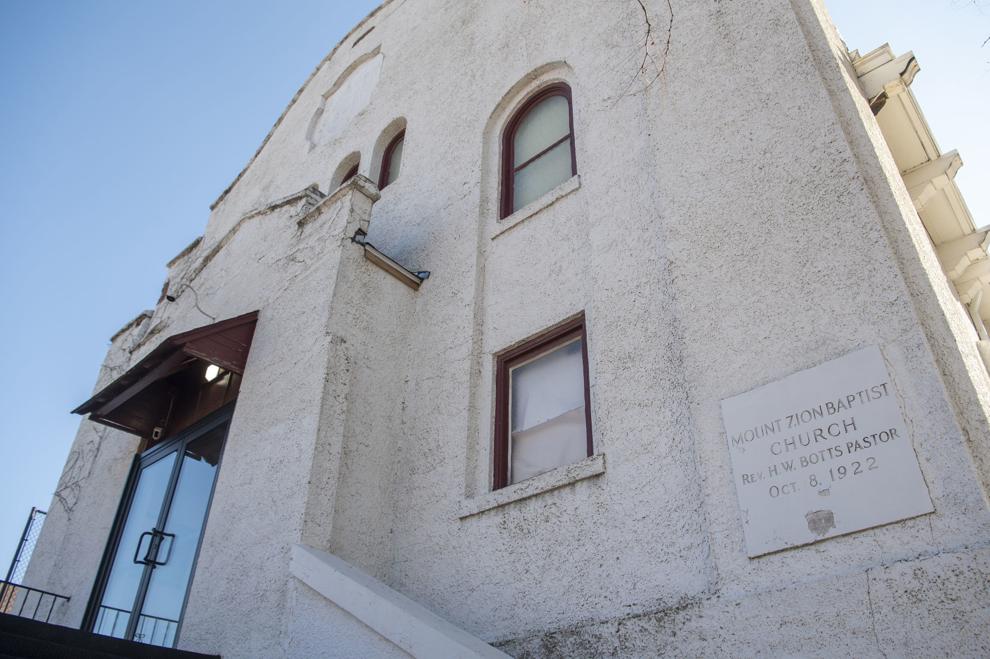 Birdie Powell was baptized at that white-stuccoed church. "Dunked in the water," she says.
She remembers driving across town with her parents for church dinners, prepared by the ladies of Mount Zion.
"They'd sell tickets, and the ladies would be down there frying chicken; the basement would be full of people."
She remembers those women at Monday mission meetings and Wednesday prayer meetings at their homes.
She can recite a litany of ministers, too, easy as saying the Lord's Prayer: Rev. Botts, Rev. Monroe, Rev. Stringer, Rev. Harris, Rev. Collins, Rev. Michael Combs.
And now the Rev. Combs' son, Tremaine, who returned to Lincoln from St. Louis with his wife, Tierra, and their five children to lead the congregation after his father died in August.
There are older church members than Powell.
But no one who's been around longer.
"The others have all passed away," she says. "And I'm climbing the ladder."
Charles Robinson showed up at Mount Zion in 1959. He'd moved to Lincoln from Alabama for work, and his uncle was a deacon.
"I was a Baptist, and it was the only black Baptist church in Lincoln at the time," he says.
Dewayne and Jareldine Mays joined in the late '70s, when they moved here and went in search of a church home.
"It's a connecting point for a lot of people who come to Lincoln looking to make connections with people who look like them," Dewayne Mays says. "A lot of people come from the South and have those southern roots."
The Rev. Garther Collins was the pastor then. The Baptist minister from Oklahoma packed up his family when he got the call in 1958.
His oldest daughter was 3.
"I call it my Mount Zion family," Belinda Collins-Payne says. "A lot of members are still here from when I was in the children's choir."
Her father marched alongside the Rev. Dr. Martin Luther King Jr., she says. He put his shoulder into community work.
"It's in Mount Zion's blood."
That commitment continued when the Rev. Michael Combs, a University of Nebraska-Lincoln political science professor, became pastor in 1986, and has passed through to his son, who founded and led his own church in St. Charles, Missouri.
"To me, Mount Zion is the bedrock of the African American community in Lincoln," Tremaine Combs says. "It is near and dear to the hearts of African Americans here and I think it's because we have always strived — imperfectly, because we are humans — to be family."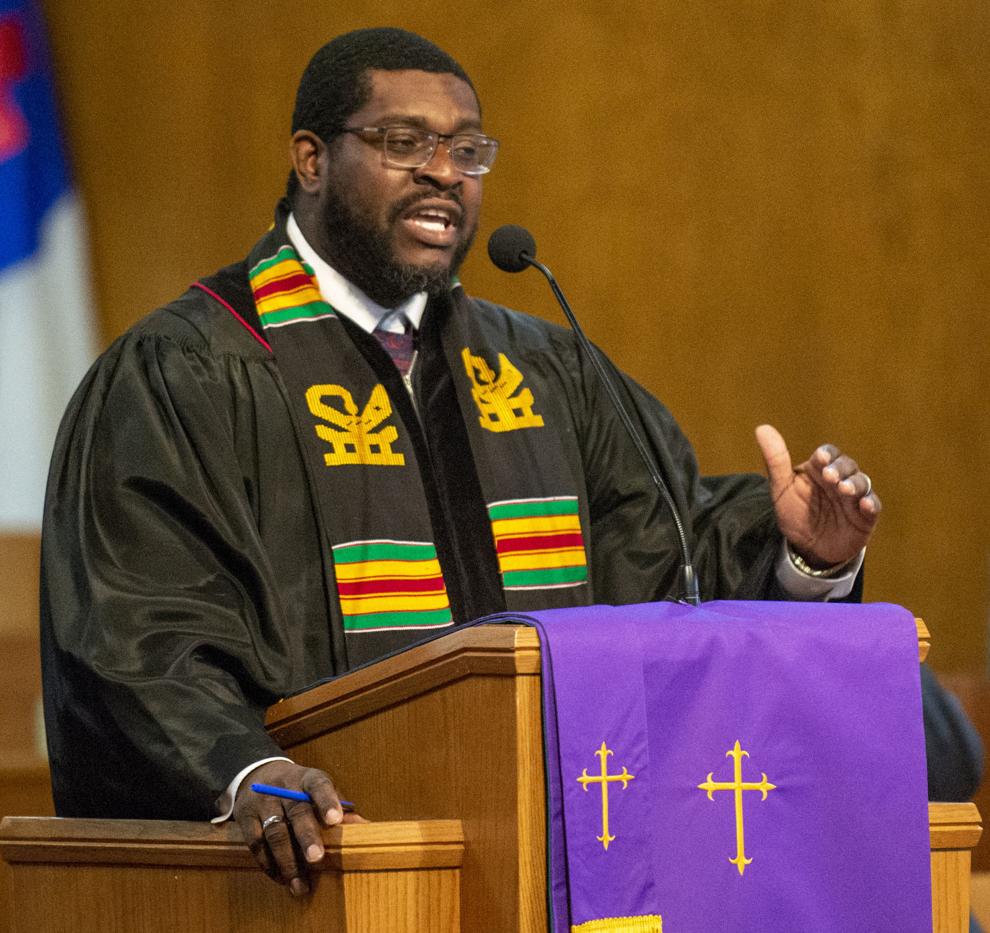 That church family comes in all colors on Sunday mornings in 2020, but its foundation is in its black history and tradition.
"We have always been unashamedly Christian and unapologetically black," Combs says.
In the 1980s, the Klan threatened to kill his father and burn the church, says the pastor, but the church and his father remained faithful.
"We are taught that our blackness and our faith go hand-in-hand. Christianity belongs to us, and we have just as much claim to it as the white church and perhaps more ... and when you have that understanding, you can be bold in places. You can be prophetic in places. You can be humble in places."
They can take the pain they experience in Lincoln because of their race and continue to see others of different races and ethnicities as their brothers and sisters, Combs says.
"Our desire is to be a church that has the community at heart and to be at the heart of the community."
On Sunday, members come into the church in waves, the pews filling over the first hour of service.
Older members, like Powell and Florine Joseph and Frances King, are here from the first amen to the last.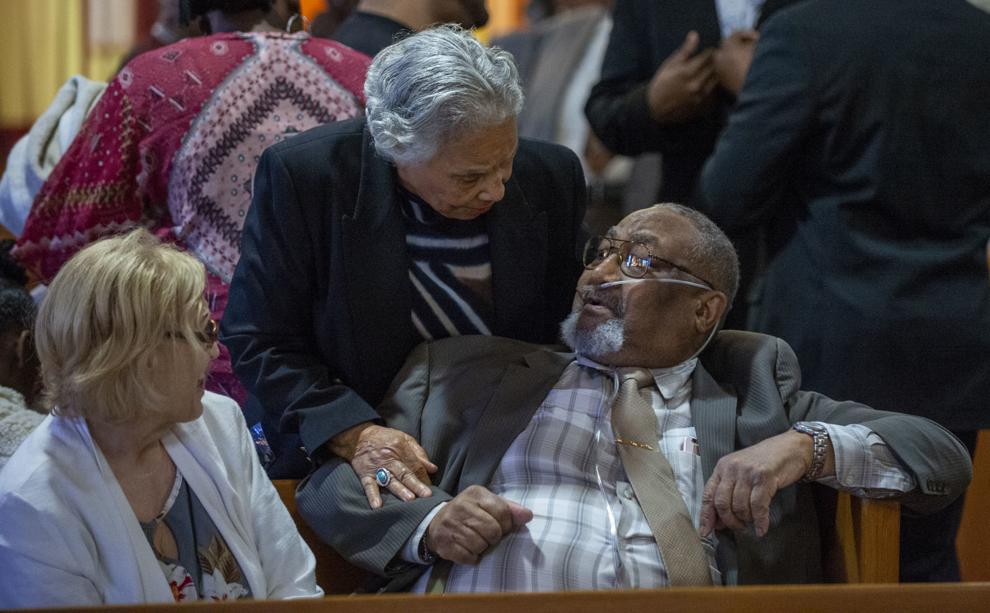 King is 99. She was born in Kansas and moved to Alliance with her parents as a girl. She lived in Lincoln off and on as her career with the government took her away to Denver and later New Orleans.
She always came back to Mount Zion.
"I have the honor of being the oldest person in church," she says. "I plan to keep going as long as somebody will pick me up and take me."
They call her Mom King now, she says. Or Mom Frances.
She was the church treasurer for 20 years and the Sunday School superintendent after that.
She can remember when the pastor at the front of the church today — the last Mount Zion member to be baptized at the old church in the fall of 1990 before they moved here — was a little boy.
"I used to walk him around the church here outside so his mom could sing in the choir," she says. "I had to learn to call him reverend."
Sunday's service moves from music to scripture to prayer.
People leave their seats and walk to the front of the church, a wide circle dressed in Sunday best, hands holding hands.
There's a wide banner in front of them, a verse from Romans: "The Place You Can Become Who Christ Says You Are."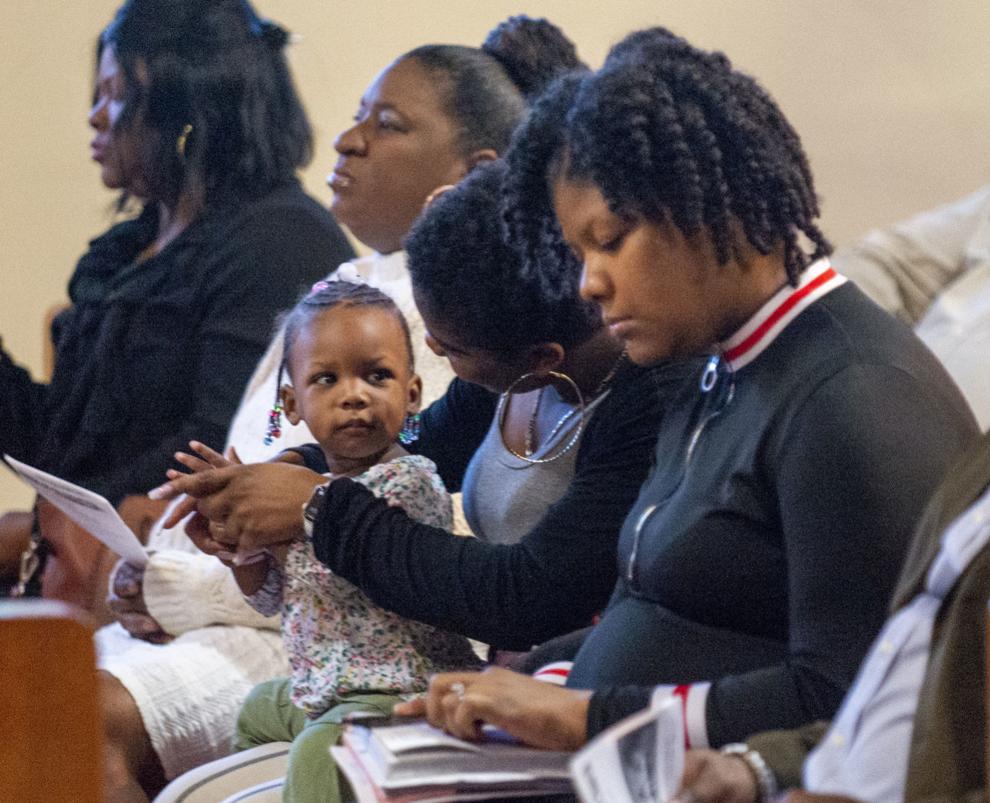 Jason Wagner II, a minister assisting the Rev. Combs, stands at the microphone.
Heavenly Father, Lord, we love you. Why do we love you? Because of who you are ... Lord, we love you because you are righteousness ... Lord, we love you because you are peace ... Lord, we love you because you are our defender in the time of a storm ... Lord, we lift up your name this morning because we are not ashamed of the gospel of Jesus Christ …
Later still, there will be tithes and offerings and hugs and blessings and the story of the black St. Perpetua.
And then the Rev. Combs standing in front of his congregation.
He makes announcements. Meetings of Joshua Club and Ruth Circle. A joint Ash Wednesday service with Quinn Chapel.
"The two oldest black churches in Lincoln taking the time to worship together," he says. "The Methodists and the Baptists together, when you get to heaven it's not going to matter."
He invites his congregation to attend.
"We come together as family," he says. "A family of all those who love the Lord."