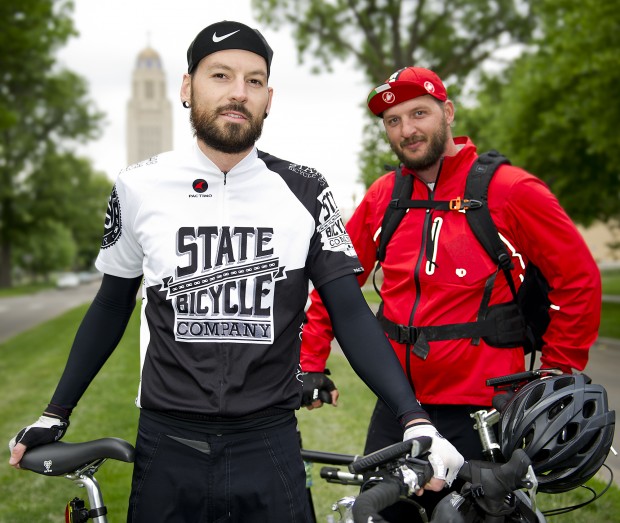 On Day 56 of his bike ride across America, Zachary Chipps pedaled 40 sunny miles, and then up a hill to a cemetery outside of North Platte, and stopped.
The friend who rode with him hung back.
Zak is 31 and lives in Arizona.
He's always ridden his bike as a kind of therapy, even as a boy growing up in Hastings with his mom and dad, his sister and two brothers.
The bike helped even more after his older brother killed himself.
It was a way to clear his head. A way of moving forward.
Thursday afternoon in Hastings, on a day off the saddle, Zak remembered the day after Sean's funeral in June 2005.
"I was waiting for my flight back to Phoenix, and I had the idea I wanted to honor my brother by riding my bicycle."
Zak met Thomas Brown -- now his cross-country bike riding partner -- in 2009.
The parks and rec workers ended up at the same after-school program at a Scottsdale, Ariz., park one day that fall.
They bonded over hip-hop, Grouch in particular, and relationship troubles in general -- both of them jaded over recent breakups.
It wasn't until they sat down at a coffee shop a few months later that they discovered they had something else in common.
Thomas lost his older brother Marc to suicide in 2001.
He was 24 when Marc died.
Zak was 24 when Sean died.
Both survivors struggled with the same emotions: anger, guilt, sadness.
And now, two guys on bikes, no fancy gear, no giant sponsors, just talking to strangers and meeting with community groups.
Their way of doing something positive with those feelings.
"The main focus of this tour right now is to bring awareness," says Zak.
"To open the conversation."
The trip started in San Francisco. It will end in Wappingers Falls, N.Y.
They figure it will take seven months to ride 7,000 miles. It's not a straight shot -- they will dip down into Texas next and follow the Gulf Coast to Florida before heading north.
They take turns pedaling their Surly Long Haul Truckers and sagging supplies in Thomas' Chevy Silverado.
They're sleeping on couches, in hotels, in the homes of hospitable strangers.
Thomas is filming. The plan is to make a documentary of their journey.
They've learned a lot since they started in late February, Zak says.
"It's been really exciting. We started getting bigger numbers in Santa Fe, and that's continued all the way through Colorado and Nebraska."
The pair blew into Lincoln late Friday afternoon and plan to meet with the LOSS Team -- made up of people who lost family members to suicide -- Saturday.
They'll attend the group's monthly meeting, share a meal. Maybe share their stories.
"We're willing to share if it will help someone," Zak says, "but we learned that to share our story on a nightly basis would be too emotionally draining."
At the end of the day, the ride is about the issue, not their personal losses.
It's about finding ways to help people reach out. Letting them know there are resources. Letting them know they aren't alone.
Zak is not sure what led his big brother to take his life.
He'd gotten married, had a child.
"I don't know what snuck up on him, whether it was drugs or alcohol or gambling ..."
What he does know is this: He is honoring his brother's life as he pedals. He's moving forward.
That day at the cemetery, he laid his bike down behind Sean's headstone.
He felt so many things: joy, pride, sadness. He cried.
"This tour is for many others. But today is for me, my brother Sean and my family."
Get local news delivered to your inbox!
Subscribe to our Daily Headlines newsletter.