The musicians set up every weekend at the bakery in the old bank building in Bethany — the Toasted Ponies or Paddywhack, Big Bluestem Boys or Aunt Bunnie's Parlor, Chris Sayre or the Crabgrass Duo.
They love the intimacy. A small stage carved out in front of the window, the wood-plank tables, like a living room with live music instead of a Sony flat screen.
They love Kat Cloran, too.
The laid-back baker is behind the counter in her stocking cap Saturday night, serving scones and gooey pecan rolls and coffee cake dusted with sugar, fair-trade coffee and bottles of locally brewed beer and wine.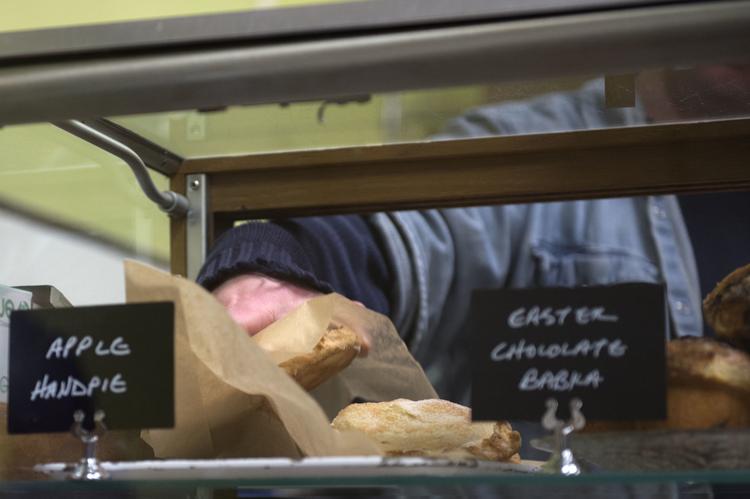 A duo called Ace & Dan are picking tunes on acoustic guitars for the small, attentive audience.
When they shut down the show at 9 p.m. — bakers go to bed early — Dan Cox calls out a reminder about a gig next Saturday across the street at the Cotner Center: six hours, six bands, a bake sale and beverages.
"We gotta support the Gratitude," he says. "They've done a lot for our community and we need to help get them out of their structural difficulties."
Then the two men pick up their pay. Ten percent of sales. Whatever was in that tip jar.
And the best part: brown-paper sacks filled with Kat's homebaked goodness and a hug to go with it.
In the '90s, a north Lincoln girl spent Saturday mornings on the Bethany strip, hanging out at the Daylight Donuts shop while her parents haunted the antique shops in the old neighborhood business district.
The doughnut shop closed long ago and the antique stores, too, along with the beauty shop on the corner of North Cotner Boulevard and Fairfax Avenue, where the First State Bank of Bethany had been built in 1914.
Kat bought that classical revival building in 2012. She brought it up to code, adding a handicapped-accessible ramp and building a bathroom in the old bank vault.
She opened her own business the next year. She called it Gratitude Cafe Bakery, after the lyrics of a Jason Mraz song. I keep my life on a heavy rotation … up up and away and over to a table at the Gratitude Cafe ...
She decorated with thrift store oil paintings and wooden signs and old family photos. She sold her homemade Groovy Guru Granola, prepared in rented commercial kitchens and hawked at farmers markets and craft fairs and art shows for years before the cafe came to be.
She sold fair-trade goods — chutney and coffees and textiles and pottery bowls.
"It was going to be smoothies and soup," Kat says. "But that didn't work out; a bakery was the path of least resistance."
Soup makes an appearance on the rotating vegetarian lunch and dinner menu, but always there are scones and rolls and cookies, bars and muffins and cakes like grandma baked, filling the bakery case.
And Kat, smiling. Complimenting your stocking cap (thank you so much), wondering how your day is going (better as soon as I eat that cinnamon roll).
"Kat might just to be the kindest, gentlest soul that you and I will ever meet," says musician Terry Keefe, a regular on the Gratitude stage. "She's just a very lovely person."
You have free articles remaining.
Saturday, Terry will do his part to support a bakery in need of repair.
"We're hoping to get some people in and raise a little money for her. It's just such a welcoming place and she runs the business by herself with some help from her mom."
And Kat is grateful for the help.
Her customers first found out about the trouble at 1551 North Cotner — a bad roof, a caving foundation and crumbling sidewalks — when they saw her meeting with contractors during business hours.
"They started getting really worried and a rumor started circulating that we were closing," she says. "Then they just ran away with their generosity."
C.A. Waller doesn't like to call Saturday's event a fundraiser.
The idea is to make money, yes, but it's more than that.
"It's just one way to take what she has — a community — and the musicians that feed that community, and show what the place is like."
The longtime Lincoln musician calls Gratitude his favorite place to play and Kat's food "magical, for lack of a better term."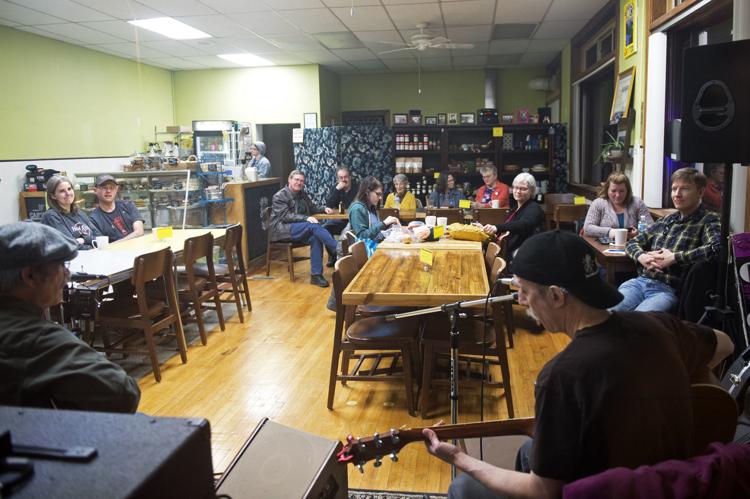 That works for me and it works for Sandy McBride and Bruce Chapman, who live around the corner and watched the bakery take shape during neighborhood walks.
"After it finally opened, we realized how dangerous it was having a really fabulous bakery two blocks from our house," Sandy says.
By now, Kat knows their favorites, putting up Post-it notes for her mom on Saturdays — Make sure Bruce gets orange roll for Sandy! — and doing the same for the rest of her regulars.
She gives back, baking for the neighborhood church and local benefits, Sandy says.
"She's really made it part of the Bethany community. And her musicians would do anything for her."
That's why they'll be playing tunes for six hours Saturday — showing some gratitude for the baker they love.
"Kat's turned out to be a real joy in my life," Waller says, "not just because of the food, but because she's a dear, dear person."
Photos: Most mouth-watering bakeries in Lincoln