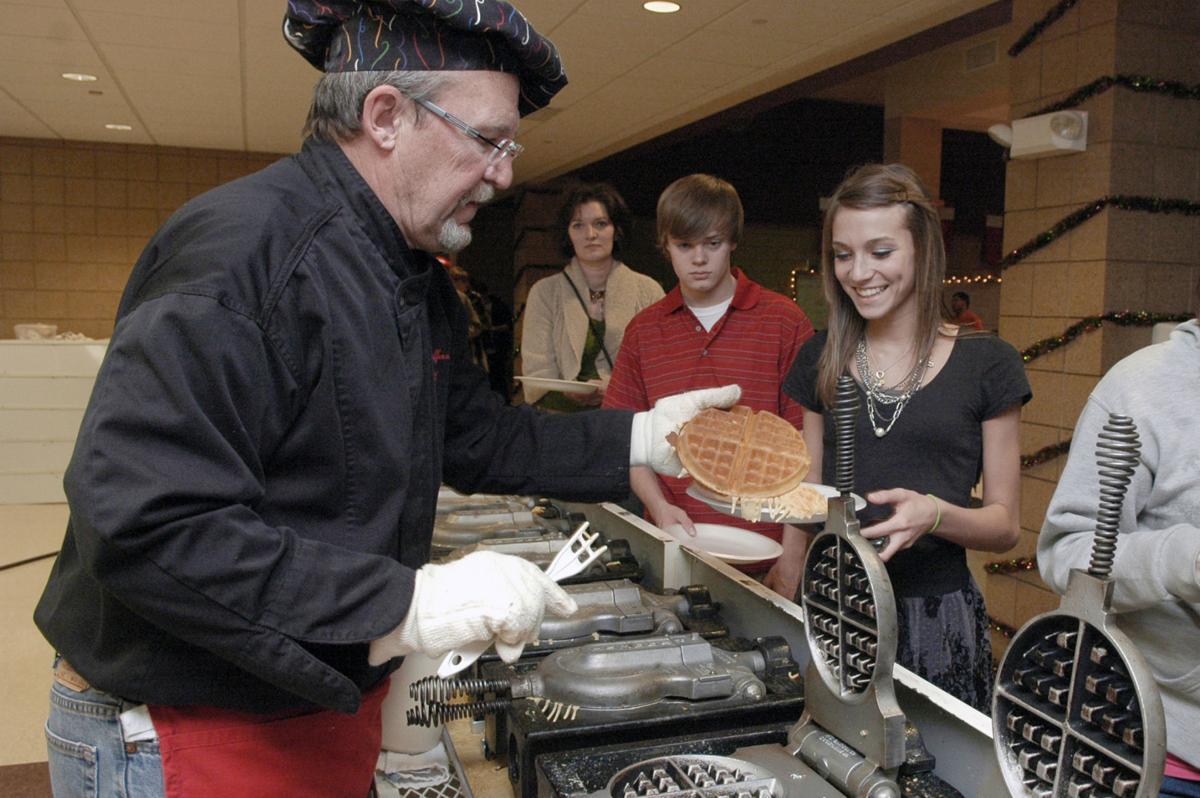 After 14 years and 400,000 waffles, the Waffleman is heading back to where he started.
Back to St. Mark's United Methodist Church, where Doug McCallum blew the fuses his first night in business but didn't blow his chance to start a fundraising phenomenon.
It's a private party this time.
He'll pour batter and serve up golden Belgium waffles -- a light-and-crispy thank you to all the people who helped him along the way.
And he'll try to hold it together.
McCallum is 67. He told his wife, Gaye, he'd pass on his irons when he turned 65, but it took him two years to find someone worthy.
Potential Wafflemen courted him.
And he auditioned the prospective buyers, like an overprotective dad checking out his daughter's prom date.
This is not a catering company, he told them. This is a business about helping people raise money for good causes.
Come out on the road with me for six months, he told the last guy. See if you still want to sell waffles after driving to Kearney at 3 a.m. to set up for breakfast.
The new Waffleman will be at St. Mark's Thursday night, ready to take his bow.
People will be able to tell the two Wafflemen apart, said the 45-year-old musician with a master's degree in nonprofit administration. (Both tall, McCallum skinny, new guy "not so much.")
He'll follow McCallum's lead -- "Clean up after yourself and make sure everyone's happy before you go" -- and he'll do his own thing, too.
"People have told me I should be the Singing Waffleman," Maltas said, "but I don't really know any waffle songs."
The baritone better hustle. He's got 10 waffle gigs in September, five more already booked for October.
He's handing off "the waffle gavel," McCallum says.
Waffles were his third career.
He'd taught P.E. at Teacher's College. He traveled the world as a consultant, teaching corporate trainers how to make their presentations more interesting.
He liked the work, but he gave it up after 9/11 and eventually fell into a big vat of Carbon's Golden Malted Waffle Batter.
"I loved waffles," he says. "I wanted to help people."
His mom had made waffles for him as a boy. And he'd made waffles for his kids and their friends in Eagle.
So he knew a thing or two. He also knew about need. His wife was a teacher, and the PTO was always raising money for something.
Their three kids had played sports, and every time he turned around, he was buying magazines or cookie dough or overpriced Christmas candy.
He marketed his new business to clubs and schools and nonprofits. He worked his waffle crowds like a State Fair carnie. He bantered. He joked. He was Larry the Cable Guy meets Zig Ziglar.
And pretty soon people were clamoring for him.
"You had to book him a year in advance," said Linda Blunt, who did just that for the Elmwood Rescue Squad.
Nursing homes called, too, hoping to raise money for big-screen TVs in their day rooms. Little League teams called for help getting to the Little League World Series. Volunteer fire departments called to raise money for new equipment.
Animal rescue groups, swing choirs, small town churches, big-city food pantries, company picnics, holiday parties, support groups.
McCallum started with 10 waffle irons and worked his way up to 35.
He served 1,600 waffles at his biggest gig out in Milford, raising money for a teenager injured in a car accident.
He served two waffles at his one and only waffle feed before a morning Husker game.
"Turns out, people don't like to eat food with a fork while they're out walking around," he said.
He has other worsts, he jokes. But a lot more bests.
It wasn't just waffles and sausage. It was fun. It was satisfying.
People hugged him with teary eyes, grateful for the money they wouldn't otherwise have to help a loved one or rebuild after a fire.
Two days before his going-away party, the Waffleman reels off the final numbers.
More than 400,000 waffles, 826,000 sausages, 11,349 gallons of syrup, 10,088 quarts of whipped cream, too many strawberries to count.
He served at 1,261 events, the Waffleman said, and raised $500,000 for charity.
"That's the bottom line," he says.
He'll thank St. Mark's Church Thursday night. He'll thank his supporters. He'll pour his last cup of batter as the Waffleman Lincoln loves.
Then he'll let it all go -- including his waffle irons.
"All but one," he says."I'm keeping one."
Get local news delivered to your inbox!
Subscribe to our Daily Headlines newsletter.