The dressmaker had some fabric, and the dressmaker's neighbor needed some dresses.
So Mary Reifschneider revved up her sewing machine and began to stitch.
Donna Hansen — the neighbor in need — is sitting at Mary's dining room table Wednesday morning.
She's stopped by to explain all those sundresses hanging in a row, size 5 or 6, take your pick.
The dresses made of wild '60s fabric and crinkly seersucker and pale gingham. Dresses adorned with small fabric flowers or ruffled hems or contrasting trim.
Washed and pressed by the dressmaker with mad skills.
All of them perfect for the hot sun of Haiti.
Donna belongs to St. Joseph Catholic Church, where members help support an orphanage in one of the western hemisphere's poorest countries.
They provide medical care, Donna says. And every other year, they send supplies to help the 1,200 children living there. Shoes and backpacks. Soap and washcloths. Peanut butter and water bottles.
And Sunday, sundresses for the girls.
Lots of church members sew dresses. Two dresses or five or 10 or more.
And a Methodist named Mary made 77.
"The sewing is impeccable," Donna says. "It's really a work of love."
She's been a dressmaker ever since she was a teenager down in Missouri and the neighbor lady saw the pretty flour-sack dress she was wearing and wanted one, too, she says.
When she moved to Lincoln in 1946, she sewed for the girls in her dormitory, and when she married Gene, she made clothes for their kids.
She stitched pants and shirts and skirts and coats and curtains and her own clothes, of course, and when her skills became known in the neighborhood, she started sewing for friends and then friends of friends.
She still hems pants and alters prom dresses and sparkly gowns for mothers of the bride. She sews aprons for grownups and little kids and cloth tote bags, too, sized for farmers market shopping.
"A self-serving project. Don't give me too much credit."
After decades as a seamstress, Mary had collected enough fabric to cover every bed in Lincoln with a quilt.
But she wasn't ever going to make so many quilts and a lot of what she'd bought — often on a whim, drawn to a fabric store like an alcoholic to a bar stool — wasn't suitable for a quilt no matter how crazy.
"I'd decided to thin out my vast collection," she said. "And girls dresses are always fun to make."
She dug into her tubs and bags. She studied the pattern Donna provided and sat down and sewed.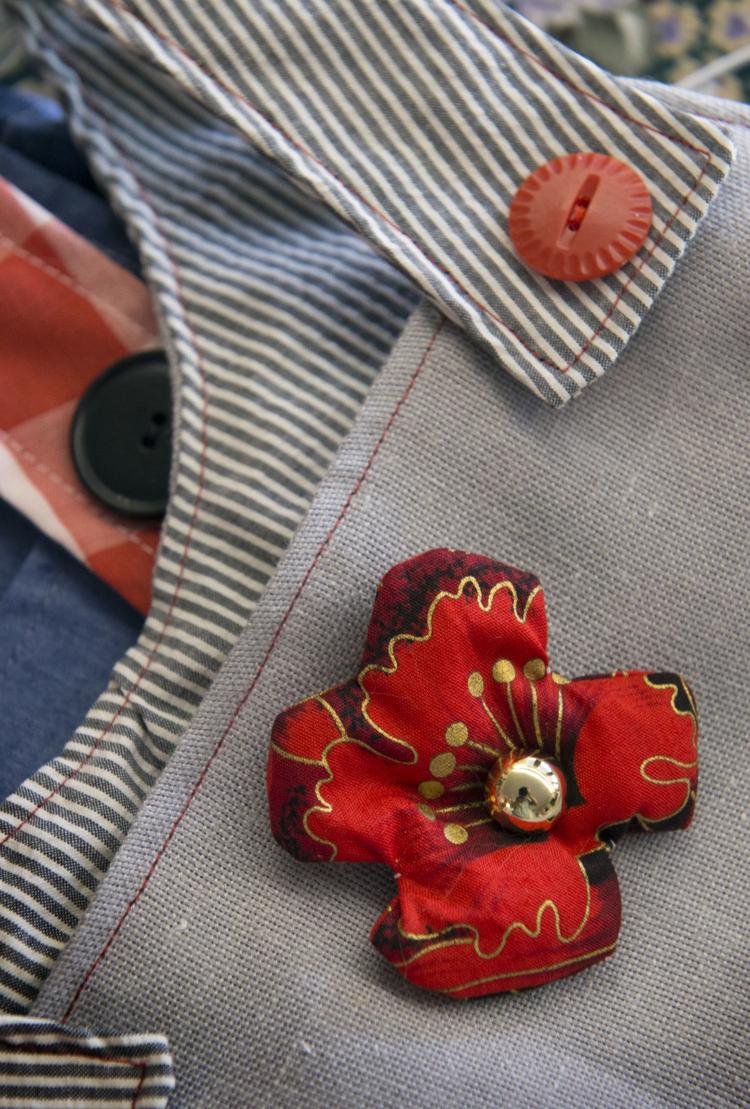 She shows off the dresses — like a vintage style show in a mid-century house in east Lincoln.
Most of them started out as something else, Mary says.
This was a jean skirt. This was a man's shirt. This one a dust ruffle.
This one? A piece of seersucker on its way to becoming pajamas — a gift from her mother-in-law, who died in 1974.
She pulls out a flowered dress, bright as a go-go skirt.
"I bought these sacks of fabric at the Goodwill in the '60s. When I pulled this piece out, I thought, 'Well, this is cute.'"
Donna is going to take the dressmaker to St. Joseph on Saturday afternoon, when the priest in charge of the Haitian mission will address the congregation.
The sundresses will be boxed up and delivered to the church and sent off to the island, where little girls will pick from dresses made with shiny buttons and perfect seams, ruffles and flowers.
Mary could have kept it simple, Donna says.
The dressmaker disagrees.
"No little girl should have to wear a plain dress."