Cindy Lange-Kubick: Don't shop drunk and other holiday shopping tips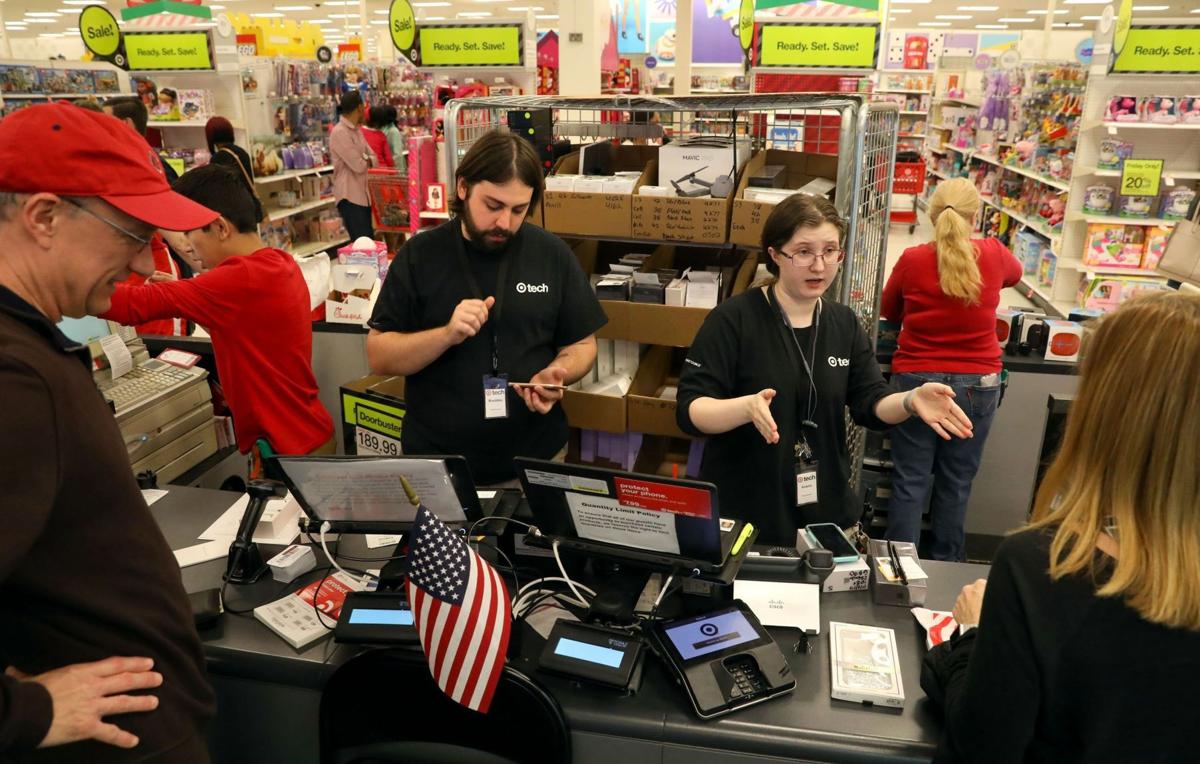 You, there, in that line of joy and tribulation, rolling your eyes, tapping your foot like a Rockette on Ritalin, sighing like there's no tomorrow.
Guess what? The clerk at the cash register sees you. (Disclosure: I've been you, more often than not.)
"You can definitely pick up on them," says Ahmed Makkawy, who spent two years at Best Buy in the mid-2000s selling cameras and ringing up your presents. "It plays into the anxiety."
See. It's not just about us, we put-upon-busy-people-with-much-to-do.
The folks on the receiving end of our holiday-infused anxiety are feeling it, too. And they're feeling it in their aching feet and their tired backs as they toil 10-hour days from Black Friday to Christmas Eve.
So let's endeavor to practice our yoga poses in the checkout line this year — or bring a magazine to peruse, as one former retail clerk now living in California (The Land of Lines) recommends.
Let us be like Boy Scouts — prepared. Like Girl Scouts — even more prepared.
Let us shop online, as more than one former retail worker does. (Or better yet, shop local, where they know your name and hand out cookies and praise for literacy while you wait, like the folks at A Novel Idea. Or throw in a stick of incense for patient customers like they do at Bodhi Imports.)
And without further ado, in this Season of List Making, 10 ways to make us all merrier as we grease the wheels of commerce:
Do Unto Others: "Maybe we all just take it easy on the retail folks," said Greg Wright, who spent eight years managing stores at Gateway mall.  "Every season I knew there would be one customer so unhappy with me that they would want my job."
He'd often work 14-hour days as store hours expanded with the approach of Dec. 25. An expansion that often corresponded with an increase in customer crabbiness. "It's almost like somebody flips a switch before Thanksgiving. People become more frantic, more rabid, in a bigger hurry."
(Wright says he can explain his holiday shopping routine in three words: "Amazon dot com.")
Kill Them With Kindness: That's the lesson her dad taught her, says Barb Biffle Bennett, who spent the Decembers of her youth helping at her family's clothing store in Maryville, Missouri. "Dad said I would meet a lot of nice people, but also some really crabby ones … and to remember to treat them extra nice, smile all the time and try to get them to smile or say thank you just once."
It usually worked. Today, she doesn't mind waiting in lines as a shopper, although she's not crazy about shopping. "I put myself in a frame of mind and then I kind of like it. It usually involves a drink at a friend's house."
Remember Charles Dickens: The holidays bring out the best and worst in people, says Cheri Howard, a former Lincoln Police Department employee who now works in retail. "I've seen full-out tantrums, meltdowns and raging, but conversely, I've seen much-appreciated patience, understanding and consideration."
(Her advice: Go with the latter.)
The Scout Thing: It helps if you know what you want, said Makkawy. "The best shopper is one who is both patient and knowledgeable. It makes for a better experience."
That said: "I was taught that the more time you spend explaining and answering questions decreases the number of angry customers."
(Makkawy also offered an example of the kind of customer you don't want to be: "I had a gentleman come up with a printed-out photo of what looked like a blurry photo of a moose." The man wanted his money back for the camera he bought at the store. "He did not have the camera or the receipt.")
Leave It Where You Found It: "My main pet peeve is when someone doesn't want something, they put that piece of merchandise down in a random spot, even if it doesn't belong in that section," says Walmart worker Marcus Yuen. (I think our mothers would agree. Manners, people. Goodwill toward all and especially the poor employee who has to put away the CD you left in the lingerie aisle.)
Don't Shop Drunk: This seems to go without saying at Christmas, Hanukkah or any time of the year, but apparently some of us are tipsy in electronics. (It might not be why people block the aisle with their carts, but don't do that, either.)
Wake Up: "Don't come tired," says Jackie Coffey, who has worked in retail for 15 years. "You're less likely to be stressed." (Speaking of stress: "I also think it's a good thing to go when your kids are sleeping," she said. "I realize that can't always happen.")
A Little Empathy Goes a Long Way: Both from the customer and the corporation. Realize employees are people with families who are doing the best they can and are often missing out on their own family festivities, said KaDeja Fatima, who worked the Walgreens cosmetic counter for three years. "We work ridiculous hours because people want us to be open earlier and stay open later."
So if your clerk isn't chipper, give them the benefit of the doubt. "There might have been someone before you who yelled at them and maybe you're the difference between them having a bad day or a great day."
Once Again With The Kindness: "Be kind always" was Cindy Plaster McGill's mantra the year she picked up a seasonal retail gig to go along with her job at an oncology lab and ended up working 26 days straight between Thanksgiving and Christmas. "I was exhausted, but must have stuck to my motto, because they asked me to stay after the holidays."
"We don't know what someone is going through personally," said Lynn Murray Smith. "We may be the only ray of sunshine they experience right now." (And, no, it's not the clerk's fault the store ran out of X, Y or Z.)
Patience, My Dears: And the first shall be the last. "Patience is a virtue," said Karis Anne Loos, who was always pleasantly surprised by the patience and good cheer of customers in long queues at Michaels. "Now if I can just exemplify what I saw in courteous customers, I'll be good."