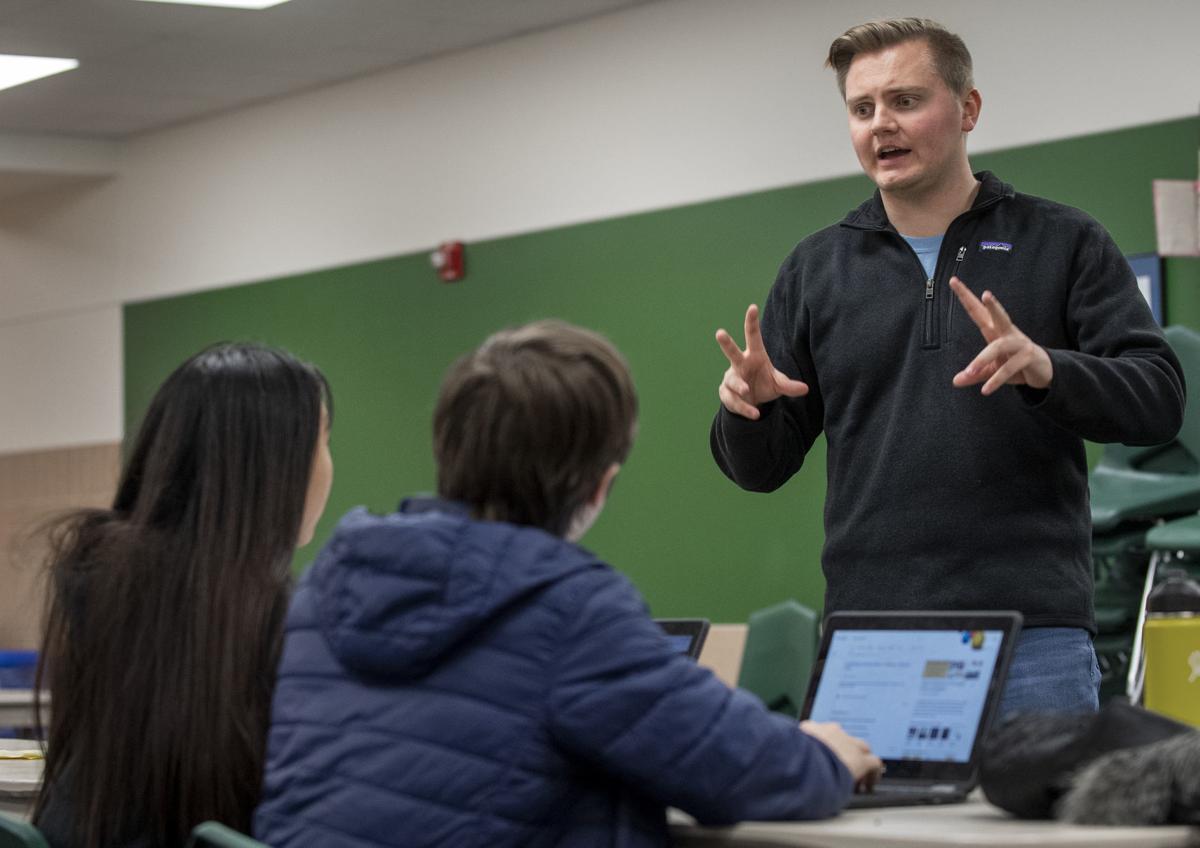 When Brodey Weber was small, his grandparents visited Mount Rushmore and brought home a set of presidential flashcards for his brother.
But big brother wasn't interested, so he handed them over.
And Brodey was fascinated.
"I'd go through them and by the time I was in second grade, I could recite them in order. That's what started all this."
He memorized the names — from Washington to George W. Bush — and he noticed the faces, too, all these white guys.
He asked his parents: Have we not had a woman president yet? (When the answer was no, he took Hillary Clinton out of his set of first lady cards and moved her over.)
In first grade, he wrote in his favored candidate in the district-wide Student Vote. (He remembers he misspelled Hillary — single L — and also this: "All these people coming together to make a decision, it was like the beauty of democracy.")
A few years later, his parents let him stay up past his bedtime on election night.
"I'd watch election results and the State of the Union like most kids would watch the Super Bowl." (Not that he doesn't like to watch the Super Bowl.)
Brodey is 22 now. He doesn't come from a family of political junkies. His parents voted for whoever had the most yard signs, he says.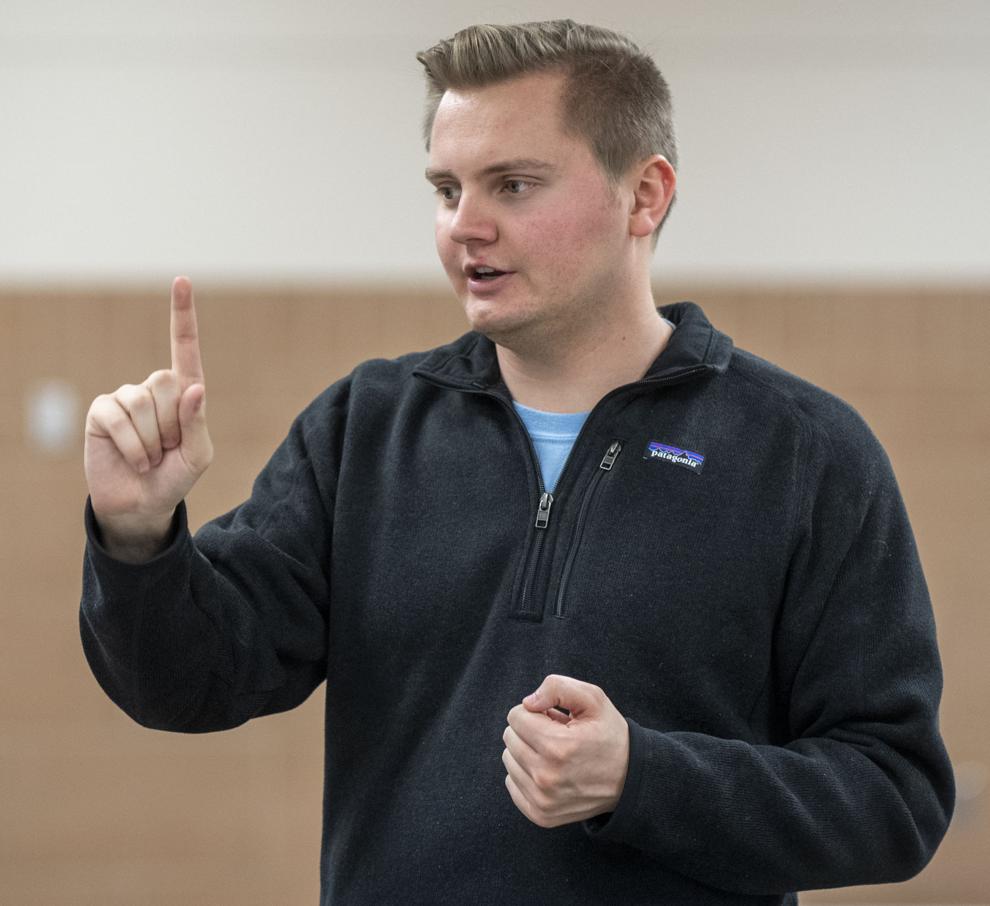 But they brought up Brodey and his brother and sister right, says Nicole Bogus, a friend since kindergarten.
"I'd say ever since I've known Brodey, he's been pretty much in love with his community, how it's improved him and how it's made him who he is."
And he wants to give back.
"I'm a big believer that there's not going to be change if you don't make the change."
Brodey just started his final semester at UNL, where he's studying political science and communications.
He's applied to law school.
His partly tongue-in-cheek Twitter profile: Beyonce's Future Husband, and Red Sox fan since Day 1.
He helps coach debate at Lincoln Southwest High School, serves dinner at the Gathering Place, works at his family's business, helped stop a proposed chicken farm near a high school, knocked on doors for candidates before he was old enough to vote, cooks for his friends, is curious, kind, funny, busy.
Monday night he was in the City Council chambers, being confirmed as a member of the Keno Advisory Board. (His parents were there.)
Tuesday, he drove to Omaha to pick up his brother. Wednesday night, he caught up with Nicole over drinks at Marz Bar, a standing date.
Tonight, he's speaking to a neighborhood group in northeast Lincoln on behalf of the Great Schools for Great Kids campaign and its bond issue.
He's an active board member of the Highlands Neighborhood Association. (He loves the Highlands, where he grew up and still lives.)
He's on the Community Action board. (He loves Community Action. "I think it's the greatest organization around.")
And he'll leave its next meeting with his hair painted pink — a promise he made if a fundraising goal for the Gathering Place was met.
I'm tired just from typing his schedule.
Brodey is a people person and a moderate Democrat.
"Some of my conservative friends think I'm really liberal and my liberal friends think I'm basically a conservative, so I think that's a sign I'm able to see both sides."
He was a high school freshman when he knocked on doors for Ken Haar and his bid for a second term in the Legislature. He and a friend started a Young Democrats chapter at North Star High School.
"National politics were getting so divisive and I thought I could do my part on the local level. I thought, if I can't vote I'm going to work for the people I'd vote for."
He campaigned for Dave Domina for Senate and was a field organizer for Meg Mikolajczyk when she ran for City Council against Cyndi Lamm. ("Those 212 votes still eat me up.")
He was field director for Patsy Koch Johns' state Board of Education campaign the next year, showing up at Village Inn at 5 a.m. to strategize and walking neighborhoods until 8 at night. ("There is no one on this planet sweeter than Patsy Koch Johns.")
He was Rick Vest's campaign manager when he ran for Lancaster County Board in 2018. ("He's a mediator who brings people together.")
When he first started volunteering for political campaigns, he'd get this look when he knocked on doors: What does this kid know?
And then the state champion high school debater opened his mouth.
"I wanted to create a dialogue and show them that a 15-, 16-, 17-year-old can be well-informed enough to have an intelligent conversation."
Lori Heiss knows about Brodey's debate skills. She and her husband, Jori, are part of a group fighting a planned commercial chicken operation near Raymond.
The group was discouraged last fall, after the Lancaster County Planning Commission approved the location for the large poultry farm.
Then someone recommended that a young man named Brodey Weber might be able to help and they invited him to a meeting.
"We came out of there smiling from ear to ear," she said. "He's just a game-changer."
He helped them with branding and organization and testimony.
"He's got contacts all over. He even testified in front of the board without a note in his hand." (The County Board voted down the plan; the chicken farm developers have appealed.)
Brodey is committed to seeing it through.
"What I know about Brodey is he doesn't jump in half-heartedly and it always impresses me what he manages to accomplish," said Mikolajczyk, the former City Council candidate. "He poured his heart and soul into my race." ("Meg is like family to me," Brodey says. Meg says back: "My kiddos get to have someone like Brodey in their lives as a role model of what they can be.")
He brings fresh ideas to the Highlands Neighborhood Association, says its 80-year-old president, Myrna Coleman.
"He's very professional and very respectful of everyone," she said. "I hope he sticks around."
He's working to help Patty Pansing Brooks and her "Yes Means Yes" bill (LB173).
He wants to make sure Lincoln's neighborhoods and schools stay strong.
Brodey Weber is doing what he loves.
And he's an antidote for the cynics of the world.
"No one who's ever met Brodey has ever said anything bad about him," his friend Nicole says. "If you sat down with Brodey for two minutes you'd understand he just wants to make the world better."