Sara Brown's business card says she is the Boss Lady at Rutabagas.
Rutabagas is a new restaurant in an old building downtown. It's also an obscure vegetable that few people eat.
The Boss Lady knows that. She laughs about it, anticipating her most asked question.
"I really need to come up with a canned story on this," says the vegan restaurant's owner and recipe mastermind. "It was just an evolution of trying out names. We wanted something simple that would stick."
Brown is a 36-year-old mother of two who quit a good job with good benefits to open a vegan restaurant in the middle of cow country.
It happened because she loves food and because people clamored for her food.
"I thought I'd be feeding the five vegans in Lincoln, and what's so exciting is I feed everyone in Lincoln."
Brown grew up in the middle of town, playing restaurant with the samples her dad brought home from his job with a local food distributor.
When she got old enough for a food handler's permit, she waited tables at Howard's Pantry and then went off to Carlos O'Kelly's to tend bar before moving up to front-of-house manager.
She earned a psychology degree at UNL. She started an event-planning business.
When her dad had a massive heart attack in 2007, it changed the way the meat-and-potatoes man thought about food. And his daughter started looking seriously at her diet, too.
"Nutrition has always been an interest and a priority and for the last decade, I've been educating myself and gathering facts."
She started tinkering in the kitchen with her girls Emma and Bella. She read cookbooks and blogs. She experimented.
The overarching question: "How do I make food that tastes good that my family will eat that doesn't have animal products?"
It's been three years since she stopped eating meat and did away with most dairy products. (Full disclosure: She's not full vegan yet.)
At home with her girls, mealtime was special. They'd stand on chairs to help her stir. Bella, 10, set up a chalkboard sign outside the dining room.
"It said 'Open' and 'Closed,'" Brown said. "She would pretend our dining room was the restaurant and she would serve the food."
She'd say: Mom, why can't we have a restaurant?
In June 2018, Brown quit her job as a regional vice president at the American Heart Association — where she'd worked for seven years — pulled money out of her retirement account and went after her vegan vision.
She launched Rutabagas small with family-style meals she prepared fresh for pick-up on Sundays and soon expanded her menu with grab-and-go buddha bowls.
Six months later, she set up her vegan food cart — a table, a tablecloth, stainless steel serving trays. She remembers her first pop-up — Love, the Locals, a holiday event at The Bay attended by thousands.
"It was the first time I put Rutabagas in the public eye and from there it really changed the trajectory of our business."
You have free articles remaining.
Suddenly, people were looking for Rutabagas, and Brown and her crew were there. Popping up at breweries and music festivals and yoga studios and school fun nights serving their trademark loaded nachos — no meat, no cheese, no dairy.
The menu expanded — sandwiches, wraps, bowls, appetizers, desserts.
Brown calls it plant-based comfort food.
Melissa Turner calls it delicious.
"I don't think there have been very many weeks in the last year that I haven't eaten Rutabagas food."
Turner is vegan and although her husband and son are not, they are hooked on Brown's food, too.
"The food is so delicious you wouldn't even know."
Michaela Vander Weil calls herself a Rutabagas groupie. The longtime vegan started out as a volunteer taste-tester and kept coming back for more.
"My son and I ordered the weekly meal service almost every week and I'd drive across town if I knew she was serving nachos."
A full-service vegan restaurant in downtown Lincoln is a dream, Vander Weil said.
"I think people are going to think 'Wow.'"
It's a dream for Brown, too, who's spent all summer focusing on opening the restaurant in the old Spaghetti Works space with her Rutabagas team. "Having the staff makes all the difference in the world."
Her dad is her dishwasher and business adviser.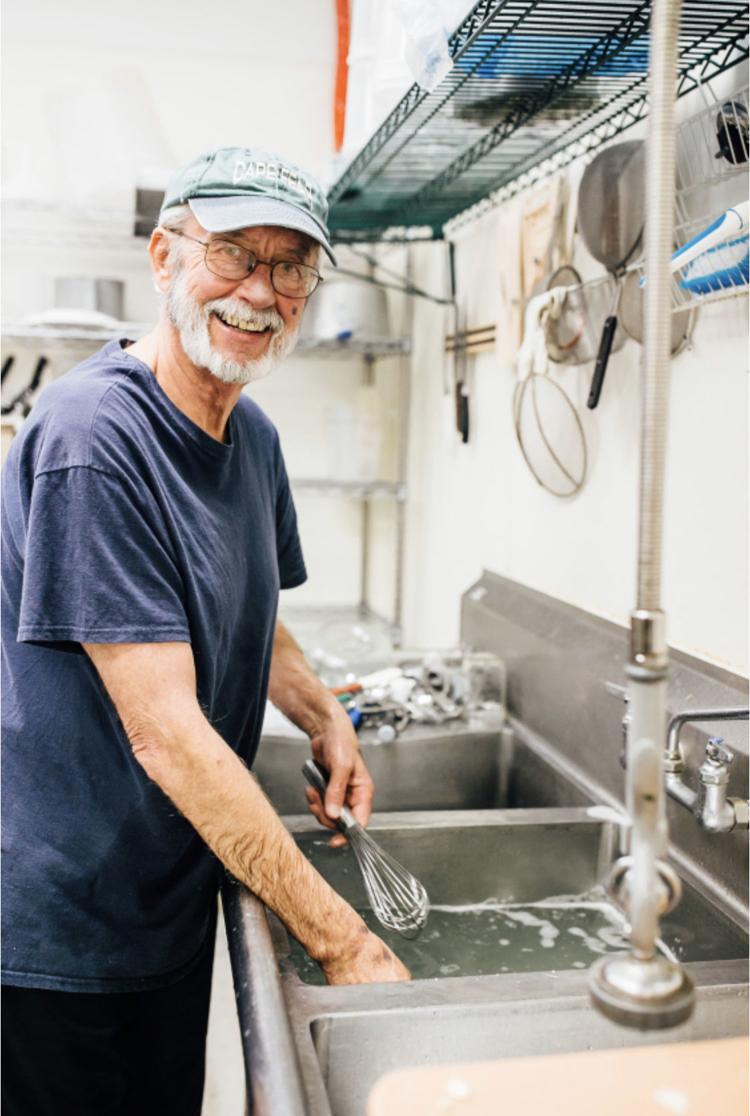 Her mom helps with the girls.
She hasn't counted the chairs in her brand-new restaurant — with the old black-and-white tile floors and the long wooden bar and the memory of thousands of plates of pasta in the kitchen. ("It's not a gluten-free environment," Brown jokes.)
But she thinks she can seat 80. Maybe 90.
"I have long said that my cup is filled when I have people I love around my dining room table and I wanted my own restaurant to have those tables with people around me — that I don't even know yet — to be like family."
To that end, there's a communal table in the middle of Rutabagas. And a groovy green wall at the back where customers can pose for photos.
A restaurant is a big risk. Brown knows that. She's launched a Kick Starter campaign to help things along.
A grab-and-go-box, food-cart, brick-and-mortar restaurant that's matured into that fun-to-say name.
The Boss Lady talks about the hearty vegetable and how it grows with roots deep in the soil.
"I think that's symbolic with the way we've grown roots in Lincoln. The community support has fed us … and we've fed them."