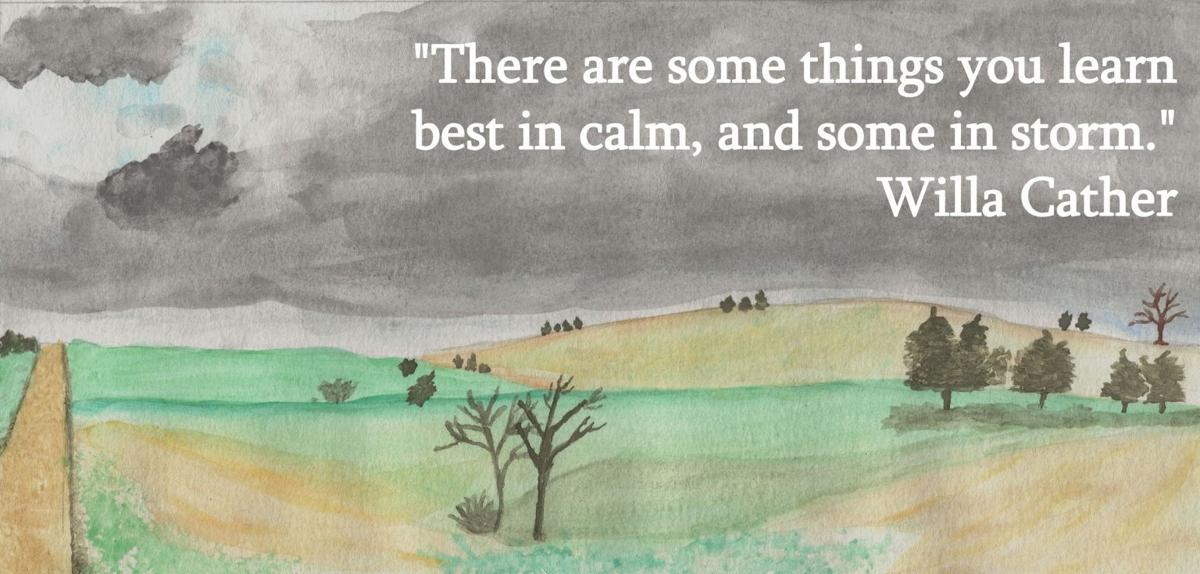 When the pandemic hit, Andy Dillehay was furloughed from his day job and from his second job, too, the creative work that didn't pay the rent but that filled his soul.
So the actor — the emcee in "Cabaret," the elf in "Santaland Diaries," the clever presence in countless local productions of the Flatwater Shakespeare Company and the Angels Theatre Company — turned to performing on paper.
To poetry and drawing and painting.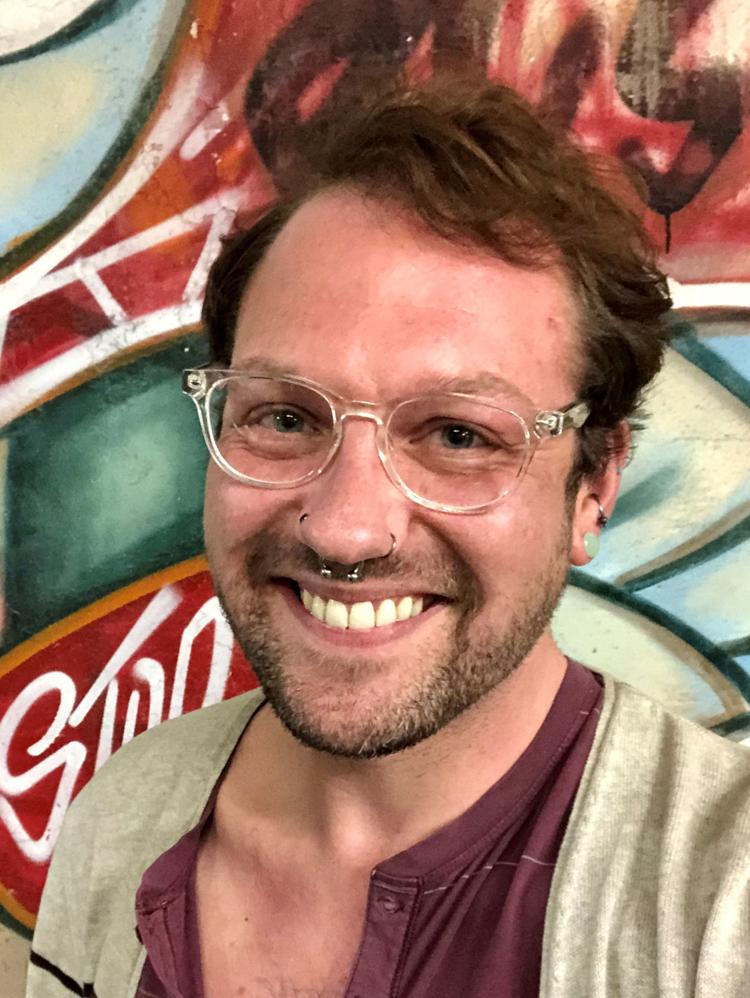 He painted a simple country scene — rolling hills and a stormy sky with the smallest hint of blue peeking through. He added a quote from "Song of the Lark" by Willa Cather: "There are some things you learn best in calm, and some in storm."
On May 9, he found out his work was one of 10 designs chosen to be displayed on billboards around Lincoln this spring and summer.
"I'm still in disbelief," he said. "I don't think it will hit me until I see it up."
The billboards will start appearing around the city sometime this week, said Deb Arenz, director of Public Art Lincoln, the nonprofit advisory board behind the project.
The board came up with the plan as the pandemic unfolded and saw its own spring plans — fundraisers and art acquisitions — dissolve.
The group thought about all the artists in the city who might be struggling, too.
"We were trying to bring some joy and healing through art," Arenz said. "And we wanted to try to support local artists whose work and livelihood was directly impacted by the pandemic."
The turnaround time was quick.
But the group received 42 submissions in those few weeks and judged them on five criteria, including the art's ability to inspire others and work well on a billboard.
"I think all of us on the committee were really thrilled with the variety of artists and the type of art submitted," she said.
The artists were thrilled, too.
"It's incredibly meaningful for my piece to be selected for a project that intends to uplift people in our community during a time that is so dark for so many," said tattoo artist Wes Staley.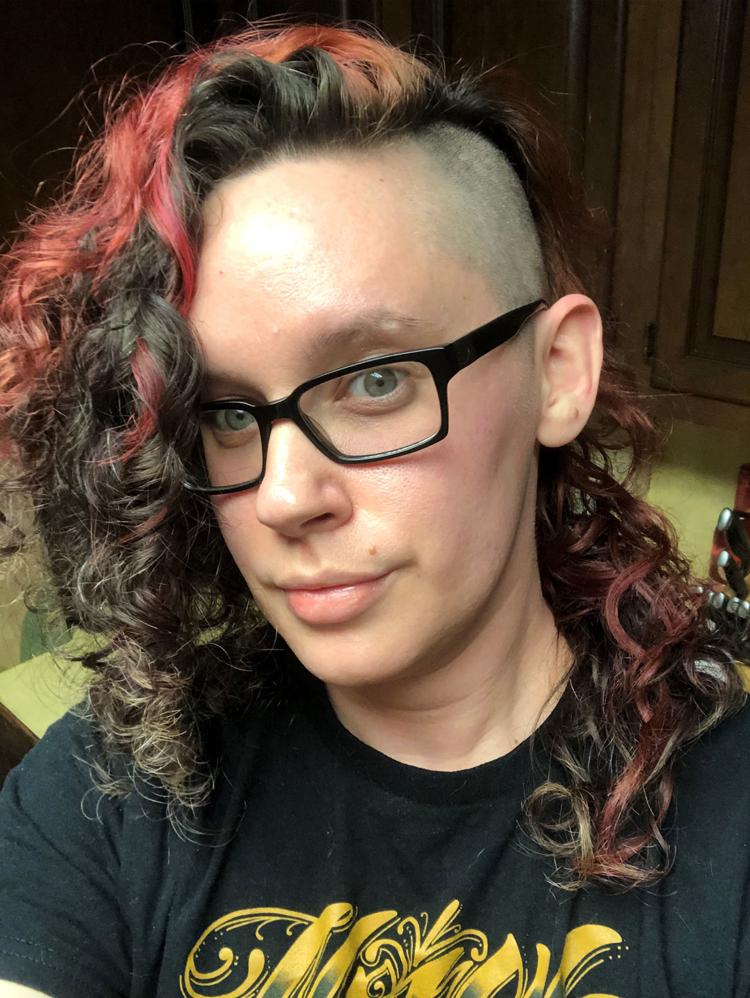 The self-taught visual artist submitted a piece featuring a mirrored pair of masked women wearing garlands in their flowing hair and the words "This too shall pass" in the space between them.
Staley wanted the women to be ethereal and Mother Earth-like. And the decision to mask them was "an obvious choice."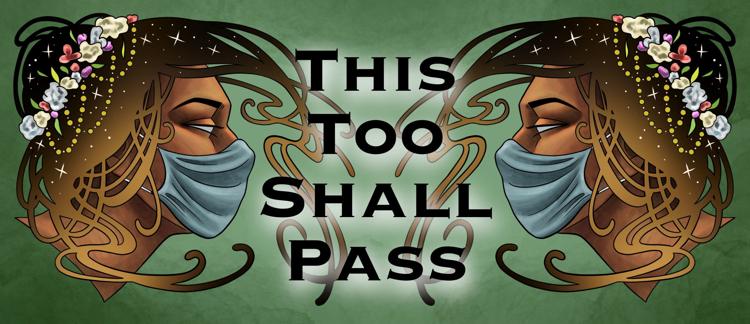 Lamar Outdoor Advertising donated the billboard space and the Omaha-based Sherwood Foundation donated the funds to pay each of the selected artists $1,000.
At the LUX Center for the Arts, artist-in-residence Lindsey Day used Adobe Illustrator to help design her colorful, nature-filled billboard, no words, only symbolism, Day said.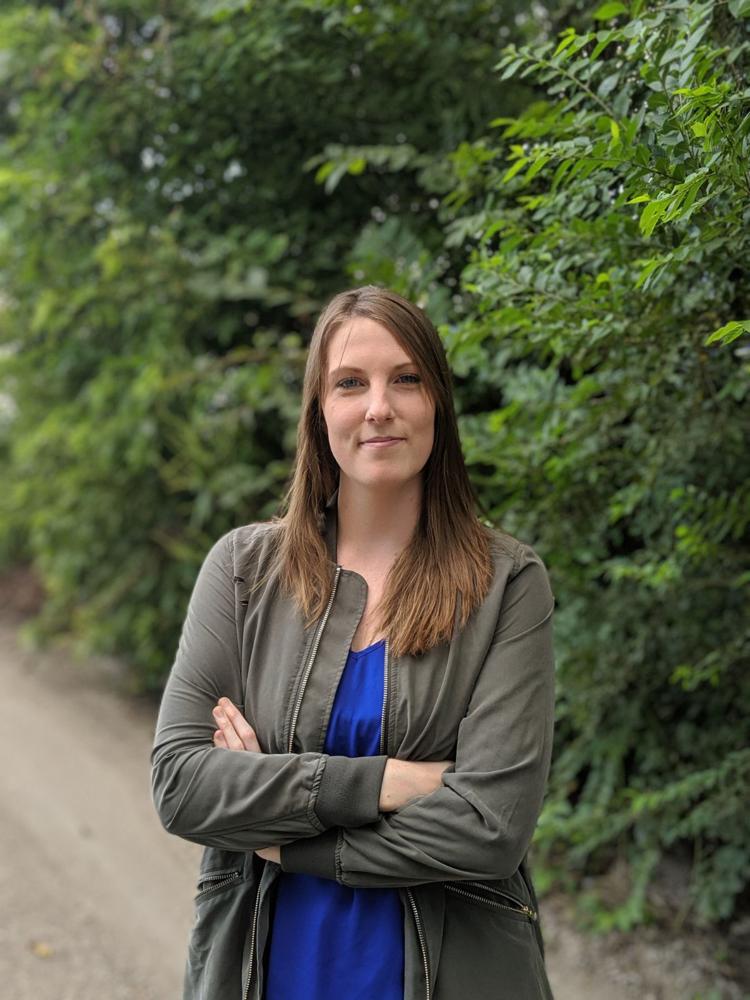 The idea of humans continuing to grow, like the flowers and trees do. A watering can marked with a red cross, to honor health care workers. The rising sun "announcing possibility."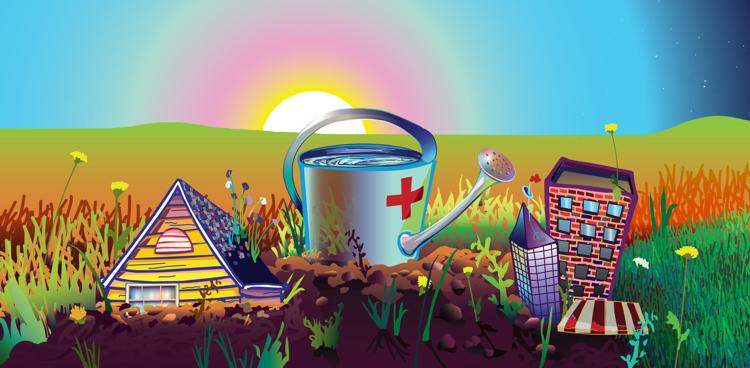 The idea, she said, of "planting new seeds within our households and our businesses."
Danny Reneau, artist, children's book author and stay-at-home dad, incorporated nature, too.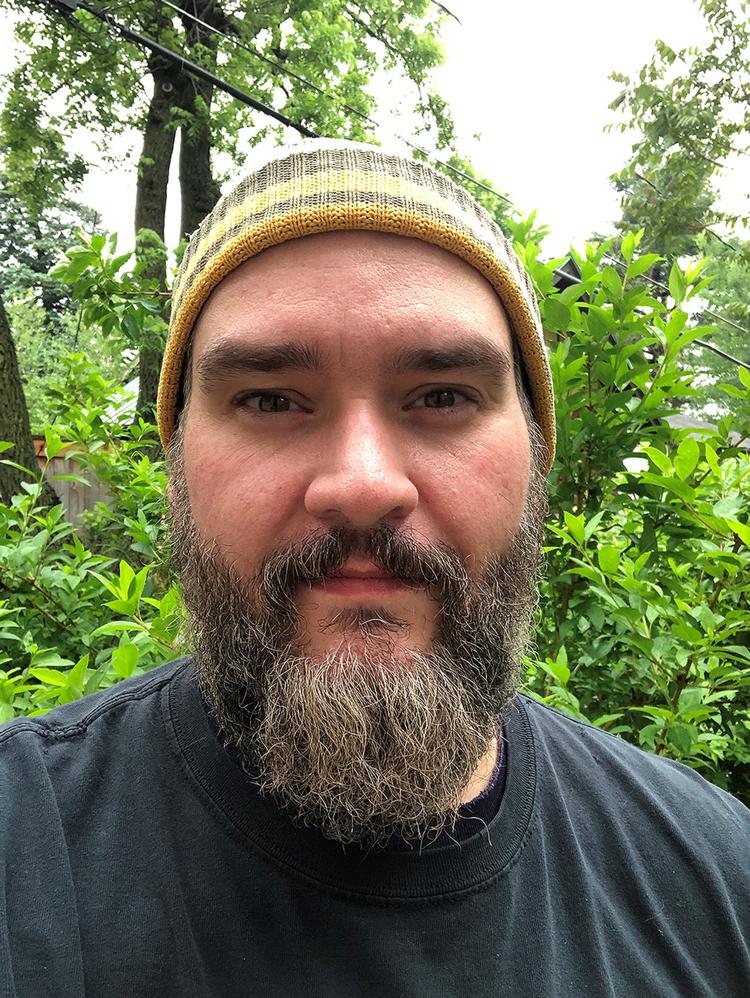 He'd heard about the project from an artist friend a week before the deadline and since he'd already been thinking about making a hopeful sign for his yard, he decided to make something similar to submit.
His work took on an art deco style, Reneau said. The words "Life Finds A Way" painted in red with the depiction of two blue jays perched on the branches of a budding tree.
Being included is both an honor, he said, and a testament to Lincoln.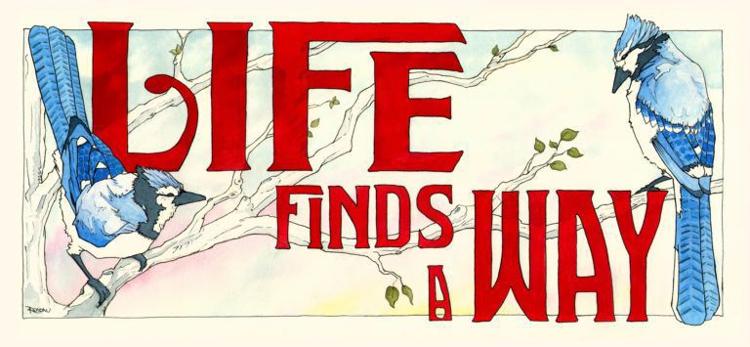 "During these unprecedented times the city has chosen to show support and encouragement through the arts. I don't think that happens just anywhere."
A detailed drawing of a meadowlark and the single word "Resilience" earned Aileen Wiles a billboard, too.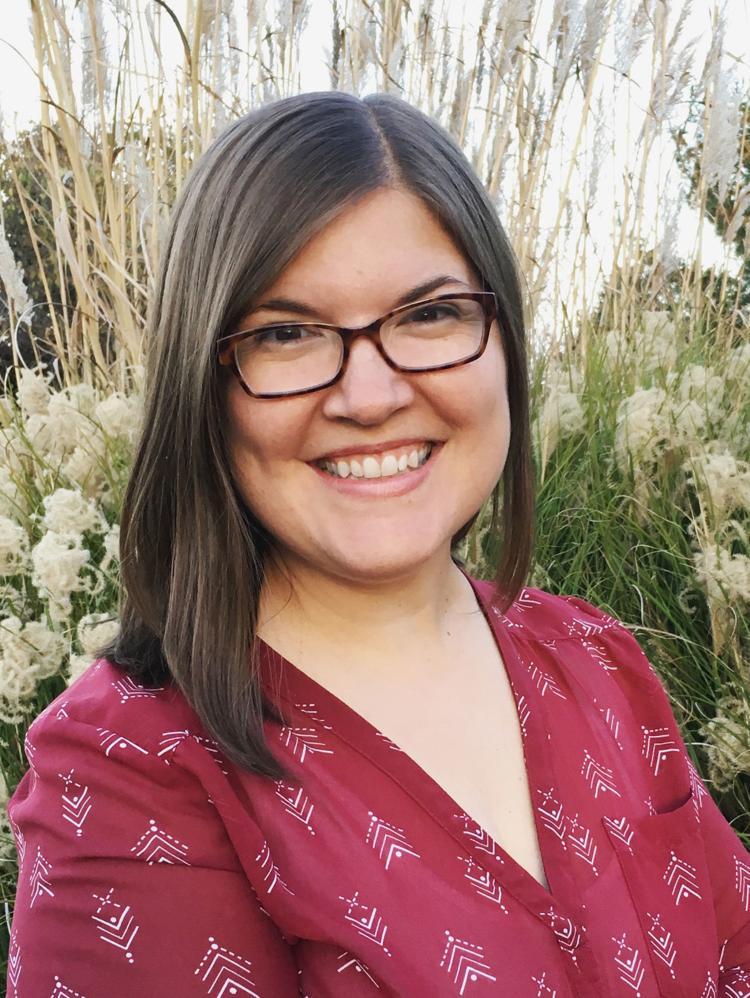 Wiles is a gifted-art mentor for Lincoln Public Schools who also teaches illustration classes for Bright Lights Summer Learning Adventures, now canceled.
She sells her art at makers markets in the summer. Those now in jeopardy, too.
"Financially, it's been a strain to lose the income," she wrote in her artist's statement with her submission. "But mostly I miss my students."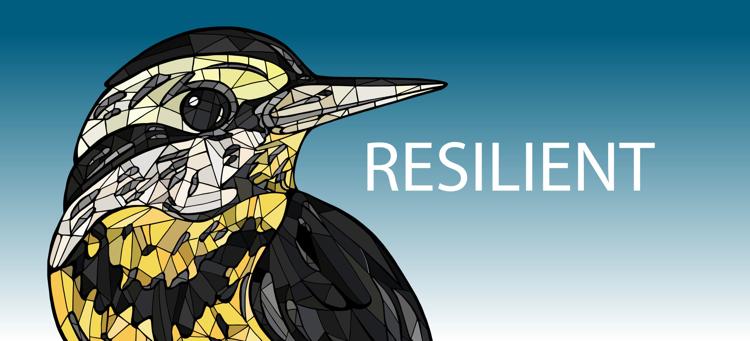 The billboard project is one way of adapting to the current times, she said last week.
"I'm looking forward to seeing them around town and hope that they will bring a little bit of joy to everyone who sees them."
Dillehay has found joy in this time of living in the in-between, he said.
More time to be in the stillness.
Like the day he drove down gravel roads to the countryside and "found some peace on the prairie."
There was a storm rolling in — dark out one side of his car window and blue on the other. There was a favorite quote from Cather running through his head and the idea for a piece of art for the city.
There are some things you learn best in calm, and some in storm …
"My idea was to provide a sliver of hope."
Creating community during the COVID-19 crisis
Concerned about COVID-19?
Sign up now to get the most recent coronavirus headlines and other important local and national news sent to your email inbox daily.