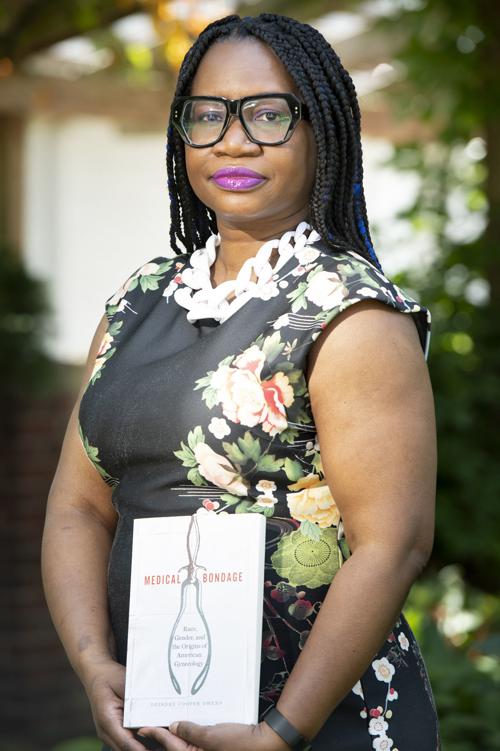 George Washington had false teeth for most of his life.
They were not made of wood — like the history books told us — but fashioned from ivory and from the teeth of Mount Vernon slaves.
He made the entry in his ledger on May 8, 1784: "to Negros for 9 teeth," a total of 6 pounds, 2 shillings.
"Think about how rich he was," Deirdre Cooper Owens says. "He had plantations. He had access to sugar. Think about the fact that his dentures were made from a slave who had healthy teeth."
Cooper Owens has spent her academic life thinking about and writing about the history of medicine and the way that history is linked to race and racism.
The professor is new to Nebraska — director of the Humanities in Medicine Program at UNL, one of only two black women in the country at the head of such a program.
She is a public speaker and storyteller and the author of "Medical Bondage: Race, Gender and the Origins of American Gynecology."
She is working on a second book with a rich working title: "To Bite a Bullet: The Amazing Life of Harriet Tubman, A Disabled American Hero."
We first talked in March about pandemics. The flu pandemic of 1918 and the pandemic we're living through now, one that has disproportionately affected black Americans.
I read an opinion piece she wrote, published by the Houston Chronicle, which traced the unjust medical treatment of blacks from the time of the yellow fever outbreak in 1793 to the spring of 2020.
"Why do African Americans fare so badly in the United States when it comes to health and disease?" she wrote. "Largely because there has not been a national effort to establish racism as a public health crisis."
I called her last week, to learn more about her field of research and what that meant for this moment in time. How it might help people understand a piece of the past that still causes hurt today.
She called it a hefty conversation to have. And then she began.
She talked about J. Marion Sims, considered the Father of Gynecology, and the surgeries he performed and perfected on female slaves without the use of anesthesia.
She researched his practices in her book — and those of physician Francois Marie Prevost and the enslaved women in Haiti and the United States who were the "experimental" subjects for some of the first cesarean sections.
"Many of the gynecological discoveries have largely been based on medical experiments on enslaved women.
"People say, 'Why do we have to talk about slavery?' That was so long ago. We weren't born yet. That has nothing to do with us.'"
"It had a hand in almost every industry and medical advance."
And it spawned a narrative of racial difference in medical treatment from Colonial times onward, a binary way of looking at black and white Americans.
Myths: Black people have thicker blood. Thicker skin. Black people don't feel pain the way white people do.
Cooper Owens points me in the direction of a 2016 study of medical students at the University of Virginia that confirmed that thinking still exists.
"These are people who got into one of the country's most elite medical schools and there was this unintentional embrace of black people being pathologically flawed, pathologically different."
Those attitudes translate into practice, the way black patients and their ailments are treated, symptoms not taken seriously, pain not properly treated.
There are real health disparities. Higher rates of heart disease and diabetes in African Americans, an alarmingly high rate of maternal death for black women.
"They literally rival the stats from the 19th century," Cooper Owens said.
Much like public health officials, she feared what the virus would mean for some segments of American society.
"We understand the social determinants of health. Poor people are going to be impacted, black people are going to be impacted."
Cooper Owens came to Nebraska from Queens College, CUNY. Her husband is still in Brooklyn until the end of the month.
"Many of the front-line workers you see in urban enclaves are black. Most of the people you see on the subway are black or brown."
Pollution is highest in cities. Density is high. Hospitals are underfunded in poor areas, training is lacking.
"When you start to think about the CNAs, the X-ray technicians, the custodians, the orderlies … they tend to be people of color."
The same racial disparity showed up in Singapore, immigrants crowded into dormitories and falling ill with the coronavirus.
And in chicken factories and meatpacking plants across the Midwest, where many workers are also immigrants.
"You can see how it impacts other marginalized people."
Race changes the equation in so many areas of health care, she said.
In how we treat addiction. An opioid epidemic that largely affects white people garners compassion by lawmakers for substance abusers and money set aside for treatment and psychiatric care.
"But yet during the crack epidemic, these people were demonized. We did it the right way in the 21st century for opioids, but wouldn't it have been wonderful if we could have done that in the '80s and '90s?"
We need to look at all people through the same lens, she says. Regardless of skin color.
Look at the doctor in Ohio, she said, a state representative who questioned whether "colored people" were contracting COVID-19 at higher rates because of poor hygiene and lax hand-washing.
"The social determinants like poverty, lack of access to quality medical care, medical racism … are much more influential to poor health than say diet or high BMI (body mass index) percentages."
Black people aren't dying in this pandemic — or from any of a number of conditions — because they are somehow different.
"That's the old stand-by people give," the historian says. "It's a fiction. The difference is how people are treated."