Stacie Conner hands me a pair of plastic inserts for my shoes.
Spike side up, she tells me.
She hands me gloves, thick and textured, the kind you'd wear walking the dog in January.
The glasses are next, with peephole lenses that obscure the periphery of my vision.
And then, finally, headphones.
I put them on and a cacophony of sound streams into my ears as she leads me down the hallway toward a dimly-lit room.
Before I enter, she gives me instructions. Set the table, put on a jacket and zip it, count out 17 cents, draw 4:10 on the face of a clock, put the battery in the flashlight.
I hear half her words — but she can't repeat herself — and once inside I search to remember them, distracted by the snippets of conversation in my ears, the static of a TV, the blare of a siren.
Unable to clearly see, I wander from table to counter and back again, spending long seconds paralyzed by my confusion.
I put on a jacket but forget to zip it. I fumble with silverware and napkins, search for coins. I give up on the clock and forget entirely about the flashlight.
I feel disoriented and lost, but determined at the same time. What have I forgotten? Why can't I remember?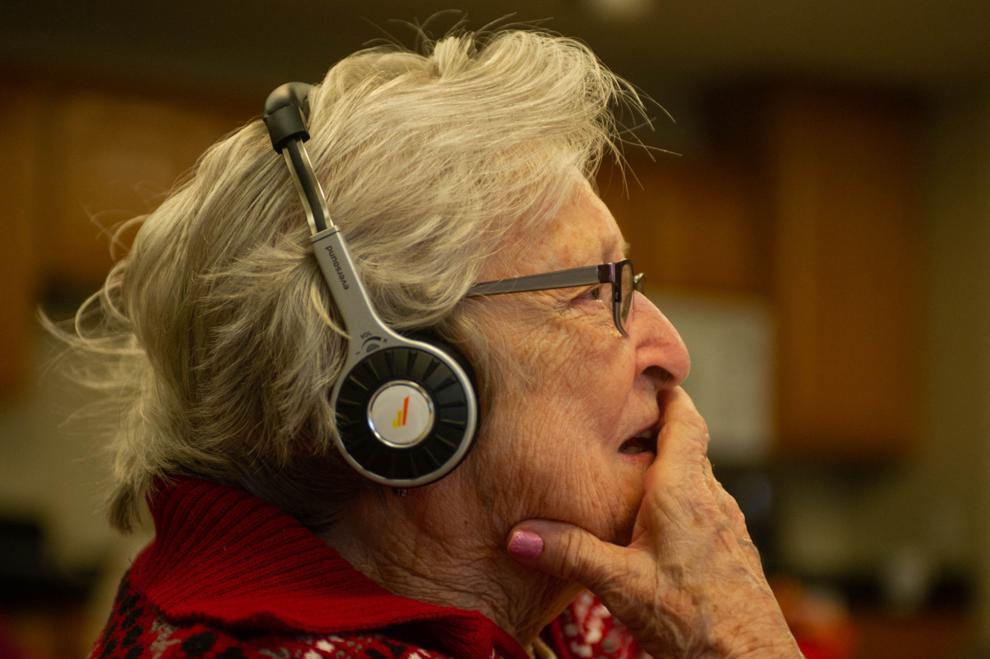 I'm at the Legacy Arbors, a memory care home tucked away off 56th Street in north Lincoln, where Conner is director of nursing.
I've been here before for the annual rock-a-thon for Alzheimer's. I've been here to observe a yoga class for residents and watch the calming influence of the meditation.
I'm back again for something entirely different — the "Virtual Dementia Tour" — eight minutes of seeing the world through the eyes of people whose memories are held hostage by brain disease.
Staff members have taken the tour already and incorporated what they've learned into their daily work of making life calm and comfortable for those they care for.
The Arbors purchased the software this summer from Second Wind Dreams, says activities director Michele Carlson, who observes me from a corner, timer in hand.
Second Wind is a nonprofit that fulfills wishes for seniors. According to its website, the virtual-reality kit has been used by 3 million people in 20 countries and by 200 universities and colleges.
In Lincoln, it's been a way to supplement training.
The spikes help replicate the difficulty many seniors have with foot pain, Conner says. The glasses mimic macular degeneration. The gloves illustrate the lack of feeling seniors often have in their fingertips because of poor circulation or arthritis.
Normal problems that come with aging.
Then there are the headphones. The last piece that allows you a glimpse inside the head of a human whose brain connections are falling apart.
"I can sit here all day and tell you what it's like," Carlson says. "But until you experience it, you don't know the enormity of it."
The Arbors is offering the experience to family members, too, anyone who struggles to understand their loved one.
The staff hear the conversations: Dad, stop being stubborn. Mom, you know you're not going home.
But Dad and Mom don't know, Carlson says.
"It's a real disease. It's a cruel, cruel disease and our families are tortured by it."
The tour changes perceptions, she said, even for those trained in caring for those with dementia.
It adds a more intimate knowledge to what they know from books and workshops and classes.
The confusion when confronted with a list of tasks, the frustration of not remembering more is suddenly their own.
"We've had some remarkable reactions," Carlson says. "Amazement, a few tears, shock."
It's a reminder to turn down the TV and limit stimulation, to break down tasks and lower expectations.
Every day, a woman walks past Conner's office. She tells her she's going home soon. Conner tells her she will miss her.
Sometimes, they sit together and wait for the bus to come pick her up.
"That's her reality," Conner says.
After my glasses come off along with the headphones and gloves, after my shoes are just my shoes, Conner and Carlson offer a debriefing.
I complete a post-tour survey, similar to the one I filled out before I walked in that room.
I have a new answer to Question 4: "How easy is it for a person with dementia to get through the day?" Unbearable.
We talk about those eight minutes and the frustration and confusion and sadness and I'm relieved to be going home.
They also know that the people they work with every day are not going home.
That they can't ever take off their disease.
"That's their day," Carlson says. "Every day."