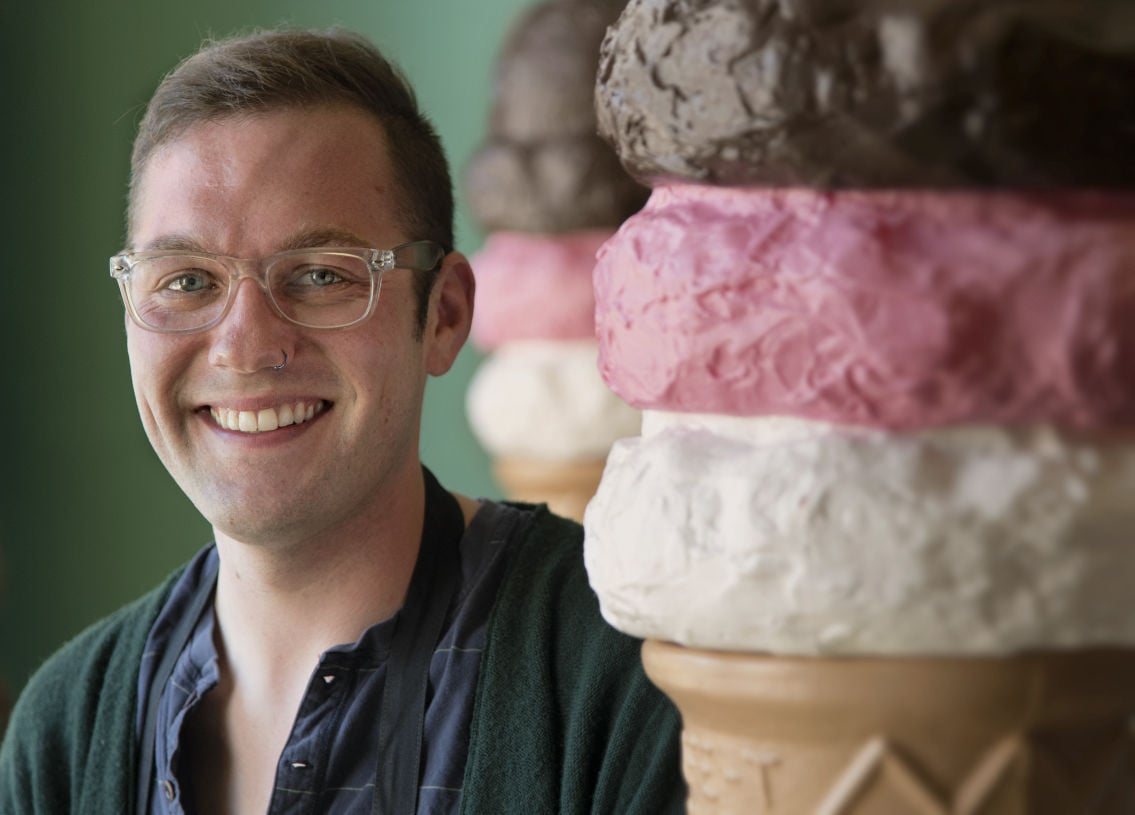 This story originally ran on May 4, 2016.
When he was 16, Andy Dillehay applied for a job at a small ice cream shop in the Haymarket.
His application consisted of a short video, "The Wizard of Oz Cream," which he wrote and also starred in, along with a bag of popcorn and a movie stub that included his contact information.
It was clever and funny and Ivanna Cone did not hire him.
Twelve years later, Dillehay is telling this story from the basement kitchen of Amy Green's ice cream shop, where he has worked on and off for a decade, because when a job at Ivanna Cone did open up, Green snatched him up, and Dillehay started scooping.
Eventually -- after college and year in Texas doing dinner theater -- he came back to Ivanna as production manager, which meant he began making ice cream, standards like Dutch chocolate and strawberry and concoctions of his own, which often included cake and bits of cookie or candy.
"I specialized in what I call 'fat-kid flavors,''' says Dillehay, a self-described former fat kid, now a svelte 180.
It's shortly after 9 a.m. Wednesday, and Dillehay is dressed in a green Mr. Rogers cardigan, one sleeve pushed up to reveal a tattoo of the New York skyline, stylish glasses and plum jeans.
He's already whipped up a red velvet Bundt cake and a pan of cookies-and-cream Rice Krispies bars, which the store sells in bars or mixes into the homemade ice cream it's famous for.
The recipes are his own creations, or tweaked from existing recipes.
"I added extra marshmallows," he says, cutting into the gooey bars, "because why not?"
Dillehay was spending a last morning baking before starting his new gig as the ice cream store's Community Cone Outreach Director.
He announced the change on Facebook Monday and the congratulations started rolling in. "Eeeeee! I'm not sure what that is exactly BUT I am so excited for you and it sounds WONDERFUL!!"
Community Cone is anything Dillehay wants it to be, said Green, whose shop has long been in the business of giving back.
Right now, that includes delivering ice cream to chemo patients and taking ice cream to memory care units and supplying free ice cream at events like Juneteenth and Relay for Life and the Flatwater Shakespeare.
"There has to be at least one event a month that gets ice cream," Green says.
The Community Cone outreach position was developed more than a year ago, after Ivanna Cone became a limited liability corporation and Green discovered $500 left in an old bank account.
That cash became seed money for the new position.
"We want to get ice cream to people who might not be able to come to us," she said. "We want to hear people's stories and be part of people's stories."
Dillehay will be the second director of outreach, following the foundation laid by Courtney Morrow.
It is a part-time job that dovetails nicely with his work at the Nebraska AIDS Project and his busy life as an actor and director in the Lincoln theater community.
It fits in with who he is: a former member of the Park Middle School Pet Protection Club and one-time community outreach worker for the Lincoln Community Playhouse -- bringing poor kids into the theater -- and longtime advocate for underdogs everywhere.
"I grew up as an underdog," he says. "I've always been interested in social justice."
The new job also means his Saturday nights will no longer be spent dishing up ice cream and playing disco music at the store with the lights turned low -- something that makes him both sad (he'll miss it) and happy (he's in love and will now be able to spend Saturday nights with his boyfriend).
He plans to make the most of his new title.
"I'd like to find a nonprofit to feature each month and I'm hoping to get ice cream into the prisons."
He'll be reaching out to groups in the community, explaining the Ivanna Cone way of life: "We want to interweave ice cream in people's lives. Be a force for good."
Besides: "Everyone needs a taste of ice cream."
Green is in the shop Wednesday morning, too. She remembers Dillehay's job application video and she's pretty sure the tape is in her basement somewhere.
She's glad he left Dairy Queen.
"He's one of the best versions of what Ivanna Cone can do. He embodies that perfectly."