Last month, two music-loving friends from Lincoln flew to Germany and stood in front of an audience of like-minded people in Leipzig and presented a paper.
The paper had a long title that started this way: Follow the baton.
Afterward, people rushed to the stage where the women stood, lining up like Elvis fans eager to examine the King's white-sequined suit.
Instead, they peered closely at a slender stick made of European beechwood and engraved with gold letters.
One of the women rotated the wand back and forth so everyone could read the German words on one side — Tribschener Idyll — and the date on the other: Den 25. December 1870.
And then Hannah Jo Smith and Anita Breckbill got on a train heading southwest to take Richard Wagner's baton back home.
Breckbill is a music librarian at UNL.
Smith teaches vocal music at Doane University.
They met when Smith was in graduate school in the 1990s, conducting research in the library on her way to a Ph.D.
The women and their families became friends. David Breckbill — Anita's husband — was already a music professor at Doane when Smith joined the faculty. Their kids graduated from Lincoln Northeast High School and two of them even went away to the same college.
Anita Breckbill took voice lessons from Smith.
And she knew the story of Wagner's baton — the special baton from 1870 that came to America and eventually to Smith.
A story of love and music and war and Adolph Hitler and Aldous Huxley and a safety deposit box and putting things right.
For the past six months, the women have told the story to teachers and children, opera-lovers and librarians, to life-long learners in OLLI and to an NET crew in the living room of this two-story home not far from campus, explaining how Smith came to have the baton and how she came to return it.
They happily tell it to me, too.
"I'll start," Breckbill says.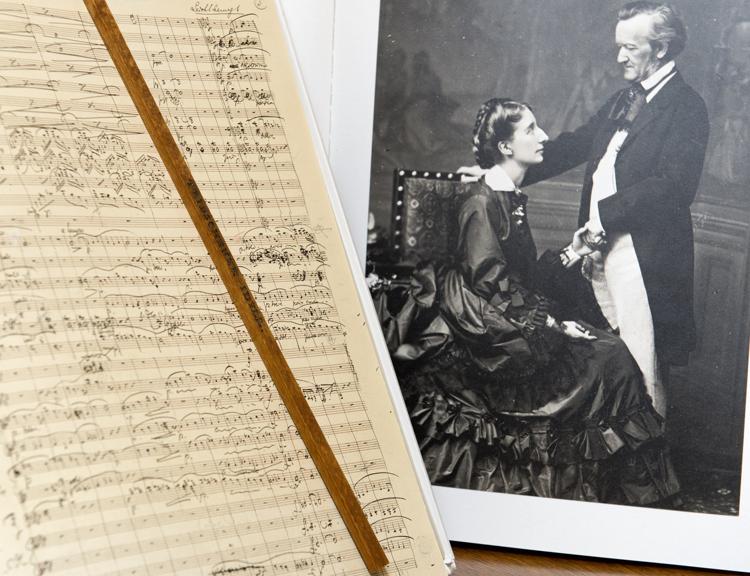 Classical music lovers know this part of the story, the music librarian says.
They know Richard Wagner, the German composer whose music lives on in movie soundtracks and wedding celebrations and on stages around the world. "Der Ring." "Tristan and Isolde." "The Ride of the Valkyries." "Bridal March."
They know how Wagner came to have an illicit affair with Cosima von Bulow, the daughter of Franz Liszt, and how the pair had three children together before Cosima and her first husband, Hans, ever divorced.
They know how, finally, the pair married and moved to Lucerne, Switzerland, and a beautiful house on the lake. The much-older composer and the young classical pianist. Both of them smitten.
"They would have these amazing birthday parties for each other," Breckbill said.
Hiring string quartets and dressing the children in Greek costumes and having them recite poetry.
The first year of their marriage, Wagner wanted to do something special for his bride, whose birthday fell on Dec. 25.
He composed a score and secretly rehearsed the piece. On Christmas morning, 15 musicians lined up on the staircase and began to play the Tribschener Idyll.
"She thought it was the most wonderful thing," Breckbill said. "And she wrote about it in her diary."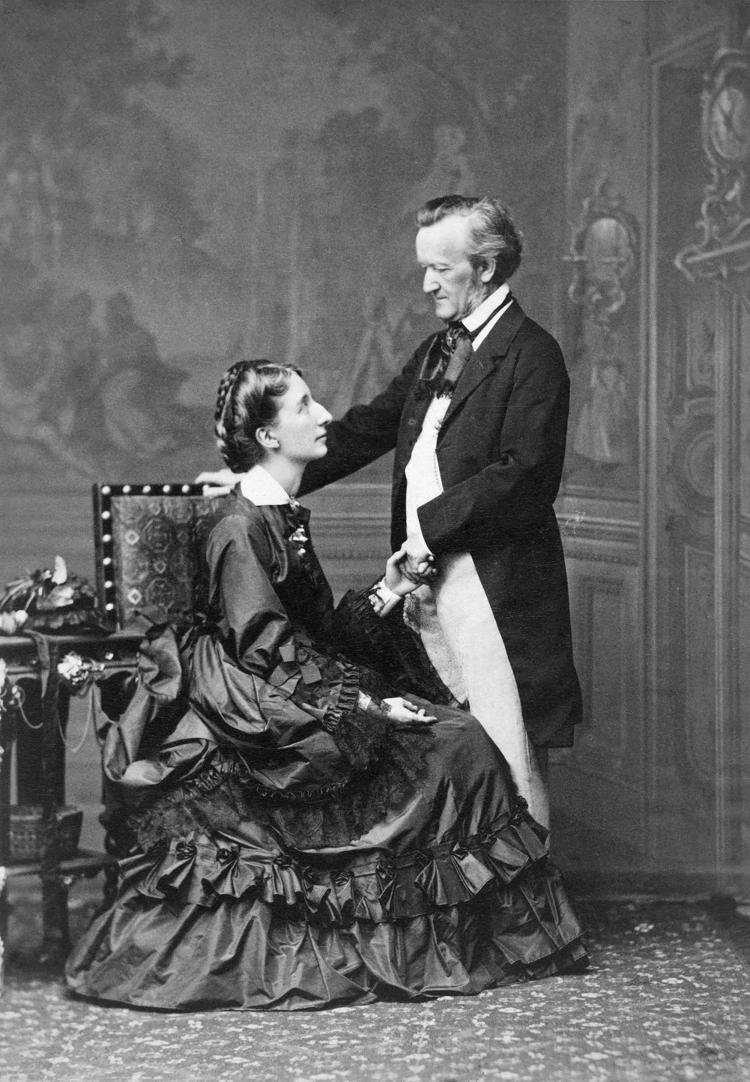 When I woke up I heard a sound, it grew ever louder, I could no longer imagine myself in a dream, music was sounding, and what music!
Then Wagner sent the baton he'd used that morning away to a printer and a few weeks later, Cosima added another short diary entry: Arrival of engraved baton ...
A few years later, the memorial baton went along to Bayreuth, Germany, where the Wagners set up housekeeping in a mansion courtesy of King Ludwig II of Bavaria, a patron of the romantic composer.
They began holding summer music festivals there that continued long after Wagner died in 1883.
First a bit of genealogy and a side story about a dictator.
Richard and Cosima had one son, whose name was Siegfried. The son was 46 when he married 18-year-old Winifred Williams, an English orphan.
The couple and their four children lived at the villa in Bayreuth, with Cosima by now an old woman, long widowed.
Economic conditions had begun to worsen in Germany by the early 1920s and an anti-semitic demagogue began his rise to power.
Adolf Hitler's favorite composer was Richard Wagner.
The young politician befriended Winifred, visiting their home and reading bedtime stories to the children, who called him Uncle Wolfi.
When he ended up in prison for high treason in 1924 and lacked paper, she sent him some. "And he used it to write a book," Breckbill said.
You may know the title: "Mein Kampf."
And what happened next: A world war and a holocaust that killed millions of Jews and others that Hitler deemed enemies of the Aryan race and the Third Reich.
For most of the war, Bayreuth remained safe, but on April 5, 1945, bombs fell and portions of the Wagner villa were destroyed.
By then, Cosima and Siegfried were dead and Winifred was in charge of continuing the annual music festival and upholding the family legacy. She and her sons had already begun moving valuables to safe spaces — scores and letters, paintings and family heirlooms.
But she was there when American soldiers arrived in mid-April and began looting, after seeing SS officer uniforms hanging in the closet.
"They started throwing them out the window," Smith says.
The music teacher is telling the story now.
The part she knows best about an American Army captain who scolded his troops and ordered them out.
"He bent down and picked up a shiny object out of the rubble."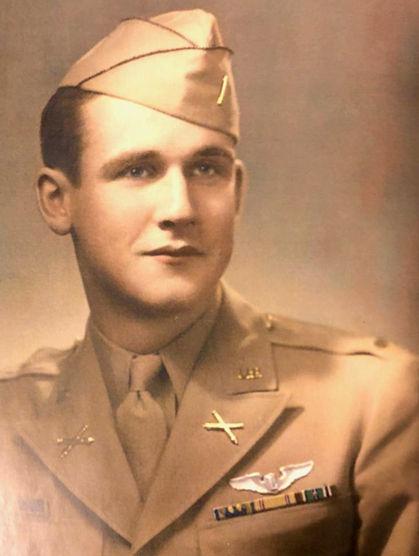 Then Robert Pearson tucked the slender stick into the inner pocket of his jacket and kept walking.
Smith grew up singing soprano.
When she went away to the University of Michigan in Ann Arbor, her parents were living on the grounds of the Traverse City State Hospital, four hours away.
Philip Smith was a psychiatrist interested in the effects of psychotropic drugs. The Smith family lived three houses down from another psychiatrist, whose name was Bob Pearson.
While visiting her parents, Smith's father took her to the Pearson home, where a small, glass display case was filled with treasures from around the world. One of them was a slender baton.
The former Army captain showed it to the music student and told her the story of how he came to have it.
And then Smith went back to school.
But that baton made an impression on the young woman and on her parents, who appreciated classical music, too.
Over the years, they'd talk about it.
"We'd watch the 'Antique Roadshow' and say, 'I wonder what they'd make of that Wagner baton?'"
When they watched Richard Burton play Wagner in a mini-series about the composer's life, they'd comment on his portrayal.
"He'd conduct with his hands and we'd joke, 'Where's Wagner's baton?'"
Years went by, and then decades.
And then one day, the baton showed up in Lincoln, Nebraska.
Smith can't remember the year, sometime in the 1990s.
Her parents at her door carrying a wooden box with a mirrored interior lid — designed to show off the engraved beechwood baton inside.
It might have been her birthday, Smith said. It might have been Christmas, she can't remember anymore.
But she does remember saying: "'Dad, how did you get this?'"
Smith knew the baton was a valuable artifact, although she didn't know then Wagner batons would be one day be priced at more than $20,000.
He told her he'd made a trade. Copies of correspondence he'd had with Aldous Huxley, author of a "Brave New World," who was interested in Smith's research on mind-altering drugs and the psychiatrist's own book "Chemical Glimpses of Paradise."
Pearson had those handwritten letters now. Smith had the baton.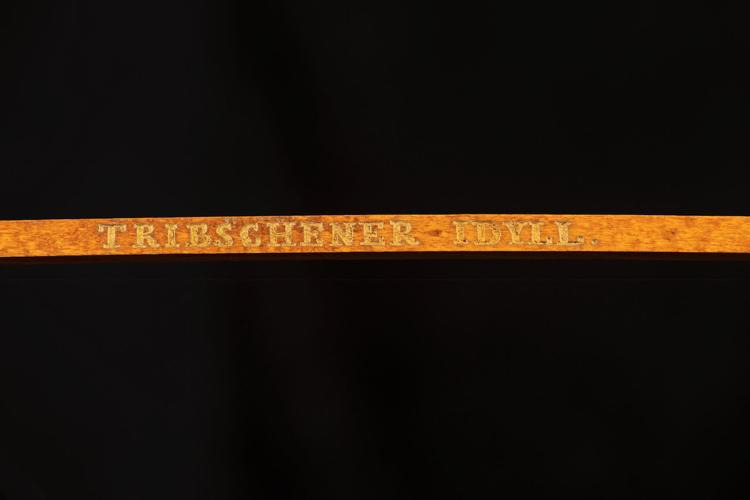 She took it to the university and showed it to her fellow graduate students and professors and to the music librarian, Anita Breckbill.
"I remember a professor said, 'You better not let the German government know you have this,'" Smith says. "It's war booty."
The baton went home with Smith and into a safety deposit box at the bank.
Where it stayed for 20 years.
For years, Breckbill had been advocating for the return of the baton.
She and David had invited Smith and her husband, Bill McClung, over for dinner once so David, a Wagner scholar, could view the artifact up close.
He showed her the citation from Cosima's diary. They talked about the baton and its legacy.
In 2016, David died of pancreatic cancer. And Anita kept pressing her friend. What about that baton? Wouldn't it be cool to see it come full circle?
"She's a librarian," Smith says. "She's fond of having things in the right place."
But the time had never seemed right.
Smith treasured the gift from her father. He'd traded something of great personal value to secure it and she didn't want to offend him by letting it go.
And what about Capt. Pearson? She worried about his feelings, too.
Her dad died in 2003. Another decade passed before she picked up the phone to call Robert Pearson.
They talked about the baton. She kept the notes.
Pearson died soon after their conversation. His daughter told Smith he never talked about the baton.
"He was very secretive about it."
Then in 2017, Breckbill attended the International Association of Music Libraries conference in Riga, Latvia. She goes each year, listening to colleagues from around the world present research papers.
When she discovered the 2018 conference would be held in Leipzig, she had an idea.
She could write a paper about the Wagner baton and its history. Smith could help her present it there in the city where the composer was born and lived.
They could take the baton and return it to Bayreuth, where the Wagner villa still stood and where the annual festival celebrating his music continued each summer.
And that's what they did.
The invitation for the July 31 reception celebrating the return of the baton to Bayreuth is on Breckbill's dining room table.
On the cover, a colorful recreation of the 1870 Christmas morning concert for Cosima.
The itinerary for July 31, 2018, is listed inside — speakers and musicians and the names of two special guests.
Hannah Jo Smith is listed as the verkauferin. A word that translates into "saleswoman."
Anita Breckbill's name is next, the Vermittler in des Ankaufs. "Broker of the sale."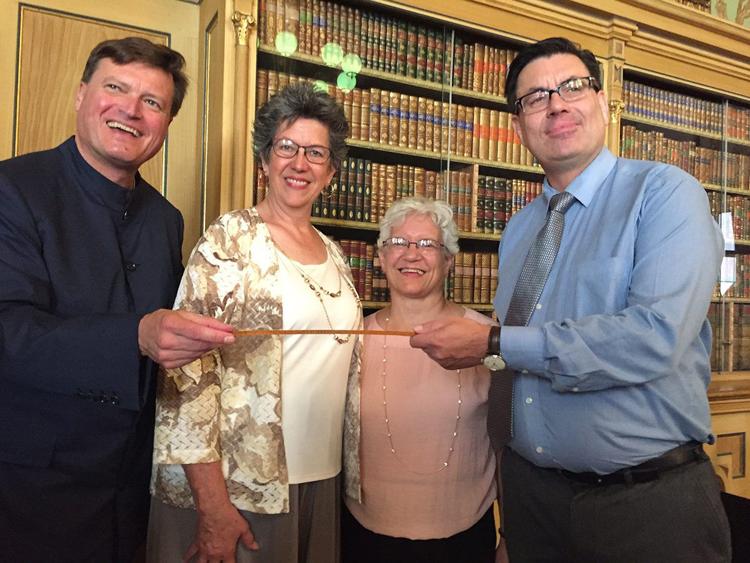 Last summer, their plan in hand, blessed by Smith's children, Breckbill had began reaching out.
They wanted to be cautious. Respectful. And they wanted — they both wanted — the baton back where it belonged.
Eventually, Breckbill penned an email to the director of the Richard Wagner Museum in Bayreuth, Smith looking over her shoulder: "I have a friend who holds an artifact you might be interested in."
Yes, indeed, Sven Friedrich replied, they wanted the baton.
Smith had a few requests to make: Airfare to Germany. Tickets to a Wagner opera conducted by Placido Domingo at the annual Bayreuth music festival. A reception for the handoff of the baton, which would include a replaying of the Cosima concert.
And that's what happened.
"It was fabulous," Smith said. "It was exactly what I'd asked for."
The musical friends sat in the Wagner villa, a wall of windows where the bombed-out back of the house had been.
A view of the manicured grounds and beyond, in a grove of trees, the graves of Richard and Cosima.
The conductor waved a baton engraved with gold letters, the end of a long and magical journey home.
"If my dad were here, he would have thought it was perfect," Smith said. "He would have said, 'For this, you can give it back.'"