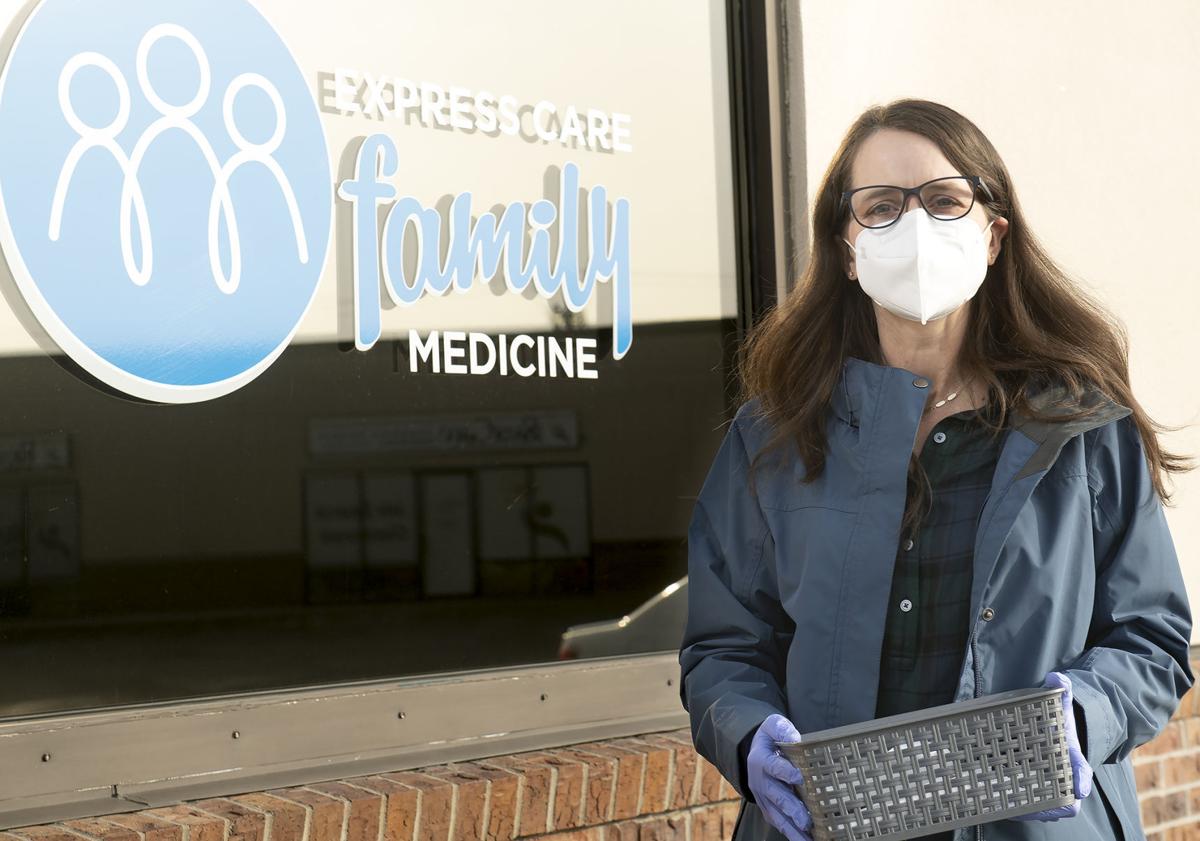 I met Melanie Householder on the last day of 2020.
She stood by my car window, caring eyes showing above her mask, a blue-gloved hand holding a very long swab.
This might tickle, she said. It might make your eyes water.
Householder had already taken my temperature, measured my blood-oxygen level, handed me a fact sheet and now she had some advice: "Try not to wrinkle your nose."
And a promise: "I'll be gentle."
I booted out the old year by being tested for COVID-19, the same place more than 850,000 Nebraskans have found themselves in since March.
And Householder was where she has been for the past 13 years — most recently amid a pandemic — at Express Care Family Medicine on North 27th Street, soothing and serving and handing out answers.
"I just try to be reassuring," said the family nurse practitioner. "There's a lot of anxiety with COVID and a lot of anxiety with getting the results."
I felt sick, too. My throat was sore, my nose was running, my head hurt. I'd been around my parents — both in their 80s, a few days before my symptoms started — and I wasn't worried about being sick as much as I worried about getting them sick, which is why I'd signed up for the rapid-response test and found my own Florence Nightingale. A nurse with an exceptional carside manner and sweet Southern charm.
Ariel Born knew all about nurse practitioner Householder, a 47-year-old, dimple-cheeked mother of three who played the piano, attended Tuesday morning Bible study and had found her calling in health care.
"Melanie is warm, loving, very very nice and kind," Born said. "Her love of Jesus and her love of people is what makes her who she is."
Born and her family attend Southview Baptist Church, where Householder's husband, Aaron, is senior pastor. They know the Householders' three kids, Seth and Mary and John Mark. They also see the pastor's wife when they're sick.
Last month, she'd tested them for COVID.
"You hear all the stories," Born said. "How they stick it (a swab) so far up your nose it hits your brain."
But the test went just fine, she said. Even for the "freaked-out" little boy in the car seat. (Born and husband Dustin both tested positive and have recovered.)
I waited just 13 minutes for my result after the swab exited my nose — in and out with barely a tickle — while Householder headed inside to run my sample.
If you head to the state COVID-19 dashboard, you will find that nearly 2 million swabs have gone up — up and up — noses in Nebraska, checking for SARS-CO-2. Of those tests, nearly 175,000 have been positive. About 1 in every 10.
Back in March, tests rolled out slowly. And then they ramped up, results sometimes taking several days to arrive back from the lab. The standard test can still take a few days, and if the clinic is closed when results arrive, Householder picks up her phone at home and makes calls.
"I try to call people at night because they have so much fear," she said. "This way they have one less night of anxiety."
My anxiety disappeared when she returned to my car holding up one gloved thumb. I felt like reaching through the window and hugging her, but I clapped instead.
I may have clapped several times.
She seemed happy for me. Genuinely happy.
And I found out she gives the same reassurance to folks whose tests are positive.
She gives them the news straight away.
"I try to do it with kindness, because that makes it more bearable," she said.
She lets them know that most people will have a mild case. That they might have ups and downs. Drink your fluids, she tells them. Take your Vitamin C. Monitor your symptoms.
"I tell them, if you have concerns about your breathing, get help right away."
She knows most leave worried. They worry about their jobs and about taking care of their kids as much as they worry about being sick.
No one the clinic has tested has died from the virus.
"We've just had a small percentage that needed to go to the hospital."
And then there is the happiness of a negative test.
She's heard some screaming, she said. Some hollering.
"They're just so relieved."
She's given COVID tests to two family members — her husband and daughter. Both negative. And a number of friends.
She's so suited to her work, her church friend Born said. So matter-of-fact and confident as the swab went up her nose. "Nice and friendly like she always is."
Householder wanted to be a social worker growing up in northwest Louisiana, but after her dad was diagnosed with Crohn's disease and had to quit farming, her mom decided to go back to school and become a nurse.
Mama graduated when Householder was a senior in high school and the daughter became an RN, too.
She made a two-year commitment to serve the homeless in Atlanta when she finished her bachelor's degree, and was recruited by Baylor to join its pilot nurse practitioner program.
The two dovetailed perfectly.
"It was neat how God showed me that need," Householder said, "before he provided me the opportunity."
As a nurse practitioner, she could do more to help. And then her family landed in Lincoln and she found the clinic on the north side of town. A place that serves a melting pot of Lincoln.
"It's who God called me to serve. We see so many people I would never see if I just stayed in south Lincoln."
At the beginning of the pandemic, Householder felt helpless to care for those people.
"I felt like I couldn't do my job. Who would have thought in my 20 years in health care, I would have to put a sign on my door that said, 'Don't come in if you're sick.'"
But the staff adapted its practices, learning with the rest of the medical world how best to navigate care safely.
The doors are open to patients now, wellness checks and baby visits and all the rest.
Except for those who might have COVID-19, the patients who wait in their cars for one of Express Care's test-takers to appear at the window.
Maybe Melanie Householder with her caring eyes and her mask and her blue gloves and a very long swab.
FIVE COLUMNS FROM LAST YEAR: