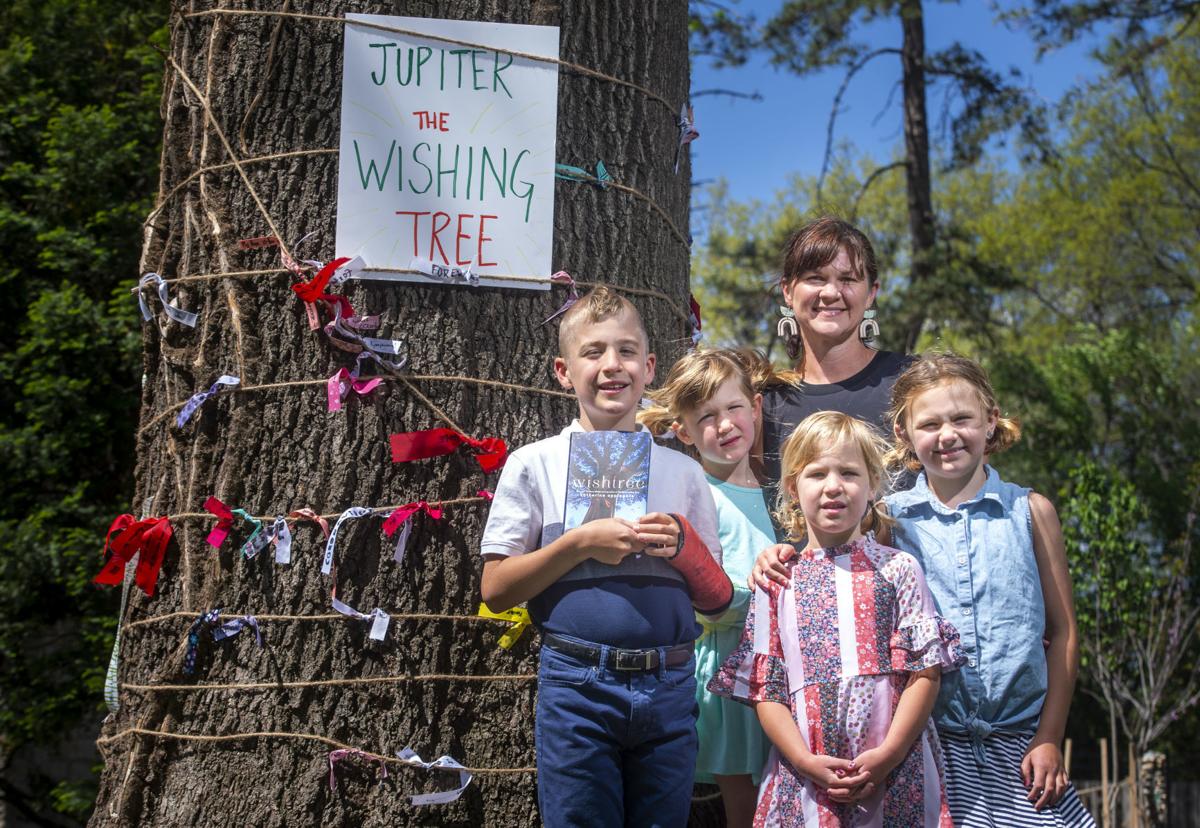 The big oak tree on 31st Street waves in the wind like a giant feather duster.
Its trunk is solid and bare of branches halfway to the sky.
It seemed like the perfect tree.
And so last week, Kerri and Nate Denell and their four kids wrapped rope around that wide oak's trunk, twining it in circles like a string of Christmas lights.
They set Lysol and hand sanitizer at its base, along with a small box filled with ribbons and marking pens.
Kerri attached a sign to the light pole near the street: MAKE A WISH EVERYONE WELCOME
And the wishes began to appear:
I wish for a monster truck.
I wish for a swimming pool.
Healing for those suffering.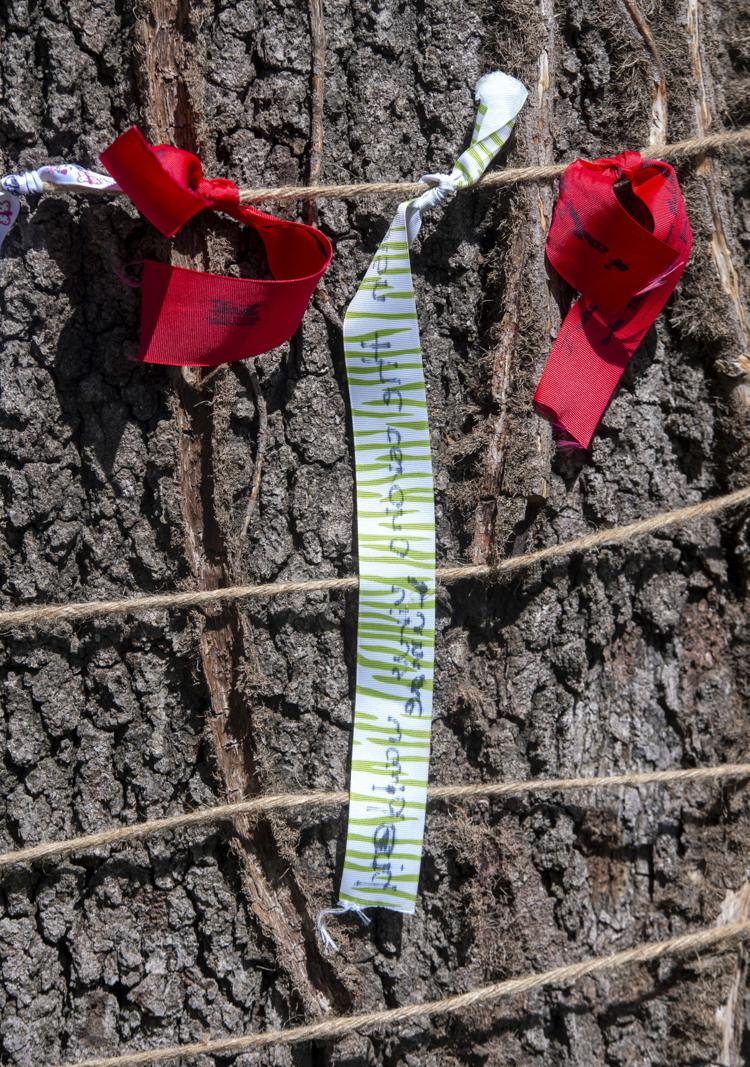 The Denells have lived in the big, stone house on the corner of a wide, tree-lined street for three years.
Nate is a family practice doctor. Kerri is a social worker on hiatus, running her own small business and raising a son, Erazim, 10, and three daughters, Reese, 8, and 5-year-old twins Sadie and Elizabeth, who circled the tree on scooters and munched apples on a breezy morning this week.
One of things that the pandemic has brought to their lives is more time for the already voracious readers in the house to read, their mom said earlier this week.
And most nights, family members gather in a small sitting room to take turns reading a book aloud to each other.
Last month, they read "The Wishtree," by Katherine Applegate. The chapters were short, illustrated with falling leaves and pencil drawings of raccoons and blackbirds, opossums and owls.
"All of us were completely engrossed in it and got through it really quickly," Kerri says. "We loved it."
The book told the story of Red, an ancient oak tree, known in its fictional neighborhood as "the wishtree."
The story covered lots of ground and the Denells talked about its message, taking care of trees and our planet, and caring for our neighbors and people new to our neighborhood — immigrants from far-off places and people with religions different than our own.
People like Samar, a little girl who is Muslim and moves in across the street from a boy named Stephen — both of them down the block from Red.
"The tree's mission is to bring these two little people together to be friends," Kerri says. "It's all about the spirit of community to bring people together, especially during challenging times."
The book told the history of the wish ribbons that were placed on the tree each May 1 from the time it was a sapling.
After they turned the last page of the funny and sweet story of nature and friendship, the Denells couldn't let the book go.
They decided to name their big oak trees, too.
Jupiter for the tree near the intersection. Mickey (after the mouse) for the tree to the south.
"And we decided to make one a wishing tree," Kerri says.
She sent an email to friends: "Our family recently read aloud a wonderful story of hope. It sparked so much love in our hearts we wanted to share it with you … Come and tie a wish onto the tree. We hope this will become a neighborhood tradition that will lift spirits, bring connection and inspire goodness."
And those people came, leaving their wishes behind.
I wish for people to be their own version of brave.
I wish for a cure for COVID-19.
I wish for Christian McCaffrey to win the MVP and the Panthers to win the Super Bowl.
I wish I could make people healthy.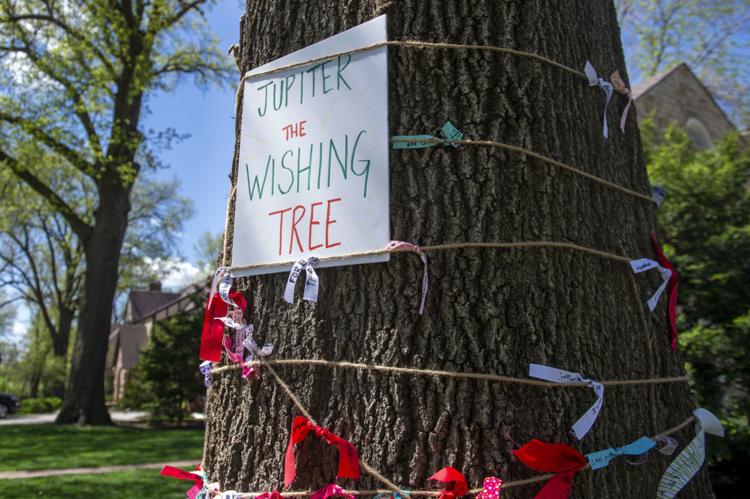 Strangers and passersby left ribbons covered with wishes, too. The walkers and the bike riders and the dog people. The retired people and the young people and the families.
God please stop coronavirus.
I wish for health, happiness and hope.
I pray for a REPLACEMENTS reunion.
I wish for sports to resume as soon as possible.
The Denells kept the rope and the ribbons up all day Friday and all day Saturday.
Ribbons started to cover the rope, fluttering like butterflies in the wind.
They wrote their own wishes. Nate, the doctor, wished for a COVID-19 vaccine. Kerri, the kind-hearted mom, wished for everyone to have hope.
Erazim wished that "everyone has fun." Reese wished for "everyone to love God."
Sadie, who broke her leg last fall, had a far-reaching, three-word wish: "All bones heal."
Elizabeth was even more concise in her wish: "Coronavirus ends."
On the windy morning a reporter arrived, they gathered around the tree. The street was busy with delivery trucks and walkers.
One dog walker shouted a greeting, but said his dog's wish was probably not one they'd want on their tree.
Kerri carried a typed list of the wishes. She hadn't planned to read them, feeling protective of the wish-makers and their privacy.
But the reporter was curious, and then her husband was curious.
I wish for happy, healthy kids.
I wish to have a Lamborghini.
I wish for peace within myself and all my world.
The wishes went on and on. A dog. A happy life. A cure for lymphoma. For mommy to never die. To be a cowgirl. To see a friend.
They read the deep wishes and the heartfelt wishes and the misspelled wishes from small children.
They plan to keep the tradition alive each May Day. But this year, with the hand sanitizer and the wide spaces between the wish-makers, it was a way to mark the moment, too. To acknowledge that this is how we are living.
To bring some light and love into their corner of the world.
"It's less about the wish," Kerri said. "It's more a symbolic place to find hope, especially now ..."
Creating community during the COVID-19 crisis in Lincoln
Watch Now: Screamers performance at Hillcrest Firethorn
Lincoln East return and retrieval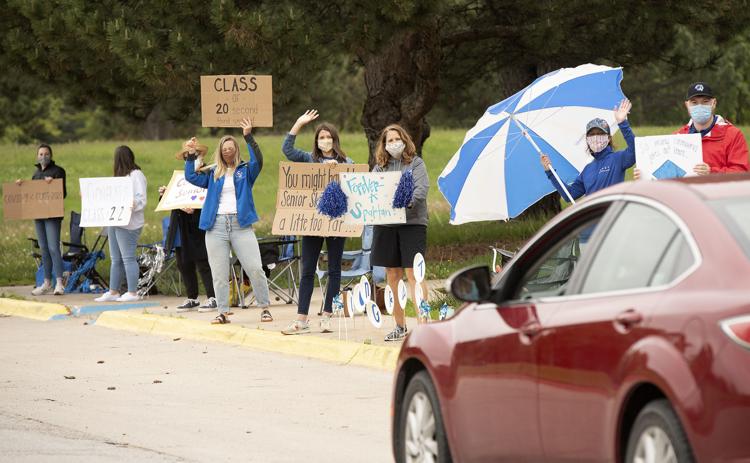 Nebraska National Guard flyover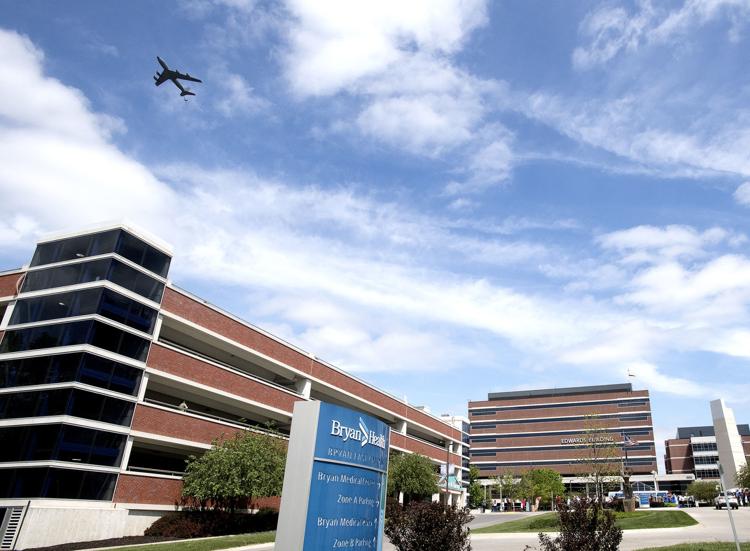 Nebraska Strong PSA
Guard helps Food Bank of Lincoln
Red carpet for essential workers
Lunch date with a squirrel
Red Cloud's parking lot graduation
Homemade masks for the mission
Coffee for health care workers
Switching to hand sanitizer
The show went on … a month early
Asian Center connecting with those in need
Concerned about COVID-19?
Sign up now to get the most recent coronavirus headlines and other important local and national news sent to your email inbox daily.