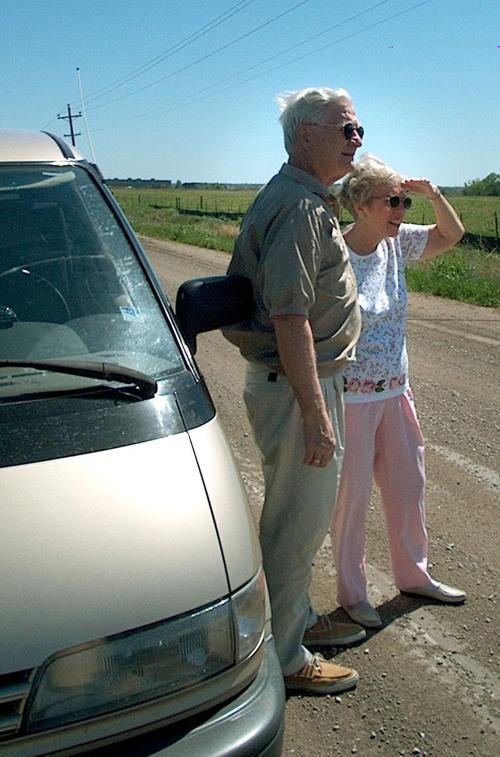 This column originally ran on May 15, 2002. Look for an update at the end.
One afternoon each spring, Dorris and Jack Botts back out of their driveway and head east, leaving the city behind.
They wait for the perfect day. A day without rain. Without too much wind. A day when the sun hurts your eyes and the sky is so blue it reaches down and wraps around your bones.
They are searching for the song of the lark.
All of the other songbirds have come to town, says Dorris, an Iowa farm girl who met her future husband here in 1948 and raised four children with him in the cedar-sided house with green shutters on North 42nd Street.
The meadowlark is a country bird. A sturdy bird with a yellow breast and a brown-speckled body. Our state bird.
It thrives in the tall grasses, builds its nests deep inside and covers it over, making tiny tents in open prairie.
"They like a full field," says Jack, as he eases the family minivan along. "You won't find them in the ditches."
"They like to sit on these posts and sing their hearts out," adds Dorris, pointing to wooden fences strung with barbed wire.
Their song is distinctive, the couple say.
Dorris hums its tune. Da-da-da-dadadada.
And Jack imitates its cadence.
"It's what makes the preacher come," he chants, easing the words together in the rhythm of the songbird.
It'swhatmakesthepreachercome.
So each April, sometimes May depending on the weather, the couple heads east until pavement gives way to gravel and neighborhoods turn to single red-roofed farmhouses with white sheets blowing on old-fashioned clotheslines.
The city keeps spreading, the couple say, gazing out the windows of their Toyota.
The search takes longer each year. So many houses stretching in every direction.
"That's one reason I like to go," says Dorris. "To see if there are any left -- or if they've given up on us."
There were 80,000 people in Lincoln when they arrived, says Dorris. 80,000.
And more people means less grassy land for the meadowlark to build its nest. And a longer drive each spring to hear its voice.
A voice that captivated the 75-year-old grandmother as a girl in Cass County, Iowa.
In her journal she recalls a late afternoon more than 60 years ago. She is 10, maybe 12, sitting in the pasture, feeling the sun, like a shawl, on her shoulders.
"Suddenly, the song of the meadowlark filled the air and I remember feeling suspended in the serenity of the moment."
They've been making this pilgrimage every year now, since Dorris can't remember when - 1974 at least.
That's the year she had major surgery, she says.
"He took me out here to get me to smile."
Dorris and Jack feed birds in their shaded backyard. A pair of red-tail hawks have nested there for two years running.
They can hear a feathered chorus without taking a single step. But it's not the same without the meadowlark.
So Monday they turn north, past white farmhouses, weathered barns and windmills. The minivan creeps along, windows down.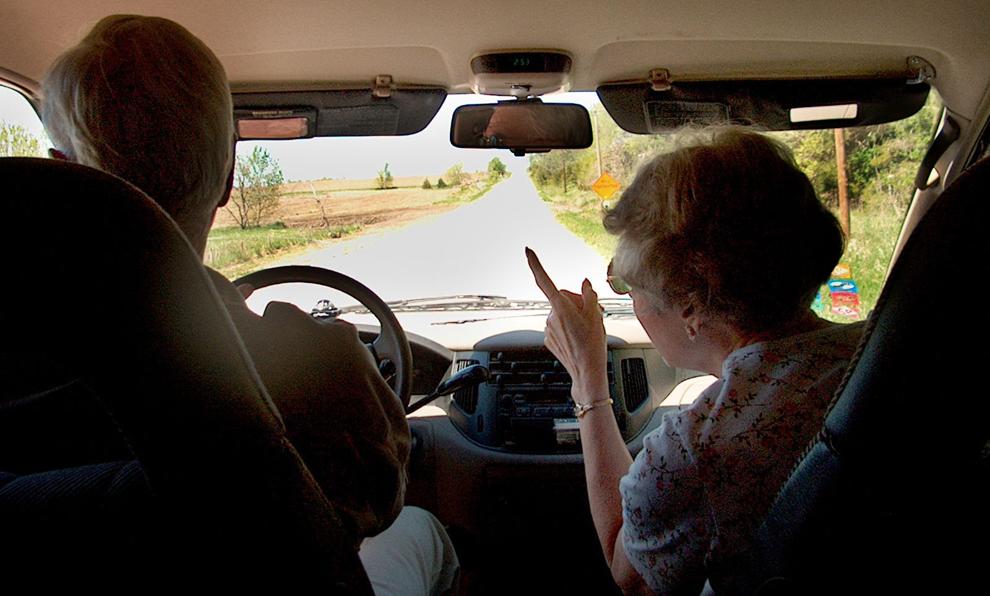 The air rushes in. Jack stops and shuts off the motor. They sit. Nothing.
They move on. And again, eyes scanning the countryside.
Finally, a perfect place. They wait.
And a bird call louder than the rest rises above the singing of frogs, the trill of a lone robin.
It'swhatmakesthepreachercome. It'swhatmakesthepreachercome.
"There," says Dorris. "That's it."
The minivan creeps closer to the sound, starting and stopping. Inside, Jack and Dorris Botts whisper like new grandparents holding a sleeping baby.
They never see the bird that brought them out of the city into these wide open spaces. But that's OK.
"The sound of the lark can be heard on the land," declares Jack.
Postscript: Jack still lives in the cedar-sided house. He lost his farm-girl wife in 2017. They both loved songbirds, the 96-year-old said Wednesday, but the meadowlark remained their favorite. He's not sure when he and Dorris stopped making that annual spring journey to hear its call.
"It just got to become a chore," he says. "Too much arranging."
Time hasn't been a friend to the meadowlark, either. Loss of habitat means far fewer birds -- as many as 40% fewer since the 1960s -- and far fewer chances to hear its sweet call.
Cindy Lange-Kubick counts down her final summer at the Journal Star with one column from each of her 25 years on the Lincoln Life beat with a …