This spring, as a pandemic coursed through the country, a Boy Scout in Firth did a good deed.
The scout's name is Spencer Jacobs. Spencer is 14. He has an older brother, a mom who works part time in a local assisted-living center and a dad who is the scoutmaster for Troop 64.
Six weeks ago, Spencer started making ear savers -- thin plastic bands that keep medical masks from wearing out the backside of your ears.
He'd been reading about health care workers and how the masks they wore took a toll on their ears, Spencer said.
He read about ear savers. How they hook onto the mask's straps and pull them off the ears, almost like a headband.
And he'd read about how much they helped front-line workers and how much they were desperately needed.
"My mom wears a mask to work, and I know her ears were sore," Spencer said last week. "My dad and I had always wanted a 3-D printer, but we really didn't have a great use for one."
Those printers can make anything, Spencer said, including 6-inch long plastic ear savers. (Spencer calls his EarSavers, two capital letters, no space.)
So they bought one. They got to work. They searched the internet for patterns.
Spencer tested his first batch on his mom, he says.
"It was stiff on her head, and it didn't work that great."
He experimented with a thinner band. He bought spools of plastic for the printer -- red and blue and eventually green.
He added a geometric design to the bands and then, the finishing touch: Words.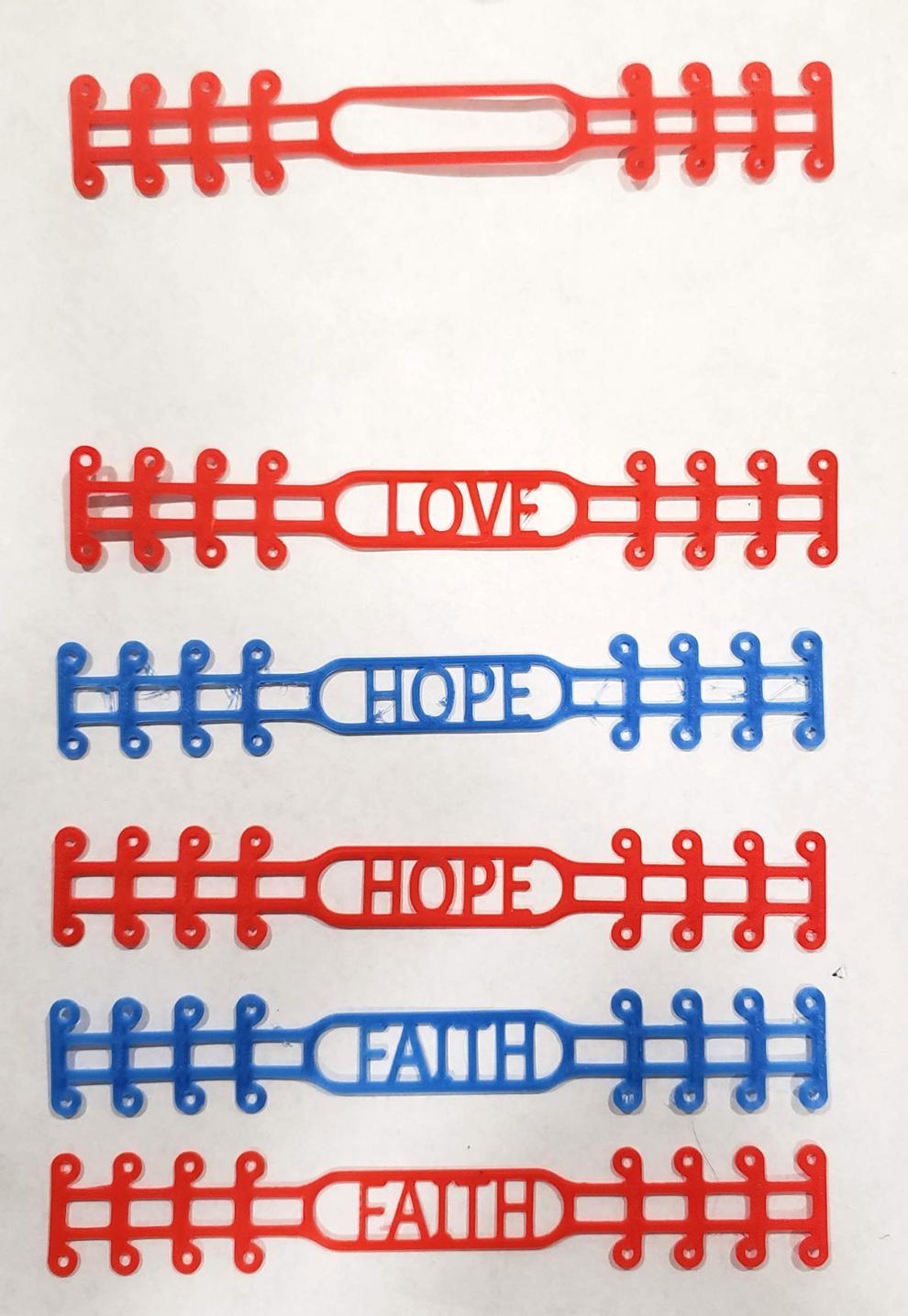 Nurse practitioner Teresa "Buffy" Lewis-Hunt knew Spencer's dad and had read about the ear saver project on his Facebook page. She had sore ears from the masks she wore every day to work at Bluestem Health's clinic on Cornhusker Highway.
So she called up Spencer.
"I talked to him on Friday, and by Monday, he came to the clinic with them," she said. "I love 'em. I use them all the time."
She loves Spencer, too -- "bless him" -- and she loves those words, wrapped around her head all day.
"We pray every morning before we start work, and those are the things we pray for. That's what we try to display every day for our patients."
Tracy Gracia and her team at Gentle Dental ordered Spencer's ear savers, too.
"We've been wearing double masks and glasses and caps, and it was hard on our ears," she said. So when her office manager told her about the Boy Scout in her town who had a solution, they put in a request.
Spencer showed up to personally deliver their salvation.
"He's just a super-sweet kid," the dentist said. "It's so nice to see people doing things for your community."
Gracia ordered a second set for her three sisters-in-law, who work in hospitals.
Spencer has been on the local news. Twice, he says. (And someone at church said they saw his story on "CBS Sunday Morning." "I haven't seen it. So I can neither confirm nor deny.")
Spencer's EarSavers have been shipped to Ohio and New Mexico, Kansas and Connecticut, North Carolina and Illinois and Texas.
He's made and delivered more than 1,200 colorful bands and has orders for 200 more.
Thanks to a GoFundMe page started by his dad to pay for supplies and shipping -- Spencer donates the bands to all front-line workers -- the scout has been able to purchase a second printer.
They run all day, every day.
"Every single day I get up, start a printer, eat breakfast, come back down and keep 'em going."
He can roll out 144 a day, especially if his mom stays up late to print the last batch. (Mom, he tells her, you don't have to do that. "She said she likes it.")
Spencer has made custom EarSavers for firefighters with their call sign on them. He's delivering 90 to the Lincoln Police Department next week. His ear savers have gone to eye doctors and surgical centers, hospitals and nursing homes and dental clinics.
Two hundred plastic bands have made their way to Houston.
Spencer's godmother, Patti Starr, lives there.
When she heard about the EarSavers, she thought about her sister, a nurse at MD Anderson Cancer Center.
"I ordered 25 to start with, and she handed them out to the staff and nurses," Starr said. "By the next day, they were texting me to say, 'Can we get more? These are the best things we've ever had.'"
Starr ordered more, not just for MD Anderson, but for a nonprofit that used them during food distributions and for a charter school to hand out to graduating seniors when they come one by one to be filmed for their virtual graduation next week.
Spencer customized the EarSavers with school colors and the year 2020.
"I'm so proud of him," Starr said. "As adults, we think about how this is impacting us and our lives but we forget about the kids."
Starr was supposed to come to Firth in April for Spencer's church confirmation, but that didn't happen. His eighth-grade graduation from Norris was detoured by the virus, too.
"Now he's impacting so many people all over," she said. "I've been doing the Spencer deliveries in Houston."
"I've taken on this branch."
Spencer doesn't know how far the EarSavers will travel. When they started, he discussed it with his dad. Maybe they'd make 10. Maybe 100. Maybe 10,000.
The pandemic isn't over, and it's too soon to say.
"I'm just doing it to help out the community, since I am a Boy Scout," Spencer says. "That's what Boy Scouts do."