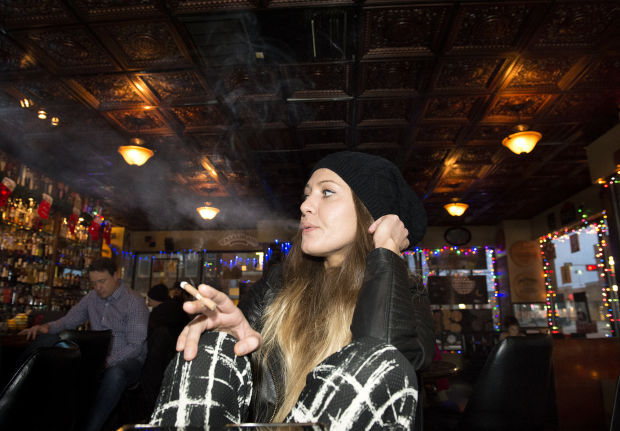 An effort to allow for smoking in cigar bars would likely hold up in court if it passes the Legislature, according to a legal expert from the University of Nebraska.
Sen. Ernie Chambers of Omaha has said he'll likely filibuster any legislation proposed by certain senators whom he accuses of abusing the Legislature's referencing process, which decides which bills go to which committees for hearings.
That list of lawmakers almost certainly includes Sen. Tyson Larson of O'Neill, who introduced the cigar bar bill (LB118) to update intent language in the state's smoking ban to allow for pipe tobacco and cigar smoking in cigar bars.
"I would expect at least one senator to filibuster me," Larson said. 
He proposed the change in response to a Nebraska Supreme Court ruling that declared exemptions to the smoking ban for cigar bars and other businesses as unconstitutional special legislation. The court said the exemptions violated the Nebraska Clean Indoor Air Act's original intent "to protect the public and employees from the dangers of secondhand smoke."
Larson's proposed language better articulates the Legislature's purpose for the act, said Anthony Schutz, an associate professor of law at NU. 
The bill states patrons and employees understand there will be second-hand smoke exposure in cigar shops and willingly choose to subject themselves to the smoke.
Judges don't like to second-guess the Legislature, Schutz said. Often the court wants the state to provide evidence of why an exception to a law's original intent is needed.
Otherwise they defer to the law as written, as they did in this case, he said.
"In essence, (the court is) trying to guard against arbitrary line-drawing" by legislators, Schutz said.
On Monday, lawyers for nine of the 11 cigar bars filed petitions in Lancaster County District Court asking a judge to recognize the special licenses given to them to allow smoking and require the state to hold a hearing if regulators want to take them away.
Attorneys Mike Kelley and William McGinn said they believe the Nebraska Liquor Control Commission violated their clients' due process rights in sending out replacement liquor licenses.
Those licenses do not have a special endorsement allowing smoking indoors.
Lincoln cigar bars no longer allow smoking. As of Monday, some Omaha bars continued to allow it because they had not received their replacement licenses from the Omaha City Clerk's Office, the attorneys said.
But Omaha cigar bars will now be subject to enforcement of the state's indoor smoking ban just as Lincoln bars are now, Lancaster County and Douglas County health department officials said.
"Obviously, there's a sense of urgency here," Larson said Monday after a hearing on his bill. "I want that bill up and debated as quickly as possible."
He pressed members of the General Affairs Committee, of which he is chairman, to vote on it in the next day or two.
Earlier in the hearing, Sen. Merv Riepe of Omaha said his legislative aide, a lawyer, was trying to evaluate whether the bill would be enough to address any constitutional issues.
"She's going through to try to sort this thing out herself," Riepe said.
The original exception had been vetted by former Attorney General Jon Bruning twice, said cigar bar lobbyist Scott Lautenbaugh, a cigar fan and former state senator who helped craft the bill that was later stricken by the state Supreme Court.
Lautenbaugh called that decision "a surprise to everyone," and said the court's logic was "an innovation in constitutional law."
"We believes this bill addresses it," he said.