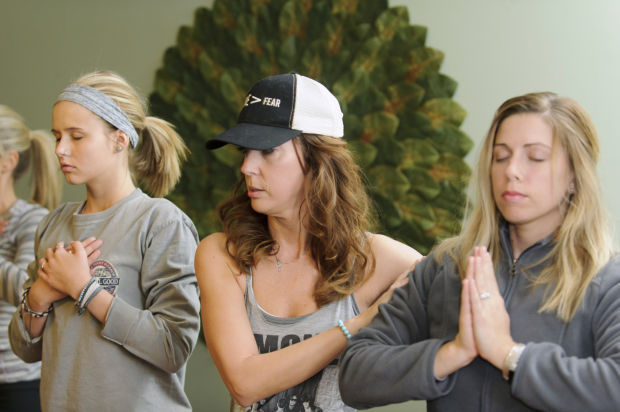 "Good Christians" shouldn't do yoga.
That's not a new stance, but when retired Catholic Bishop Fabian Bruskewitz issued a statement telling Catholics to abstain from yoga -- all hell broke loose on Facebook this past week.
Especially, in the Lincoln area, where Bruskewitz ruled the Catholic Diocese for 20 years, often taking hardline ultra-conservative stands on issues even the church had softened on.
Bruskewitz's statements were included in a May 18 blog on the Women of Grace website, a Catholic organization for women of which Bruskewitz is on the board of directors.
In his letter, he urged women to find other forms of exercise that do not jeopardize their faith. The issue with yoga is that it is based in Hinduism -- a religion the Catholic church has called "incompatible to Christianity."
Indeed, Catholicism is not the only Christian-based faith that takes issue with yoga. Evangelicals have long preached yoga-avoidance -- because the chants, poses and movement names all connect to the ancient Hindu religion and the individual quest for enlightenment.
That's not to say all yoga enthusiasts embrace Hinduism -- in fact most Americans taking part in yoga do it for the physical and mental benefits of stretching, breathing and meditating.
But still, practitioners say Hindu phrases such as "namaste" -- commonly translated: "the light within me bows to the light within you" -- they assume poses with names like sun salutations and warrior, which have deep roots in the Hindu faith.
To get around the theological Hindu aspects, yogis of other faiths have created Christian and Jewish yoga programs such as Holy Yoga, Praise Moves and Shalom Yoga, in which people pray, recite Scripture from the Bible or Torah, and assume religiously neutral poses or ones specifically linked to their own religious beliefs.
This past fall, Lincoln's Bonnie Meyer opened Studio 4:8 Yoga, a Christian yoga ministry based on Philippians 4:8.
Meyer, a strong Christian, said she struggled for a long time over the decree that yoga and Christianity were incompatible. But then she did her research, took classes and learned that yoga predates Hinduism, although yoga is now part of the Indian religion. Rather than quit yoga, she converted it.
"The purpose is not to empty the mind, but invite the Holy Spirit in and allow ourselves to feel that connection to Christ and to God," Meyer said of Christian yoga.
"Yoga is not a religion. It offers a different lens of focus," she said.
And that is where Christian leaders, like Bruskewitz, have a problem.
From the Catholic perspective, Hindu is "a pagan religion based on heathen beliefs and a false doctrine of revelation involving such things as transmigration of souls, and so forth," the Women of Grace blog quoted from the bishop's letter.
It is impossible to separate the Hindu religious aspects of yoga from the practice of yoga, said JD Flynn, special assistant to Bishop James Conley for the Lincoln Diocese. Flynn spoke on behalf of Bruskewitz and Conley, who were unavailable for comment.
The bishops' position is guided by a 1989 document from the Vatican "Common Aspects of Christian Meditation" written by the Congregation for the Doctrine of Faith (then headed by Cardinal Joseph Ratzinger, who later became Pope Benedict XVI).
The document in part acknowledges that some physical exercises produce feelings of quiet and relaxation, which can resemble spiritual well-being, but it is not authentic.
In 2003, the Vatican somewhat softened its stance with the provisional document "Jesus Christ: The Bearer of the Water of Life: A Christian Reflection on the 'New Age.'" It said people could discern whether New Age spiritual practices such as Zen meditation, Feng Shui, Reiki and yoga are permissible -- "provided the posture is severable from the religion or philosophy that first motivated it."
But the church itself, has not changed its stance that yoga is dangerous.
"The practice of yoga is very ancient and rooted in theological monism -- that we are all one being ... that the universe is one and oneness is divine," Flynn said.
Yoga with its body positions and meditation is designed to create a greater self awareness "of oneness with the universe and a proclamation of oneness with the universe," Flynn said.
"Christians believe God is God. ... We are called together in unity, but we are not one with God and we cannot become God and the universe will not become God," Flynn said.
The problem with yoga, even if practiced solely for exercise is that combining certain stretches and meditation can "lead to certain spiritual awareness and consequences," Flynn said.
Lincoln Yoga Center owner Sheila Palmquist agreed.
Yoga is a uniting of the mind and body, bringing harmony to a person's inner spiritual life and relationship with others, she said.
"We all have a unique relationship with what we consider to be the divine. Yoga as it is practiced in the western world today is not intended to change one's beliefs but rather compliment and root them deeper in their religion, faith or values," she said. "Yoga postures with deep breathing are linked with observation, acceptance and understanding."
Warnings like those issued by Bruskewitz, are based on unfounded fears, she said.
"It's very frustrating. That (indoctrination) is not the purpose of yoga at all," she said.
The church is not convinced.
"Bishop Bruskewitz is saying that even if you practice yoga for exercise, you need to be aware that yoga is intended for a particular purpose and it can undermine what Christians believe about themselves and what Christians believe about God," Flynn said.
"We are not against exercise or stretching. But you have to be very careful," Flynn said
Indeed, Bruskewitz encourages physical exercise -- so long as it is "morally neutral and would not, in itself involve anything detrimental to our Catholic faith," he wrote in his letter to Women of Grace.
And Bruskewitz does not have faith that Catholics can resist yoga's draw to anti-Christian beliefs.
" ... The practice of yoga, if it does not begin that way, eventually morphs into an acceptance of points of view, and even doctrinal and moral matters that are distant from Catholic truth and from genuine and authentic Christian revelation," Bruskewitz wrote.
"In our time there are innumerable ways and methods by which appropriate and proper exercise of the human body can be undertaken that present no real danger to our faith or to our Catholic beliefs and commitments," Bruskewitz wrote. "It would be most desirable for persons who are Catholic to abstain from the practice of yoga and use other methods to exercise. ... We are never allowed to place our Catholic faith unnecessarily in any danger, and certainly the practice of yoga could be an occasion of serious sin. ... "