Shannon Martin Roebuck will take over as executive director of the Capital Humane Society when president and CEO Bob Downey retires on June 30.
The animal shelter's board of directors selected Martin Roebuck, who has 20 years of experience working for nonprofits.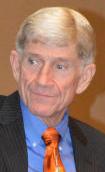 Martin Roebuck said she looks forward to continuing Downey's work in leading the shelter for 36 years.
During that time, Downey established the Pieloch Pet Adoption Center, introduced an early-age spay/neuter program in the state and worked with state Sen. Don Wesely to make dog and cock fighting a felony in Nebraska.