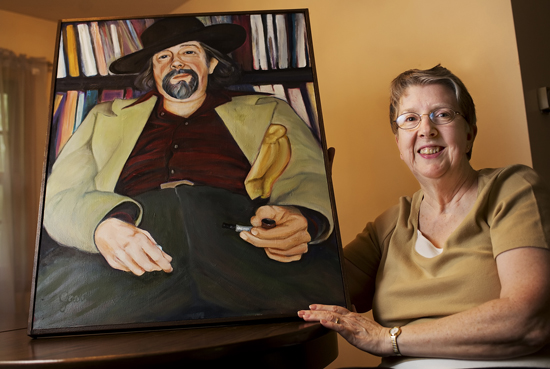 He was blitzed out of his mind, the story goes.
He stumbled from a San Francisco bar. He fell. They found him a few blocks from his apartment, in a pool of blood.
That was November 2008. The brain of the great cartoon artist S. Clay Wilson, a central figure of the underground "comix" movement of the 1960s, hasn't been the same since.
Before the accident, his brain and body were healthy, despite decades of drugs and booze. In his late 60s, he still was producing work that was sought out by his loyal fan base. Nicolas Cage had a piece.
The artist's sister, Linda Schafer, grew up in Lincoln adoring her colorful big brother. The night of the accident, she awoke to a phone call at 2 a.m. She agreed let them drill a hole in his skull.
She flew from Lincoln to San Francisco and found him in a coma, on a respirator. She made the tough decision to remove the breathing tube. If there was a shred of her brother left, she wanted to see it before he died.
He woke up, and he didn't love her anymore.
She was the Lincoln church lady who loved butterflies. He was the hell-raiser who drew a horny world of low-lifes and demons.
But before the accident, they were tight.
"I always told him he was San Francisco's oldest hippie," says Linda, smiling as she sits at the dining room table of her ranch home near East Campus.
They grew up in a white bungalow with red shutters in the Clinton neighborhood. Their dad was a machinist at the University of Nebraska. Their mom was a medical stenographer. In photos, they look like a perfect nuclear family of the '50s.
She points to a photo of her and her brother, dressed in their Sunday best. He is 12. She is 7. Her hair is braided into looped pigtails.
"We were scrapping right before this picture was taken."
"Yet don't we look idyllic?"
Normal. One could draw little from her brother's Lincoln life, she says, to understand the art he'd do one day.
DEPRAVED. LURID. COARSE. VULGAR. MANIC. OFFENSIVE. VIOLENT. DEGENERATE. LEWD. OBNOXIOUS. PORNOGRAPHIC. ADOLESCENT. RAW.
That's how his publisher marketed her brother's book, "The Art of S. Clay Wilson."
He was one of the first cartoon artists to draw subjects that were taboo, and he drew them in a most shocking way. R. Crumb, one of the most famous cartoonists on the planet, once said: "It was Wilson's fault. He's the one who started it, not me."
Her brother's most famous cartoon character is the Checkered Demon, depraved, lurid, coarse...
The Checkered Demon wore checkered pants, usually no shirt.
Her brother was known for cramming a crazy amount of details into each frame of his cartoons, as if his brain were on speed. Sometimes it was. Her brother did most every drug at some point, she says.
He's confused and forgetful now. He acts like a bratty 8-year-old. He used to hate TV. Now he watches it much of the day in his San Francisco apartment.
His partner, a woman he's known for years, takes care of him. Friends take him for walks and lunches. He used to love it when people recognized him in public. Now, when people say they're thrilled to meet the great S. Clay Wilson, he doesn't seem to care.
If each day were a frame now, his would mostly be empty.
Linda was his first audience. He made her read his cartoons. One time, he made her hold up a toy gun for a long time, so he could study the hand muscles.
He used their mother's red nail polish for blood.
Her brother graduated from Lincoln High, Class of '59. He majored in art at the university. He turned down a job with Hallmark and ended up in San Francisco.
Each frame of his life was crammed with a crazy amount of details.
Here's a photo of him at the ocean, jumping for joy on the beach. He looks like a pirate. He loved to draw pirates.
He was 6-foot-2 and had thick dark hair in his youth, a beard like a pirate. He had a tongue that could be as sharp as a sword. But he was generous with the people he loved.
Here's a photo of him and his San Francisco friends, a family of artists and ex-hippies who partied together and inspired one another, who fed one another when one was down and out.
Her brother brought some of his women home to Lincoln. One had so many tattoos, she wore a long dress to cover them so their mother wouldn't see.
Here's a photo of him lying in his iron bed, under the sheets with a beautiful woman.
"He always loved women. He just wasn't going to commit. He's very handsome, isn't he?"
He was protective of his little sis.
Linda was 18 when she married the first time. Her big brother didn't approve. It was a beautiful spring Sunday in June of '65. No one was sure he'd even come. It was nearly time for her to walk down the aisle when the church was filled with roar of his Harley-Davidson.
He walked into the church wearing a nice spring suit. He behaved. But he didn't stay for cake and punch.
"He wouldn't have missed his sis's wedding for anything," Linda says.
He ended up being right, she says. The marriage didn't last.
Their parents are gone now. Their mom, who thought her son walked on water, never knew the type of art he did. They shielded her. Their dad probably knew, and probably saw the humor, Linda says.
The demand was so high for the Checkered Demon that in a way, she says, it became her brother's nemesis. People always wanted him to draw that character.
"My brother used to say, 'Just because you depict evil, doesn't mean you are evil.'"
In the couple of years before the accident, he called her more often. He usually ended the conversation the same way.
But now when she phones him, she might hear something like this in the background:
Your sister's on the phone. Do you want to talk to her?
"I think that is the hardest part now - that he doesn't know me, and he doesn't know that he doesn't love me."
Hanging on one wall of her dining room is a frame of the Checkered Demon.
On another is a collection of mounted butterflies. Her brother mailed it to her for her birthday in 2008, days before his accident.
She reads from her brother's last letter to her, dated four months before his accident.
"I'm still pissed off about takin' you to (that) tattoo parlor that time to watch in horror as he scrawled that botched butterfly ..."
Years ago, on a visit to San Francisco, she wanted a tattoo. Her brother didn't approve. But he went along with it anyway, trading a piece of his art for the tattoo.
"That looked like some kind of meth-addled drunk claw marks. ..."
He'd drawn a butterfly on the envelope of that last letter.
Linda figured her big brother would die in some dramatic way, like at the hands of a jealous husband. She didn't expect this. Or that he'd ever stop loving her. But maybe the saddest part is this crazy detail: He isn't drawing that much anymore.
She's hasn't seen anything from him since the accident.
"He always says, 'It isn't finished yet.'"
She continues from that last letter:
"Drawin' a lot and selling everything and showin' in New York City, East Coast galleries ... Stay on Tap ... Gotta Scribble ...'
"Sis, love ya, mean it.'"