The stranger in the dining room had come to ask about her family.
About her parents and their parents before them in the days of slavery.
But first the WPA worker would note that the white frame home on Washington Street was filled with paintings and decorated china and antique furniture, upholstered by the lady of the house.
"All of which is in good taste, although there is too much of it," wrote E. Schaible, who had arrived early in the afternoon of March 20, 1941, to interview Mrs. O.J. Burckhardt.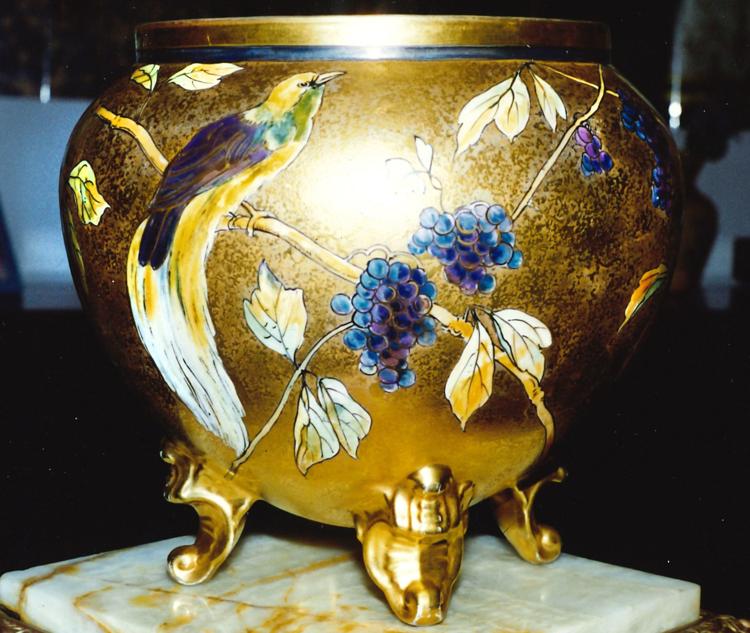 Along with her upholstery work, the lady of this house had painted all the art that hung on the walls and the delicate bowls that filled the glass-doored cabinets.
Her name was Anna Burckhardt, and she had been born in Burlington, Iowa, in 1868, was an eighth-grade graduate, the only girl in a family of seven.
And Schaible would record for history much of what we know today of "a charming woman, well-poised and (with) a well-sustained voice."
A woman of French and Negro descent (noted at the top of Form A), who had been widowed young and remarried and came to Lincoln with her second husband, Oliver Burckhardt, a railroad worker and traveling evangelist.
A woman whose art hung in Lincoln's first city mission and on the wall of the city's first high school and made its way across the country to win prestigious prizes, a rarefied feat for an African-American woman at the time.
The purpose of that interview — and others like it — was part of an effort to document accounts of slavery in America, said Ed Zimmer, Lincoln's preservation planner and co-author of "Lincoln in Black and White."
And the narrative that Schaible wrote did that: My mother was born in Virginia. ... She was 5 years old when her mother died. Her mother was whipped to death. ... Mamma missed her mother.
Burckhardt described how her parents arrived in Iowa, too, her father trained by "his master" to build carriages and do masonry; and how as a free man he found success, so much that the family owned three houses in Burlington. The neighbors didn't want colored people, so they burned down the house while we were away ... the folks were heartbroken.
But the narrative also shined a light on the artist and her influences.
As a girl, she'd helped her mother with needlework and embroidery, Burckhardt said, and her formal training began in 1910.
"I specialized in one right after the other. China painting, oil and watercolor. I taught china painting and have taught all kinds of art work since."
Burckhardt said she mended china and had studied piano, too, although not successfully. "I had a crippled finger."
After meeting and marrying Oliver Burckhardt, the couple built the Prairie Box house at 1236 Washington and planted the lot with trees and rose bushes.
The artist began an embroidery class with 16 students to supplement the family's income. "This drifted," she told Schaible. "It didn't grow."
She began to study painting more seriously at a Catholic convent north of the university. She spent six months in Denver studying china painting and ceramics. She studied painting at the university with a visiting professor from Minnesota.
"I sent an exhibit to Harman Award in New York ... I sent exhibits to Kansas City and to Virginia. I'm like my mother. I want the best."
"She won first prize on her china entries at the Jamestown Exposition of 1908 and has won numerous other awards," The Lincoln Star reported.
History Nebraska holds the certificate for that prize in its collection, as well as a painting and a photograph of the artist gazing confidently into the camera, dressed in fur and lace fringe.
"She was so fashionable and so beautiful," said Sharon Kennedy, curator of education at History Nebraska. "I looked at our painting and her portrait and I just thought this woman is really, really interesting."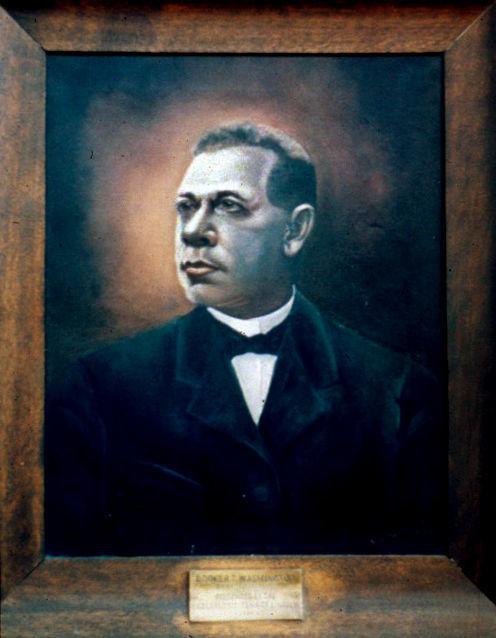 Kennedy set out to explore Burckhardt's work, from the heavy oils of her Booker T. Washington painting — still hanging in the Lincoln High School library — to the soft wash of the watercolor in the museum's permanent collection.
"I think she clearly had a nice range," Kennedy said. "Her work was worthy of recognition."
In 1941, Burckhardt told the WPA worker her hand-painted china landed on shelves in local department stores and eventually all over the country, sold by her husband when he traveled with the railroad.
"I have painted portraits," she said. "One of John Philip Sousa for Mrs. Miller of Crete, one of Booker T. Washington for the high school."
The Rev. Becker, head of the city mission, commissioned an oil painting as well, and Schaible added a personal aside in her report, noting that a touring group eager to view it had "lined up out to the street."
Along with her rose bushes, Burckhardt tended the foster children she and the man she called Ollie — who helped start Lincoln chapters of the NAACP and Urban League — brought into their home.
She taught art lessons from her home studio to both white and black students.
"It would be of interest to you to know that she is teaching some of the leading white people in that part of the country," a traveling reporter from Salt Lake City wrote in 1917.
"She has fifty-six white and eight of our own people. These people look at her ability and not at her race or color."
Burckhardt taught art for nearly 40 years.
The painter was 76 when she died in June of 1945. Her husband followed four years later, the prominent members of Lincoln's African-American community buried side-by-side at Wyuka Cemetery.
The year before the artist sat down in her dining room with E. Schaible, her reverend husband answered another interviewer's questions.
And when asked if he knew of any black Nebraskans who were nationally known, he had an answer.