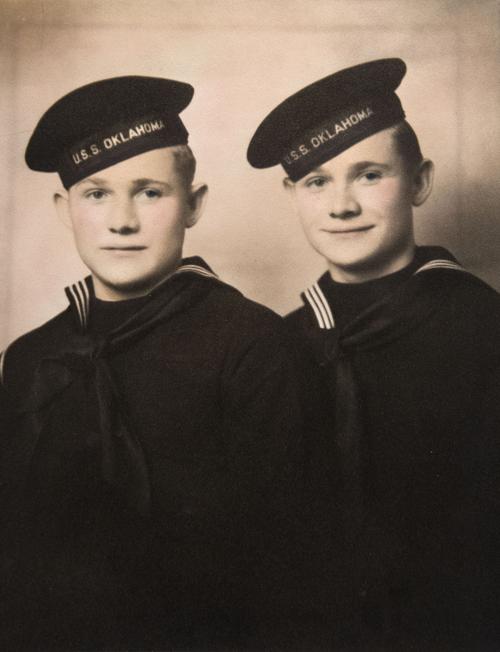 The boys could have come home for Christmas.
Rudolph and Leo Blitz were due for a leave from the USS Oklahoma in December 1941. The identical twins had already spent more than three years in the Navy, their father signing their enlistment papers at Lincoln's recruiting station because they were still underage, 17 at the time.
But they'd be getting out in the spring, about the time of their 21st birthdays. Their family always heard they didn't want to prolong that.
And Hawaii wasn't a bad place to be for young men from Nebraska, until the morning it was.
"The boys were having a good time seeing the world," said Sandy Cox, one of their many nieces and nephews. "Because before Pearl Harbor, we were not at war."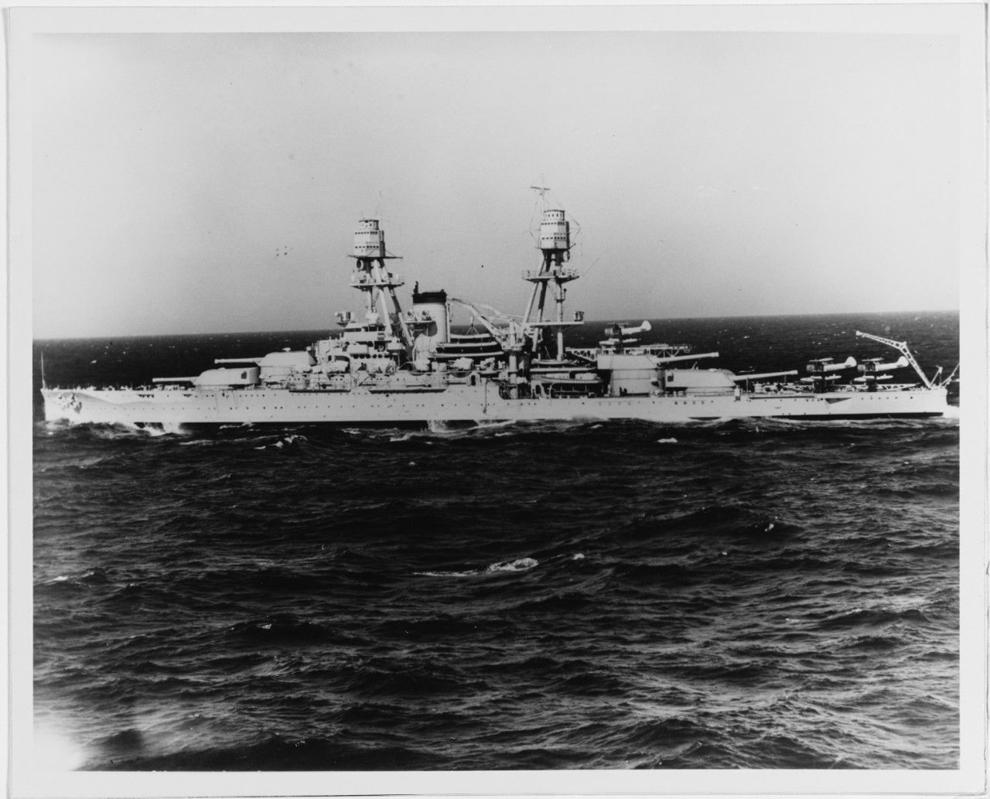 Cox never met her uncles. She was born five years after a Christmas Eve telegram arrived at a modest house in the South Bottoms, informing Henry and Marie Blitz their twin sons had been killed when Japanese torpedoes sunk the Oklahoma.
The details of their deaths are second-hand, relayed to family members by surviving shipmates.
They'd been in Pearl Harbor for a year and a day, the Oklahoma berthed just outside the USS Maryland on Battleship Row.
When the first torpedo hit, minutes before 8 a.m., Rudolph was on deck, but he and a shipmate went to the boiler room, said Mike Powell, a nephew from Aurora. There, a warrant officer ordered them out; the ship was filling fast with water and already listing.
The shipmate headed up but never saw Rudolph again.
"I'd be willing to bet he went for his brother," the shipmate wrote in the 1990s, trying to fill in blanks the family had wondered about for decades. "Aboard ship, if one got in trouble, the other one would be there. They were real close."
Another survivor told Powell's mother that Leo went down with the ship, and his brother had been strafed and killed trying to swim to shore.
Their remains were eventually buried, unidentified, with nearly 400 other sailors and Marines from the Oklahoma at the Punchbowl -- the National Memorial Cemetery of the Pacific in Honolulu.
And in her window in the middle of the country, Marie Blitz would hang six stars, two of them gold for the lost twins, four for her other sons who served.
Theirs had been a big blended family. Marie and Henry had been new to the country, Germans from Russia searching for a better life in Lincoln.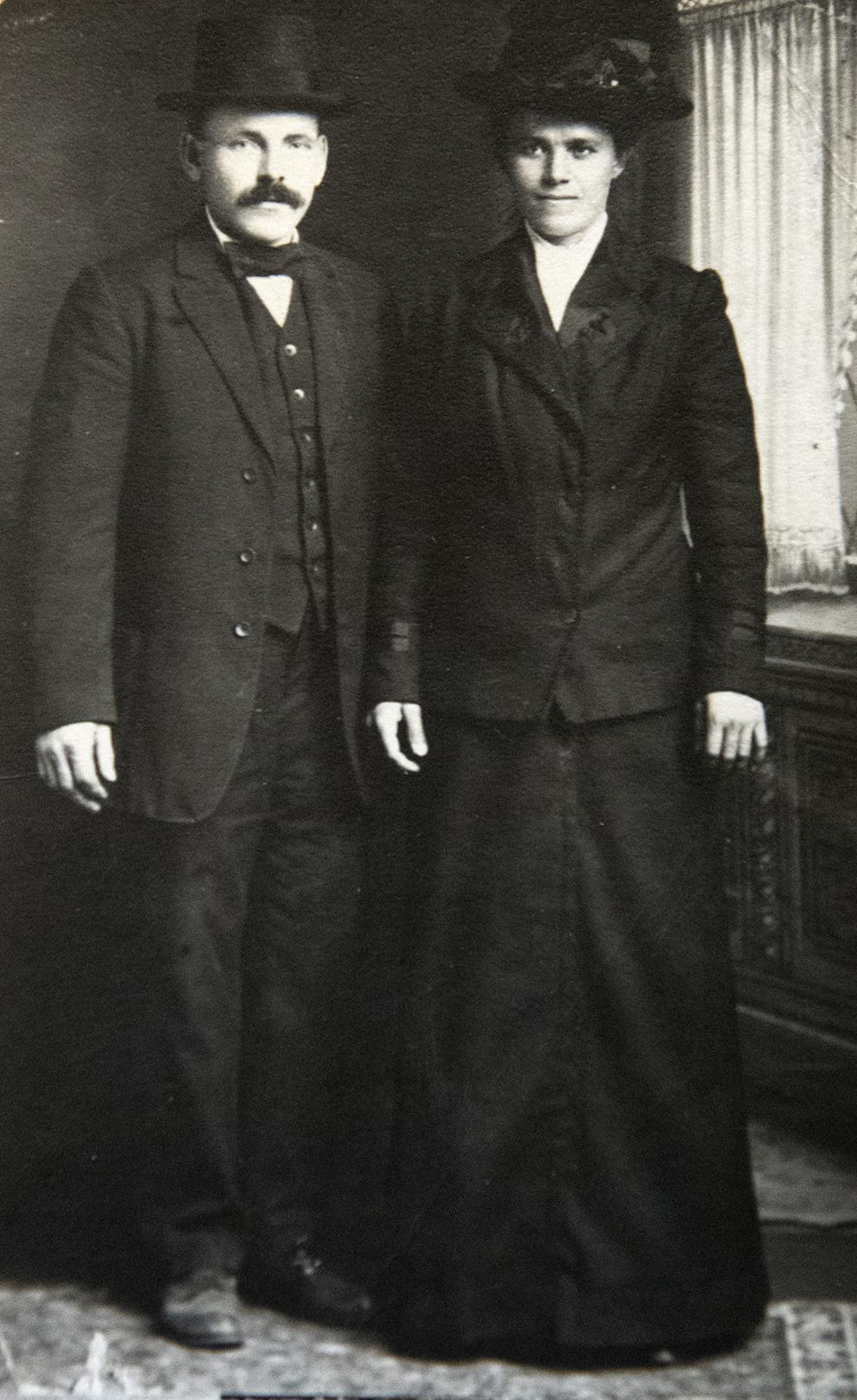 Marie Rebensdorf had three children when she lost her husband George in a train derailment. Henry was a carpenter whose first wife, also named Marie, died shortly after their third child was born.
The women at Zion Church took pity on the single parents, and brought them together in 1913.
"The union was pretty much a survival agreement at first," Cox said. "But they learned to love each other and have a lot of respect for each other."
They would have nine more children together, filling the small house at 442 A St. They always kept a photo of the twins in their home, and Henry may have always carried a burden.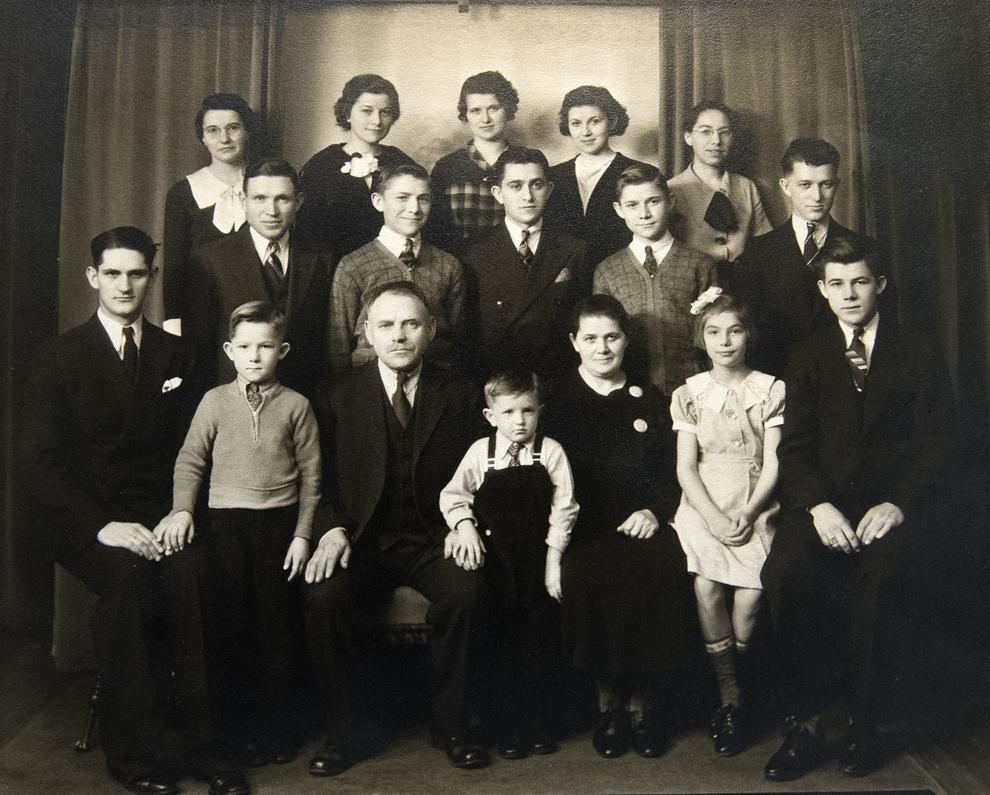 "He was the one who signed the papers when they enlisted," Cox said. "I think he and God probably had a few words."
The boys remained unidentified in the Hawaiian cemetery as the years passed, but they weren't forgotten. Family members bought them a plot and placed a stone at Lincoln Memorial.
"They didn't anticipate a return," Cox said. "They just wanted a place to remember them."
The next generation grew up without their uncles but with inherited stories.
"They were maybe a little ornery when they were growing up. They said they were good kids, they just were active," Powell said.
While stationed in San Diego, they'd stashed a car on the beach for use when on leave. But then they shipped out, and nobody knew what happened to it.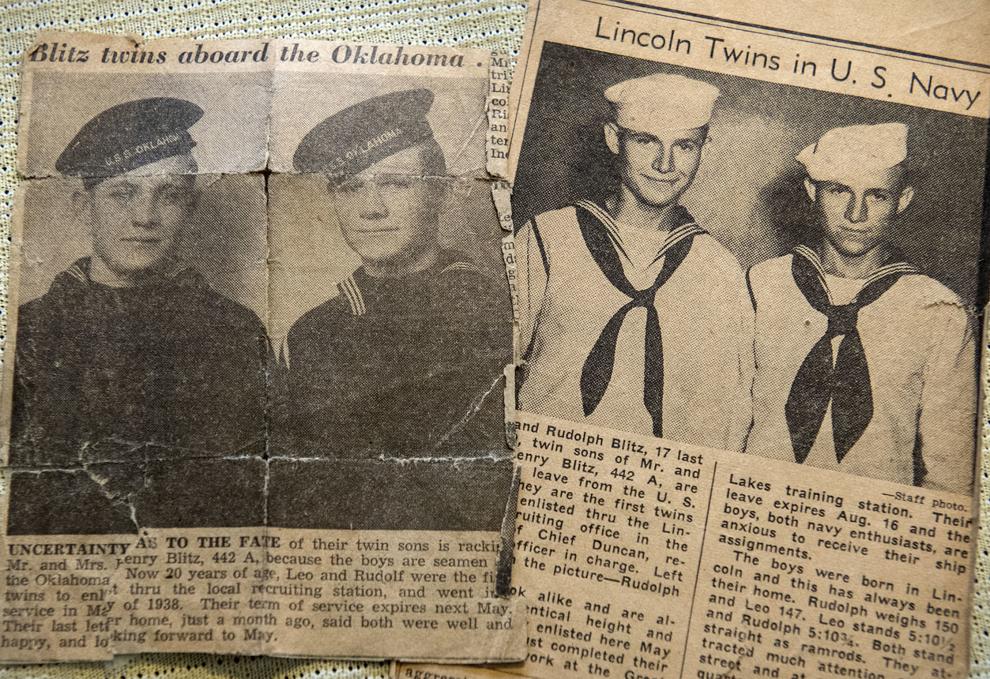 And the twins had once dated the same woman while in the Navy, though she never knew, said Sally Guenzel, a niece who lives in Lincoln and has twice visited the site where the Oklahoma sunk.
"They had a girlfriend. One of them would take her out one night," she said. "And the other would take her out the next."
The storytellers started dying. Henry in 1964, Marie a decade later. Then their children.
"It's bittersweet," Guenzel said. "The people who knew them, they're all gone, except for Aunt Betty."
Betty Pitsch is 93 now, but she was once the younger sister who wrote letters to the far-away twins, and who read theirs to her immigrant parents.
She married a doctor and moved to Seward and is now back in Lincoln. But something's been missing for most of her life.
"Betty always wanted them to come home," Cox said.
The Oklahoma sank in 12 minutes, taking 429 lives with it.
The military would ultimately recover their remains over the next two years, but they'd become skeletonized in the water, difficult to identify.
"And if you can't identify someone right away, he gets buried in a cemetery and we come back later and try to find out who he is," said Dr. Carrie Brown, laboratory manager of the Defense POW/MIA Accounting Agency at Offutt Air Force Base.
The Oklahoma casualties were buried at a pair of Hawaiian cemeteries, and then unearthed in 1947 in another attempt to identify them. It wasn't successful. Since the attack, the military had only put names to 35 men.
"The remains are very, very commingled, mixed up," she said. "The chaos of war does that. Lots of bones of guys with similar ages and similar heights."
So the remains of nearly 400 men were reburied in 1949, this time at the Punchbowl, where they would stay for more than 65 years.
In 2003, the accounting agency's predecessor received permission to analyze one of the 62 caskets containing the Oklahoma crew. It wasn't encouraging. DNA testing indicated the casket contained the bones of at least 95 service members.
"Everything was completely mixed up," Brown said. "That's when we knew we had a bigger puzzle on our hands than we thought."
They spent a decade doing research, gathering data, getting permission. And in 2015, they retrieved the other 61 caskets, the Oklahoma crew ultimately ending up in the lab at Offutt.
It's tedious work. They've counted more than 13,000 bones and taken 5,000 DNA samples. It's not unusual to find 10 bones belonging to the same sailor in 10 caskets.
But through DNA testing and dental records and anthropology, they've identified 215 men -- more than half of the crew members who went unidentified for so long.
They feel a sense of urgency. They know families have waited for decades. As soon as they can confidently verify two lines of evidence -- for example, DNA and dental records -- they make the notification.
"When all of the pieces align, we know we have it," Brown said. "As soon as we can say it's him, we push forward with the ID process."
Identifying the twins was different. Her first pair, she said, and maybe the lab's first, too. They couldn't distinguish the brothers' bones, because their DNA was the same, but dental records helped them identify the skulls.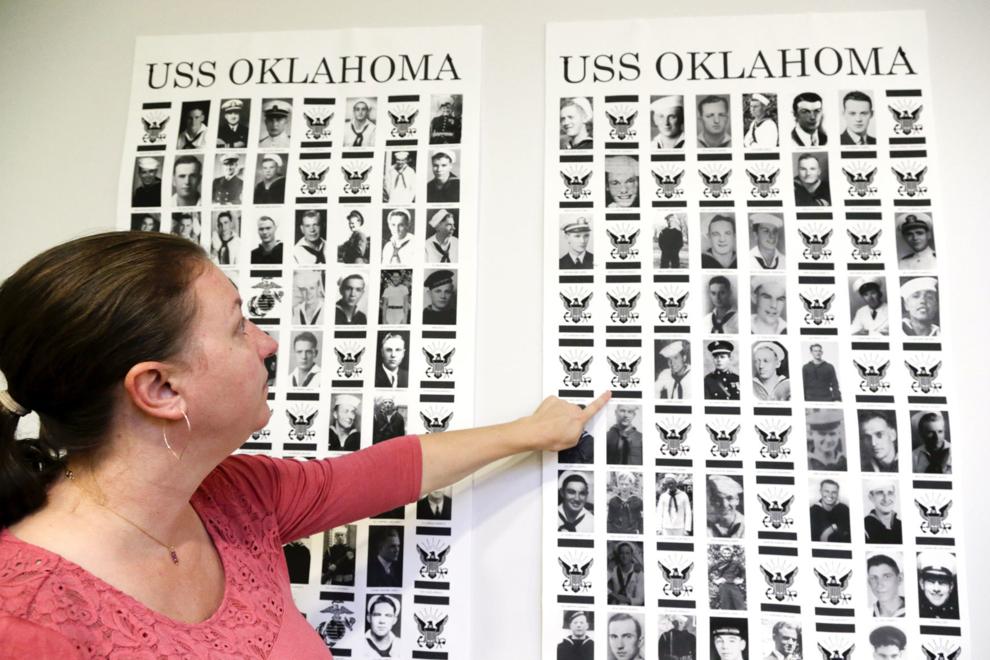 But it was special for another reason, too, Brown said. "The family is local. We've been wondering how we were going to solve this for a while."
The family had been waiting for this. Betty Pitsch and nieces and nephews provided DNA a few years ago, but didn't hear the news until recently -- that the lab had identified Leo and Rudolph.
The brothers who left Lincoln as boys in 1938 were already back in Nebraska, and they'll be reburied, for the last time, next month in Lincoln.
Cox wishes their parents, and their brothers and sisters, could know. They likely didn't allow themselves to even dream this would happen.
"I didn't honestly think they'd ever be coming back," she said. "Something that all of my life has been unbelievable is suddenly believable."