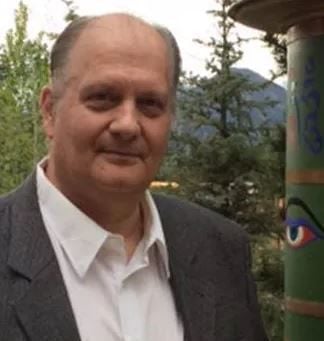 Gary Gabelhouse lived a life full of adventures, with the goal of helping others, spreading love and having an impact that would last beyond his life.
The author and thrill-seeker, who was born and raised in Lincoln, died at his home in Missoula, Montana, on Jan. 16. He was 67.
"He's affected thousands and thousands of lives, really creating a lasting impact," said Malindi Gabelhouse, his only child. "All the people he impacted over the course of his lifetime is really insane."
Gabelhouse wrote 10 novels, which were marketed as "intelligent yet thrilling stories for the spiritually curious," ran his own multimedia company and was a six-degree black belt.
In 1979, he and his best friend, Bill Erickson, set out to climb Mount Kenya, more than 8,000 miles from Lincoln. The two hoped to summit the 17,000-foot beast, but ran into an unexpected roadblock.
When they were about 400 feet from the summit, Gabelhouse began suffering from severe altitude problems and was having trouble breathing.
"He thought he had died that night," Erickson said. "He had a near-death experience that was really profound for him. It changed his life."
According to his daughter, Gabelhouse was clinically dead for about 10 minutes after reaching the bottom of the mountain and being admitted to a local hospital, but he improved and began to stabilize.
You have free articles remaining.
The near-death experience transformed Gabelhouse — though he still continued his adventures — and helped him lead a life that came to impact countless individuals.
"I think his priorities shifted a little bit after that," Erickson said. "He always lived life at full-tilt."
Named after his favorite town in Kenya, Malindi was proud to have what she called, "the ultimate dad."
"All of my friends wanted my dad to be their dad," she said. "He took me on lots of adventures. I traveled to Mexico and all over Africa. He taught me how to adventure and always told me, 'You can do anything you want.'"
Gabelhouse met the Dalai Lama on multiple occasions and continuously pursued new experiences until he was physically unable to do so.
The Mount Kenya incident "haunted him, but it gave him a unique confidence," Erickson said. "What he said to me was, 'Death isn't all that bad.' I think what he thought is that when it was time for him to die it would be like his last adventure."
Gabelhouse impacted lives throughout the world, which became perhaps more noticeable than ever after his death, as Malindi received condolences from every corner of the globe.
"He always told me, 'There's no reason to worry as long as you try your best,'" Malindi said. "He really was such a positive person."
There will be a celebration of life for Gabelhouse on March 3 from noon to 4 p.m. at the Lincoln Firefighter's Reception Hall, 241 Victory Lane.